No, Bradley Wiggins is not a cheat
Sportspeople always 'cross the ethical line' – that's what sport is about.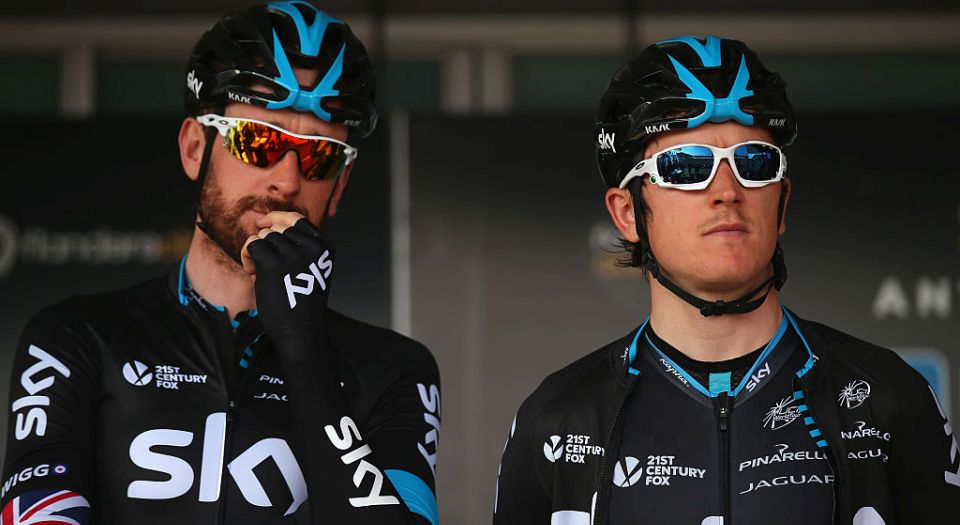 The Digital, Culture, Media and Sport Committee didn't mince its words following its two-year-long investigation into doping in UK sport. Which is not to say it lent any clarity to the debate.
It revealed that Sebastian Coe, now president of the world athletics' governing body, the IAAF, had received an email in 2014, while president of the British Olympic Association, detailing allegations of drug use and corruption in Russian Athletics, which he subsequently claimed to have no knowledge of (although Coe now contends, in the spirit of Bill Clinton, that he didn't inhale, or in this case, read said email).
It also revealed that that a Dr Robin Chakraverty, now working for the England football team, gave an injection of the supplement L-carnitine to Mo Farah in 2014 'to help performance', although, within certain dosage limits, use of L-carnitine is within World Anti-Doping Association rules. And, most scathing of all, and the headline-grabbing centrepiece of the report, the DCMS asserted that 'we believe that drugs were being used by [British cycling's] Team Sky, within the WADA rules, to enhance the performance of riders, and not just to treat medical need'.
So there you have it: there is something rotten in the state of UK sport, but, as far as the DCMS can tell, it is rotting within the rules. Or, as the report said of Team Sky's use of Therapeutic Use Exemptions to allow its team of asthmatics access to a powerful corticosteroid, 'This does not constitute a violation of the WADA code, but it does cross the ethical line'.
And here we have the problem: what exactly is this ethical line? It is clearly not a formal, legal line, since the DCMS says that no rules have actually been broken (although the report does feature lots of 'tip of the iceberg' insinuation). Rather, this ethical line seems to pertain to something a little less objective, something like the seeking of an advantage denied to other competitors. And, just to muddy the waters further, this ethical line seems only really to apply to an advantage that is sought pharmacologically, rather than, say, through wearing some new-fangled aerodynamic, non-chafing lycra shorts. So, Team Sky crossed an ethical line when it used TUEs to allow Bradley Wiggins – he of the modish feathercut and multiple Olympic golds – to receive corticosteroid injections prior to the Tour de France in 2011 and 2012 and before the 2013 Giro d'Italia. His performance was therefore 'enhanced', while others' (presumably) was not.
The problem is that competition – which, after all, is the ethic of sport – tends necessarily to the transgression of the DCMS's ethical line. That is, all competitors are trying to seek an advantage that their rivals lack. All competitors are looking for a way to get ahead, from training facilities, diet and equipment to, yes, the latest chemical supplements. And they've been doing so since the Ancient Olympics. So what is unethical about that? What is unethical about the ethic of competition, the ethic that ultimately governs sport?
Clearly few thought there was anything unethical about it when Team Sky's mastermind David Brailsford talked a few years ago of the importance of seeking 'marginal gains', those myriad tiny adjustments and improvements that an athlete can make, which, added together, constitute an advantage. As one commentator points out this week, this included bussing riders' familiar beds ahead of them to whatever hotel they were staying at during the Tour de France and other races. It improved sleep, and therefore recovery, and, because no one else was doing it, made for a performance-enhancing advantage. Yet, Brailsford was praised for his ingenuity, not condemned for his lack of ethics.
What counts as unethical in sport, then, seems to lie in the eye of the beholding, drugs-obsessed authorities. Switch to a purely sporting perspective, and the DCMS's transgressors can be seen to be supreme competitors rather than sporting sinners. It is this subjective, relative aspect that lends the crusade against drugs in sport its infernal aspect. It will always be seeking and finding corruption, but it will never eradicate that corruption. And that is because what it sees as corruption is, from the sporting viewpoint, nothing more than the competitive ethic in practice. Indeed, what it sees as an unethical stain on sport is really sport's ethical fabric.
Tim Black is a spiked columnist.
Picture by: Getty Images.
To enquire about republishing spiked's content, a right to reply or to request a correction, please contact the managing editor, Viv Regan.