Antifa: the militant wing of authoritarianism
The clash at King's College confirms anti-fascism now just means censorship.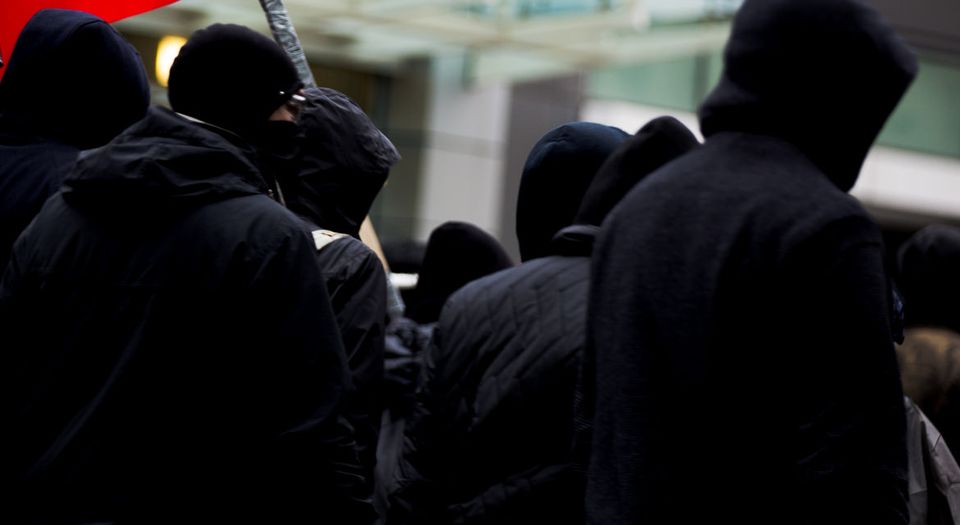 King's College London became the latest free-speech battleground last night as a group of so-called anti-fascists shut down a debate between YouTuber Sargon of Akkad and writer Yaron Brook. The campus was evacuated in the ensuing chaos as masked protesters let off smoke bombs and triggered fire alarms. Videos of the event show fights breaking out between audience members and activists.
Sargon of Akkad is the pseudonym of Carl Benjamin, a self-professed liberal and YouTuber whose channel has racked up hundreds of millions of views. He is best known for his weekly critiques of political correctness, in his show 'This Week in Stupid'. Yaron Brook is the chairman of the Ayn Rand Institute and an exponent of Rand's Objectivist philosophy. He has become controversial for his pro-Israel stance. Neither of these men could by any stretch be called 'fascists'.
Prior to the event, a Facebook page gave details of a protest planned by five student societies, calling on students to 'interrupt fascist spaces and organisations'. It argues that inviting 'white supremacist, neo-fascist speakers' would be in breach of the students' union's 'commitment to Safe Spaces'. To host the event, it went on, the university 'would be giving direct licence to the incitement of bigotry and terror across the campus'.
Tamara Berens, communications director for the KCL Libertarian Society and one the main organisers of the event, told spiked that, while the protesters originally failed to materialise ('they usually arrive before events to occupy rooms'), they stormed past security as the event got underway, throwing smoke bombs, grabbing mics and brawling with security and attendees.
Berens says it is a 'dark moment for events on campus' at present, with protesters organising to shut down debates they disagree with. Indeed, this has been a particular problem at King's in recent years. In January 2016, anti-Israel protesters caused chaos at a talk hosted by the KCL Israel Society. They threw chairs and broke windows until the police evacuated the building. 'The answer isn't to ban protests', Berens says, 'but we need to have a conversation about how we make sure protests don't No Platform speakers'.
What's more, disruptions of this kind are just the most visible form of censorship on campus. Berens recalls the numerous hurdles the 'authoritarian and overactive' students' union presented to organising last night's event in the first place. She says the original date had to be changed to ensure the availability of 'Safe Space marshals' to observe and police the event, and the SU insisted it be students-only at the last minute, meaning many people were turned away on the door.
King's College London has been ranked 'Red' in spiked's Free Speech University Rankings for the past four years, due to its hostile environment for free speech.
The KCL clash last night reminds us of two things. First, that anti-fascist activism today is no longer about fighting for freedom or against fascists: it's an activity in shutting down anyone these people disagree with, including un-PC YouTubers. Secondly, it reminds us that such protests are, in many ways, just the sharp end of the Safe Space movement. If 'offensive' ideas are on a par with violence, then violence comes to be seen as a legitimate response. Here's hoping students continue to stand up to these censorious protesters and the SUs who enable them.
Fraser Myers is a producer at WORLDbytes.
Picture by: Johnny Silvercloud, published under a creative-commons license.
To enquire about republishing spiked's content, a right to reply or to request a correction, please contact the managing editor, Viv Regan.