Labour: the new Mosleyites?
Corbyn's Labour shares Max Mosley's loathing of a free press.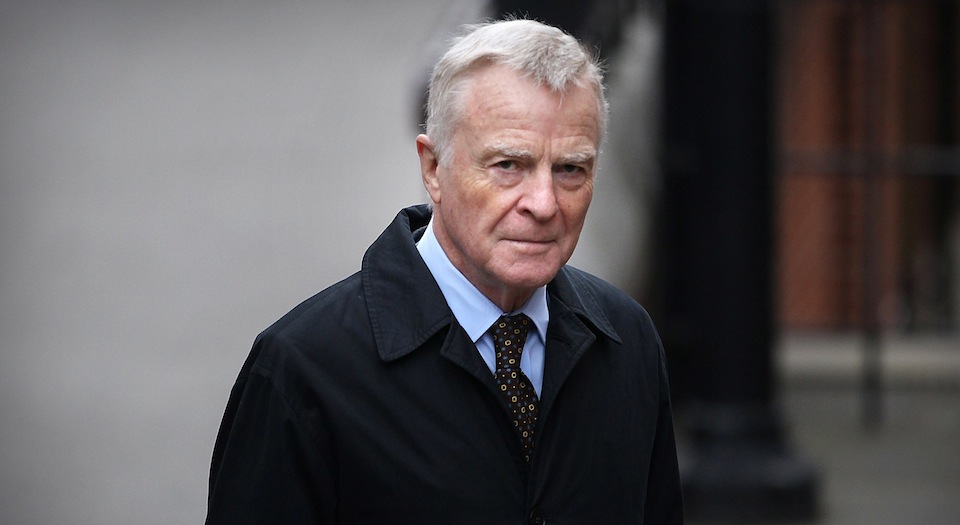 Now we know. Jeremy Corbyn's Labour Party, despite rumours to the contrary, is not a movement of neo-Marxists. Events this week make Labour look more like the new Mosleyites.
They are not fascists, of course, like the followers of Sir Oswald Mosley's Blackshirts in the 1930s. (Even though Sir Oswald was a Labour MP and government minister before founding the British Union of Fascists.)
But recent revelations about how Labour has been in league with Sir Oswald's son and former ally, Max Mosley, confirm that Corbyn's party poses more of a threat to freedom in Britain today than any fringe fascist grouplet. They are the political wing of an elitist alliance against free speech.
Labour's deputy leader, Tom Watson, has gladly accepted £540,000 in political donations from Mosley, multimillionaire son of Britain's wannabe Mussolini. Mosley calls the execrable Watson 'a very admirable politician'. Corbyn's deputy says he is 'very proud to call Max Mosley a friend'.
The mutual admiration and pay-offs should put paid to any notion that Labour is a force for progressive change. Not just because, as the Daily Mail has exposed, Mosley was responsible for a rabidly racist leaflet which declared 'coloured immigration threatens your children's health' in support of a far-right candidate for his father's party in a 1961 election. But because here and now the 77-year-old Mosley is a leading force in the crusade to tame press freedom in the UK, almost the sole funder of the official regulator set up to bring the news under tighter state supervision.
The problem with Mosley is not that he was infamously filmed by the News of the World indulging in a sadomasochistic orgy with cane-wielding prostitutes 10 years ago; each to their own, if they can afford it. Mosley's offence is that today he is paying to cane freedom of expression and journalism. He is using his financial muscle to threaten news outlets which dare to report the facts about his dubious past and present activities with legal punishment via data-protection laws.
For all its anti-capitalist rhetoric about curbing the power of the rich, Corbyn's Labour has seemed comfortable enough taking big handouts from the rich and powerful who share its prejudices. Watson gobbled up £40,000 from Mosley in August 2015, while he was campaigning for deputy leader. He took further donations of £200,000 in June 2016 and £300,000 in February 2017 – reportedly five times as big as the donation Watson received from his GMB union that month.
Since the Mail dug up that old election leaflet this week, Corbyn's spokesman has said Labour won't accept further big donations from individuals like Mosley – although they won't return the £540,000, either.
But while Labourites might be embarrassed by exposés of their wealthy supporter's immigrant-bashing past, they share his current preoccupation with beating up the freedom of the press. It is fashionable anti-tabloid bigotry, rather than any outdated racial prejudice, which makes Mosley and Watson natural allies. They share a fear and loathing of the 'popular' press – and of the populace who they believe are dumb enough to be brainwashed by it.
Watson was a leading tabloid-phobic in parliament long before he became Labour's deputy leader. He has been a zealous supporter of the celebrity-led Hacked Off campaign for tighter press regulation, using the victims of phone-hacking as human shields behind which to advance his political agenda.
Watson has never forgiven the Sun after one columnist dubbed him a 'tub of lard' and 'Tommy-two-dinners' when the 2009 MPs' expenses scandal revealed that he claimed the maximum £400 a month for food. Yet, like other Labour MPs, he made no fuss while Rupert Murdoch's papers backed the New Labour governments of Tony Blair and Gordon Brown. It was only when the Sun deserted Labour's Brown at the 2010 General Election that Watson went on a fantasy moral crusade on behalf of his fallen master.
In 2012 he published a ridiculous book, Dial M for Murdoch, which among many other things accused the media baron of running a 'shadow state' and exercising a 'poisonous, secretive influence on public life'. Translation: it must have been the Sun wot lost it for Labour, with Murdoch the 'puppet master' apparently manipulating wooden-headed voters. As Labour's deputy leader and culture spokesman, Watson has since boasted of how a Corbyn government will use the power of the real, non-shadow state to curb the freedom of the press to publish and be damned.
Max Mosley shares Watson's loathing of a free press. In 2008, when Murdoch's Sunday tabloid the News of the World (later closed in response to the hacking scandal) splashed on his S&M orgy, Mosley sued for breach of privacy. In court the paper claimed that Mosley's evening with five prostitutes, one apparently wearing a German uniform, had been 'Nazi-themed'; given his family's fascist connection, the NotW argued, this made publication in the public interest. The judge disagreed, finding no evidence it was 'Nazi-themed', and awarded Mosley £60,000 in damages.
That case came back into the spotlight this week. During the trial, the NotW's barrister had asked Mosley about a racist anti-immigrant pamphlet he was rumoured to have published in 1961, as election agent for his father's Union Movement in a by-election in Moss Side, Manchester. Mosley denied any knowledge of such a leaflet, describing the idea it even existed as 'absolute nonsense'. The defence could not produce a copy of the pamphlet, and he won the day in court.
Ten years later, the Daily Mail has dug up the offending document. It is a little racist classic of its age, blaming 'Coloured immigrants' for unemployment and housing shortages before warning Manchester voters that 'Tuberculosis, VD and other terrible diseases like leprosy are on the increase. Coloured immigration threatens your children's health.' At the bottom is printed the legend: 'Published by Max Mosley.' The Mail wonders whether this might mean Mosley could have been guilty of perjury in that High Court case or whether, like his father, he is simply an 'expert forgetter' of his past?
Amid the inevitable furore about this long-forgotten leaflet, a desperate Mosley has made flailing attempts to question its authenticity and deny that he would ever have sanctioned such hateful opinions. Slightly more reasonably, he pointed out that like many people his views have changed since 1961, when he was aged just 21. While Labour condemned the leaflet as 'repugnant', Tom Watson came out in defence of his friend, insisting that 'The views expressed by Max as a young man are not the views he holds now, just as the [Daily Mail-owning] Rothermere family no longer uses its newspapers to support fascism' – a reference to the Mail's notorious 'Hurrah for the Blackshirts!' headline in 1934.
Watson's statement also made clear that 'My views on press regulation are well known and have not changed'. And that's the point. What really matters is not the 'repugnant' views Mosley might have endorsed more than 55 years ago. It is his repugnance for freedom of the press today, and his attempts to get the state to curb it just as he once sought to curb 'coloured immigration'. As Watson admits, that repugnance for a free press and demand for tighter regulation is still shared by Corbyn's Labour, whatever they think of Mosley's past.
Nobody with a democracy or liberty-loving bone in their body should want to be allied with Mosley not because of his name or his history, but because of what he does now. Through a family trust, Mosley has stumped up £3.8million so far to fund Impress, the official press regulator recognised by Royal Charter. In other words, this multimillionaire personally bankrolls Britain's first system of state-backed regulation since Crown licensing of the printing press was abolished in 1695. So much for democracy. No national newspaper has signed up to state-backed policing through Impress; Watson and Labour back the imposition of new punitive laws to cajole them into bending the knee to regulation by royal charter.
Now Mosley has gone even further in his crusade against press freedom. His expensive lawyers have threatened to use data-protection laws to sue newspapers and force them to stop reporting on his racist past, his sexual activities, or his support for Impress. In other words, he wants to stop the press telling the truth about him. Why not go the whole hog, Max, and demand the right to edit the papers yourself?
Data-protection laws were supposedly intended to protect 'ordinary people' from having their private information abused by powerful bodies. This case could set a dangerous precedent in allowing the rich and powerful to protect themselves from public examination. Yet Watson has declared that Labour backs moves by the House of Lords to tighten data-protection rules that will further restrict investigative journalism.
What makes Labour and the likes of Max Mosley natural allies is not the base racial prejudices of the past, but the elites' high-minded hatred of press freedom in the present. That alliance symbolises Labour's desertion of the working classes – whom it blames for being duped by the tabloids – just as surely as Corbyn's betrayal of Leave voters over Brexit.
The first time I met the suave Max Mosley, in a debate over phone-hacking and regulation at a newspaper office, he said that he had never heard my arguments for press freedom before since 'everybody I know agrees with me!'. Welcome to the closed world and minds of the UK's elites. Whatever Mosley might have said or done in the past, he is no extremist outsider today. He is the authentic voice of the 'liberal' and pro-Labour establishment. When it comes to trampling on freedom of speech and of the press, they are all 'Mosleyites' now.
Mick Hume is spiked's editor-at-large. His new book, Revolting! How the Establishment is Undermining Democracy – and What They're Afraid of, is published by William Collins. Buy it here.
To enquire about republishing spiked's content, a right to reply or to request a correction, please contact the managing editor, Viv Regan.