Feminism and royalty are made for each other
Today's feminism benefits the elite far more than ordinary women.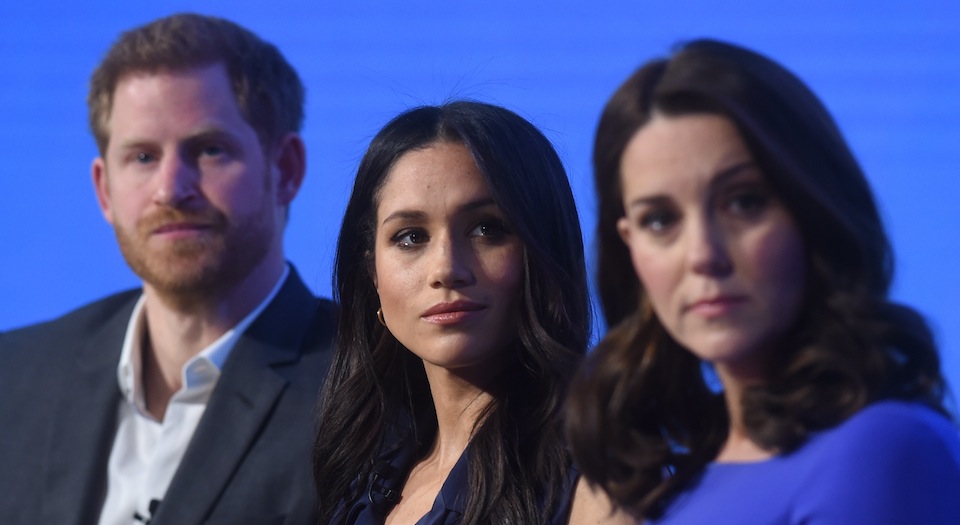 In what must have come as a shock to absolutely no one, it emerged this week that duchess-in-waiting Meghan Markle supports the #MeToo movement. Speaking alongside other 'young royals', at an event to 'update the public on their charitable projects', she urged women everywhere to 'use their voice'.
Markle is a women's advocate for the UN (when was that position advertised?) and has spoken out about women's rights in the past. This week she said: 'Women don't need to find their voice. They have a voice. They need to feel empowered to use it and people need to be encouraged to listen.' Presumably few are better placed than royalty to help with all this empowering and encouraging. Markle went on to highlight how #MeToo and Time's Up mean 'there is no better time to really continue to shine a light upon women feeling empowered and people really helping to support them – men included in that.'
It seems that Meghan Markle can do no wrong. Despite an engagement dress that reportedly cost an eye-watering £56,000, she is fawned over by the Guardian for being 'an ardent feminist'. Her performance on Wednesday was widely praised as 'refreshing in terms of women's equality'. This is in contrast to the criticisms levelled at Kate Middleton for wearing a dark green dress to the BAFTAs instead of conforming with the Time's Up funereal black dress code. Apparently green was chosen to maintain political neutrality and avoid breaching royal protocol. Who knows? Maybe Kate just doesn't look good in black. Whatever discussions have taken place, Meghan's more overt support for the #MeToo movement has been allowed because 'calls for female empowerment are not political issues'.
In publicly backing #MeToo, and in her support for feminism, Markle proves she is just like every other young woman with a public profile to maintain. Journalists, film stars, actors, musicians, future royals – all are feminists now. In 2012, Ashley Judd went public with an essay rounding on critics of her appearance and calling for women everywhere to challenge the patriarchy. Last year, she took part in the Women's March on Washington and recited a feminist poem, 'Nasty Woman', for the hundreds of thousands of protesters. In 2014, Beyonce famously gyrated on a stage dominated by the huge, illuminated word: FEMINIST. Lena Dunham makes an entire career out of being a feminist, doing feminism wrongly, and then apologising and promising to do feminism properly next time. The likes of Taylor Swift and Katy Perry, who once expressed doubts about feminism, appear to have changed their minds and are now fully on board.
In 2015, Patricia Arquette used the Oscars ceremony to speak out about the film industry's gender pay gap. This Sunday we will no doubt be further treated to an array of Hollywood stars bidding to outdo each other in their public displays of feminism. Entertainment has been replaced by preaching and black dresses are the #MeToo uniform. Feminism was mainstream before #MeToo but #MeToo has shifted it into orthodoxy.
Today's celebs clearly fancy themselves as brave warriors for social justice, more political and selfless than a previous generation of actors and artists. But it's not them that's changed – it's feminism. The women's movement that took off in the late 1960s and early 1970s had a clear set of demands formulated at the first Women's Liberation Conference and later presented in a petition to the prime minister. These second-wave feminists campaigned for equal pay, equal educational opportunities, 24-hour nurseries and abortion on demand. At the time, these demands represented a radical challenge to the status quo. Their fulfilment, still not completely realised, would have had a revolutionary impact on society.
Today, in contrast, feminism is the status quo. The dominance of feminism, and in particular the new orthodoxies being established through #MeToo, tells us that high-profile women, journalists, BBC presenters, film stars and royalty now have more to gain through being associated with feminism than with appearing to reject it. Feminism today supports and reinforces the privileges of the elite: it does not pose a threat to them.
#MeToo, just like the discussion around the gender pay gap, allows privileged women to present themselves as disadvantaged. Powerful women gain the moral high ground, a platform for their views and public plaudits for brandishing their feminist credentials. But this is a hollow victory for women. For the time being, a small group of elite women are guaranteed praise and publicity. But in the long run women as a whole risk losing the hard-won victories of the past. At the end of last year, Time magazine pictured women on its front cover. Not the women who in 2017 made significant contributions in science, medicine or the arts – but 'the silence breakers': women who were celebrated for having suffered and endured.
The real shock today would be if Meghan Markle came out and said she wasn't a feminist. There were some slight rumblings when the royal-to-be announced she was swapping her acting career for marriage. But this pales into insignificance in comparison to the ugly insults and criticisms levelled at Katie Roiphe, Germaine Greer, Catherine Deneuve and other women who have criticised #MeToo. No, today it seems as if royalty and feminism are perfectly suited to each other: both are posh, prissy and condescending.
To enquire about republishing spiked's content, a right to reply or to request a correction, please contact the managing editor, Viv Regan.