How to end homelessness
We need less social-media grandstanding and more house-building.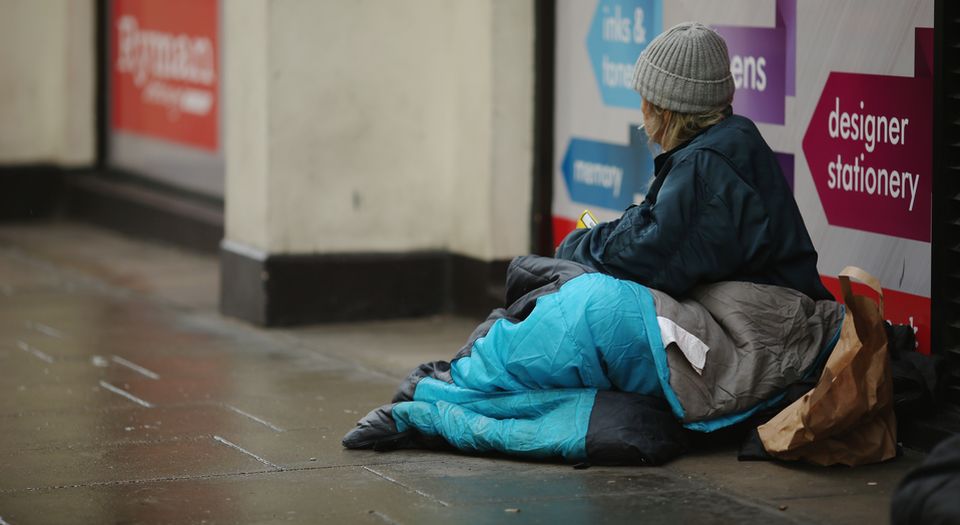 Until recently, homelessness would only come to public attention in the run-up to Christmas. But things are changing. Homelessness is now being openly discussed by politicians 'after years in the policy wilderness', says Patrick Butler at the Guardian. Politicians 'seem almost to be trying to outdo each other' with their schemes to tackle it, he says.
The Conservative government has pledged to halve rough sleeping by the end of this parliament, and to eliminate it by 2027. The Homelessness Reduction Act comes into force in April. It will impose new duties on local authorities – including to prevent and relieve homelessness for all 'eligible applicants', not just those deemed to be in priority need or 'unintentionally homeless'. Housing First pilots have been announced to provide accommodation and wraparound support for the long-term homeless.
And yet the Rough Sleeping and Homelessness Reduction Taskforce, unveiled as part of last year's autumn budget, has yet to meet. And some local authorities still stand accused of treating the homeless with contempt. Windsor council's determination to clear the streets of homeless people before Prince Harry and Meghan Markle's wedding in May caused controversy. The rise of 'hostile architecture' – with anti-homeless sprinklers, strategically placed bike racks and metal bars on park benches all making life even more uncomfortable for rough sleepers – has also, rightly, been met with hostility.
Then there was the recent death of a Portuguese man, a former model who had hit hard times and who was struggling with alcohol and mental-health problems. He had overstayed at one hostel and was awaiting admittance to another, but then he died while sleeping in the freezing cold outside Westminster Tube station – virtually on parliament's doorstep. MPs took to social media. Labour leader Jeremy Corbyn tweeted that the 'powerful can't carry on walking by on the other side'; it is time we 'took up the moral challenge and properly housed everyone', he said.
Westminster is Britain's main hotspot for rough sleeping (217 were counted on one night last autumn). The official figures suggest street homelessness has doubled since 2010; 4,751 people were sleeping rough in England in 2017. But this is widely understood to be an underestimate, relying as it does on local-authority counts and, more often, estimates. Nor does it include similar rises in the numbers of people living in temporary accommodation, or, more controversially, the 'hidden homeless'. A recent ComRes survey found that 41 per cent of 16- to 25-year-olds admit to 'sofa surfing'.
The failure to build enough housing, or enough affordable housing, is often cited as a major contributor to the problem of homelessness. In January, Corbyn announced that a Labour government would immediately, upon being elected, buy every homeless person in the UK a house, even if that meant seizing properties left empty by developers. And yet, for all its grandstanding, the political class has consistently undershot the building of the 250,000 new homes a year – at least – that Britain needs.
House-building in the UK peaked at 183,600 in 2007. It reached a low of 75,350 in 2009 and is now averaging around 150,000 a year. This has lead to a backlog of unmet needs, unfit housing stock, and ever-rising prices and rents – key contributors to today's unprecedented levels of homelessness. The new legislation will help, but it is only by building the government's target of 300,000 houses a year now, and not, as planned, by the mid-2020s, that we can begin to ensure that nobody need fear losing their home.
Many argue that it is central government's programme of austerity, including cuts to local services and to benefits, especially for 16- to 18-year-olds, who are no longer eligible for housing benefit, that has created the current problem. There is certainly a need to address the problems associated with changes to the welfare system, albeit without further fostering a culture of extended adolescence among the young. But blaming the Tories is too easy. The crisis of affordability, of rising housing costs and stagnating incomes, is a longstanding one. It is this that motors the evictions that are the leading cause of homelessness. To solve this problem, we need less grandstanding and more serious investment in infrastructure.
Dave Clements is a writer, adviser to local government and founder of the Academy of Ideas Social Policy Forum.
To enquire about republishing spiked's content, a right to reply or to request a correction, please contact the managing editor, Viv Regan.