Chris Froome: neither saint nor sinner
Every athlete is only ever trying to seek a competitive edge.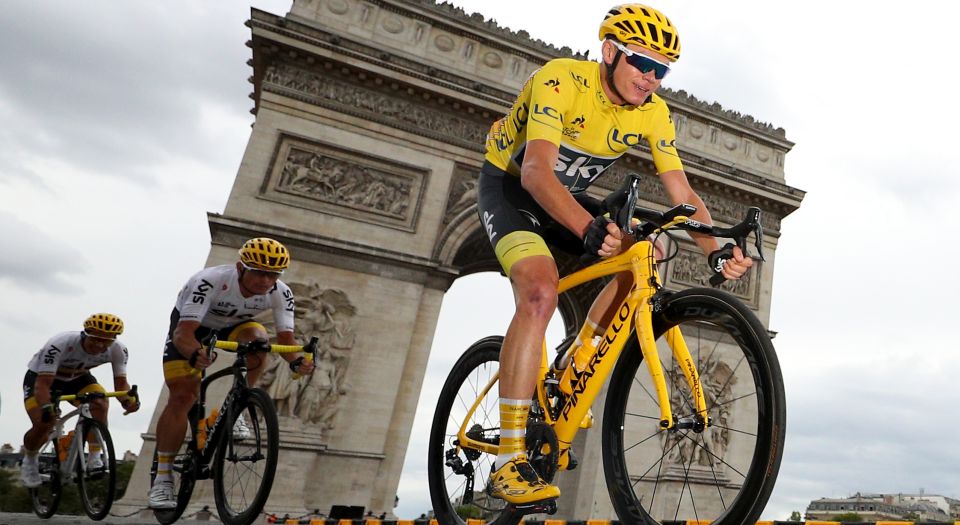 For her New Year's resolution, a friend of mine gave up coffee. Any health benefits are vague to say the the least, but there is no denying the warm glow of personal rectitude she's been feeling. Why this should be so is unclear, but it has got me thinking about the slightly random places we pitch our moral tent.
One such area is the omnipresent sporting scandal of doping. At present this features four-time Tour de France champion Chris Froome. Froome enjoyed a stellar 2017, which brought him a rare Tour de France/Tour of Spain (the Vuelta) double. It turns out, though, that Froome also found himself on a Spanish mountainside with twice the permitted level of the asthma medication Salbutamol in his wee.
The offence itself, currently being adjudicated, is probably mid-level serious. Nowhere near as extreme as those of dopers past. He could lose the Vuelta title but is unlikely to face a long ban (months rather than years). Whether Salbutamol actually confers a performance advantage and how he ended up in this position are issues to be decided elsewhere. His team, the famously well resourced Sky, will put up a robust defence, though the indirect presence of Rupert Murdoch in this context doesn't calm the waters.
An interesting aspect of the case is the rules themselves, rather than whether Froome is inside or outside them. Salbutamol is not forbidden in competition. It only becomes an issue when your urine levels go above a certain level. Therefore, riders who are asthmatic (as Froome is) may take it for symptom relief. The idea behind this is to ensure asthma sufferers aren't disadvantaged. A laudable aim. The problem with such allowances is that they run counter to another aspect of endurance sports: they are designed to break you down physically over time. Indeed, they are partly a test of health.
Let's fantasise that we're both riding the Tour de France. You have asthma and it flares up. You can take Salbutamol. I get really nasty hay fever, so is there anything I can use? Well, I might try the steroid Triamcinolone, though I had better get doctor's note first (called a Therapeutic Use Exemption or TUE). What if I get a bit anemic? Maybe I could have a blood transfusion? Unfortunately for me, no, unless I want to risk the kind of ban handed down to Lance Armstrong. Sports allow only particular interventions to, in theory at least, allow people to restore their functioning to normal.
You might quickly spot that this system is open to abuse, and athletes and coaches have admitted inventing or exaggerating medical issues to game it. A bigger problem is distinguishing what constitutes 'restoring normal' and what blurs into boosting performance. This looks terribly straightforward in the World Anti-Doping Authority (WADA) Code but, in the heat of competition, it might become a little more hazy. Leaked medical records showed Froome's former teammate Bradley Wiggins' efforts to get on a 'level playing field' — in this case through highly targeted doses of Triamcinolone before a series of major races. The fact that this was within the rules didn't stop Wiggo being castigated for seeking unfair advantage by everyone from tabloid newspapers to government ministers.
If the Wiggins case reveals anything, beyond the fragility of national-treasure status, it's that the difference between legitimate medical dosage and being a cheater is fairly subjective. This kind of thing has led some moral philosophers to argue that there is as much chance of objectivity and consistency in doping rules as there is of athletes stopping themselves seeking an edge.
Is there a way to clear up what has become a mess? One route would be to ban all substances with even a whiff of performance enhancement about them. This would be rough on people with asthma, allergies and a host of other things, and how many people would be left competing is anyone's guess. The other way is to have a far more liberal climate and allow several substances that are currently forbidden.
The usual counter here is to argue, as WADA does, that the rules are there to protect athletes. However, there is a pretty good case to be made, as with many recreational drugs, that it's not so much the substances themselves that are the problem but rather the prohibition. This places a premium on secrecy rather than a transparency which would allow quality control and the best chance of safe administration. Reading firsthand accounts of the dodgy practices in clandestine doping leaves me thinking it is at least possible we might be better off allowing something athletes do anyway to be done in the open.
The truth is that I think we will always struggle to take such a libertarian line, largely because of another factor emphasised by WADA: preservation of the 'spirit' of sport. This idea leaks into the language around doping, which is then soaked in moral judgement. 'Clean' vs 'dirty', 'cheating', 'taking the easy route', etc. In reality, of course, the spirit of sport has been an extremely slippery concept at least since the advent of professionalism, and likely since the Ancient Greeks. It's no clearer in a world where sporting competitions have real-life consequences, such as being able to make your mortgage payments or feed your kids.
So what, in the end, are we to make of Chris Froome? A dirty doper violating our treasured ideals of competition? I know it's hard to get away from emotional attachment or fandom here. There is an alternative, though. Perhaps Froome is simply an athlete trying to make his way in a system which does not, and fundamentally can never, work in the way it was intended to. Tricky, of course, as we do like that morally superior glow.
John McGowan is an academic and clinical psychologist.
Picture by: Getty Images.
To enquire about republishing spiked's content, a right to reply or to request a correction, please contact the managing editor, Viv Regan.