How No Platform conquered the academy
Campus censorship has been on the march for decades.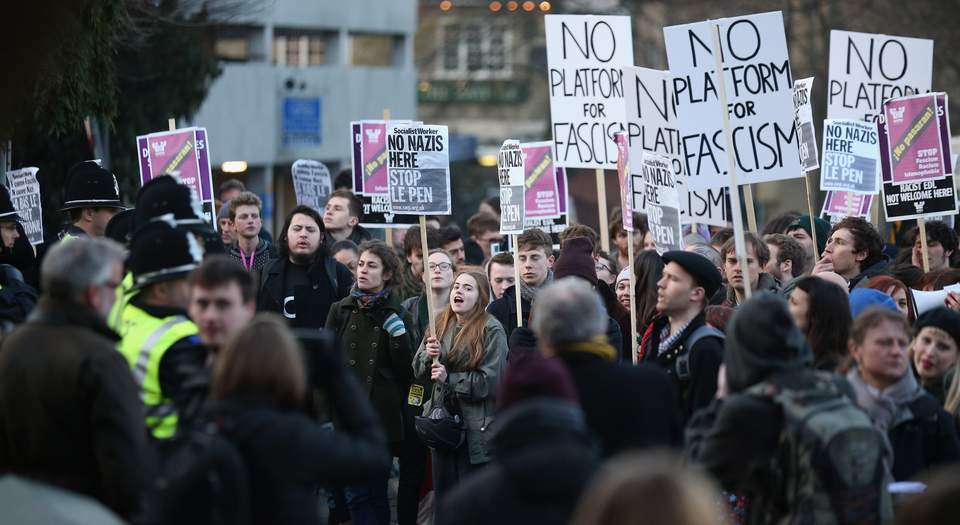 The National Union of Students' No Platform policy dates back to 1974. Its targets back then were Britain's then sizeable far-right groups: the NUS wanted to keep such outfits off campus. But campus politics has changed a great deal in the intervening decades. Today, a far wider range of controversial speakers falls foul of SU policies. No Platform was wrong in the past, even when it was only aimed at the far right, but it is even worse now – it has become all-encompassing.
A key example of 1980s-style No Platforming was when controversial Tory MP Harvey Proctor was silenced at Coventry Polytechnic. It was November 1984, and the Miners' Strike was dominating politics. New to the city, my roommate and I spent much of our time collecting, picketing and campaigning for the miners (the local pit at Keresley was solidly on strike). Students' union meetings were big, raucous affairs – it was an exciting time politically.
The Thatcher government was engaged in a class war with the miners. Naive as we were, we realised that something beyond our own feelings and emotions was at stake here, and we wanted to be part of it. No one seemed worried about being offended or having their sense of identity undermined. We were pretty clear about who we were and what we wanted. As were Harvey Proctor and the Federation of Conservative Students who invited him to speak.
A few hundred of us turned up to 'welcome' him – that is, to prevent his event from happening. Red paint was thrown, and in the melee Proctor snuck away, in an unmarked police car, it was later claimed. At the next Labour Students meeting, opinion was split. Some regarded the prevention of the Proctor meeting as a mistake – the papers were referring to us as 'Red Fascists'. Others saw it as a necessary show of force against reaction, even as a blow struck for the miners.
We were right to protest against Tory policy and raise our banner for the miners. But we were wrong to No Platform Proctor, and we achieved nothing by doing so. His complicity in the class war against the miners and his racist views on immigration made him a hate figure for us. Looking back, however, it seems pretty clear that our 'success' in preventing him from speaking was just a displacement activity from our failure to win the argument about broader political problems: the miners lost their struggle, the unions were reduced to a shadow of their former selves, and Thatcher went on to win another election. Barricading Proctor's lecture room was easier than confronting the fact that the labour movement and the left more broadly were in serious trouble.
On campus today, in some ways as a consequence of that demise of the labour and radical left in the 1970s and 1980s, the politics of identity trumps the politics of class. (When class is raised, it tends to be treated as just another identity: some students' unions now paternalistically provide working-class students with 'liberation officers' to help guard them against middle-class 'unconscious bias'.) And consequently, No Platforming now takes a different form, too.
Its range, its censorious logic, extends far beyond the small number of extreme organisations it targeted in the past. It no longer focuses only on right-wing hate figures like Proctor. Under today's Safe Space policies, all sorts of speakers, from the right and the left, find themselves being vetted by small cliques of student officials to see if the words they use might cause offence to 'vulnerable' groups on campus, or 'promote hate'. These policies are the means through which the culture of 'You Can't Say That' is formalised on campus.
Under these policies, in recent months alone, we have seen a UKIP MEP being told he must submit his speech for vetting before he could speak on campus (he refused, and was banned); a feminist who criticised some trans activists during a radio discussion having her invitation to speak at a university rescinded; and Safe Space Marshalls literally policing speech in situ at debates at a London university.
In backing the No Platforming of Proctor in 1984, we foolishly attacked freedom of speech as a universal principle; we made the freedom to speak contingent on what was being said, on who the speaker was. Safe Space culture extends that contingency and normalises the idea that if someone finds something offensive – even if he or she is finding it offensive on behalf of another – then that is reason enough to censor that thing, whether it's a pop song, an MEP, an Islamic preacher, an Israeli academic, a pro-Palestinian activist, a trans-sceptical feminist, and so on. Entrenched over decades, this censorious culture now has a deep and insidious effect on the open and free debate that is vital to intellectual life and democracy in the academy. It must be confronted.
Jim Butcher is a lecturer, union rep and writer. He is writing here in a personal capacity.
Picture by: Getty Images.
To enquire about republishing spiked's content, a right to reply or to request a correction, please contact the managing editor, Viv Regan.