The myth of Trumponomics
The Donald is more Davos than some might think.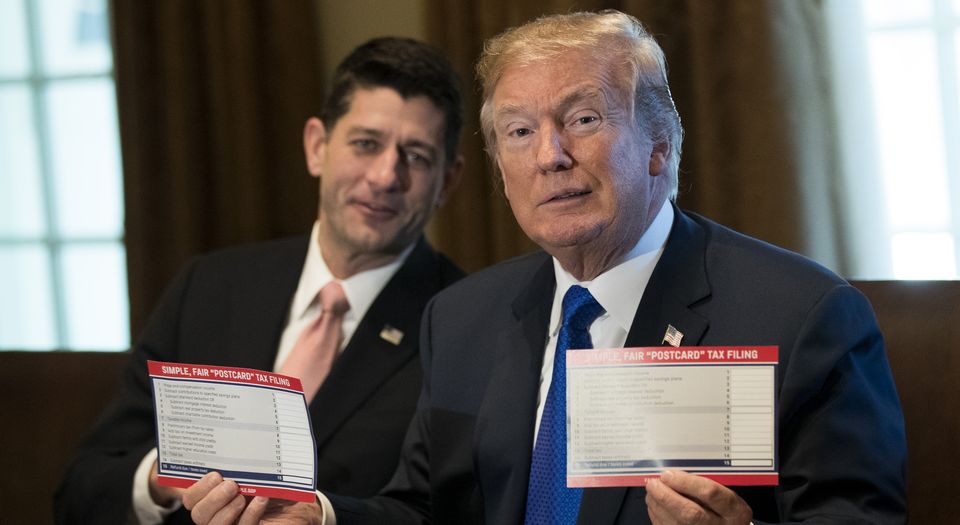 Donald Trump is going to speak at the World Economic Forum at Davos next week, the annual gathering in the Swiss Alps of world leaders, policy wonks and the odd celeb. Attendees usually extol the virtues of liberal globalisation, as well as debating the pressing issues facing the world today. Last year, that noted liberal, Chinese leader Xi Jinping, stole the show, his speech described as a 'rousing – and at times poetic – defence of the need for international coordination'.
Trump's speech is unlikely to go down as well. It has been tipped that Trump will deliver a speech defending his 'America First' brand of economic nationalism. And no doubt he will deliver a few pre-crafted and memorable lines, telling the jetsetters in attendance that he is accountable to the American people and that they, and they alone, come first.
But whatever rhetorical jabs he throws at Davos Man (and Woman), it's worth remembering that, back home, his 'economic nationalist' agenda has hardly gotten off the ground, and there's little sign of it doing so anytime soon.
Sure, Trump killed of the Trans Pacific Partnership (TPP) trade agreement once he took office – but it had been a dead duck since 2016. By the time she got the Democratic nomination, even Hillary Clinton had said she was against TPP. Leaving NAFTA, as Trump once threatened to do, would be far more disruptive. But today Trump just makes showy criticisms of it.
His primary economic-policy victory has been his much-vaunted tax reform bill. But while some parts of the bill will end up benefiting the American economy and the average American, the headline part is the reduction of the corporate tax rate to 20 per cent. There's nothing inherently 'globalist' about slashing tax rates, but it's hardly the transformational, pro-worker economy Trump promised. Indeed, this is the kind of bill that any of Trump's GOP rivals would have implemented had they made it to the White House, whether it was Lyin' Ted or Low Energy Jeb.
Trump also has his eye on overhauling Dodd-Frank financial regulations, and watering down new regulations covering fiduciary standards. But these policies have been GOP talking points for years, and are completely irrelevant to Trump's pledge to reshape the American economy in the interests of the 'forgotten man'.
Some commentators have been more generous. Economist Tyler Cowen, writing in Bloomberg, sees in some of Trump's policies a new 'supply side' revolution – an attempt to address America's chronic underinvestment. Cutting corporate tax will attract foreign business (a la the Republic of Ireland) to set up shop in the US, he writes. This is an economic nationalism of sorts. But it's still a far cry from the strong manufacturing economy Trump promised. As Cowen notes, 'the core theme behind the policies is boosting investment into this country, not encouraging exports'.
Trump's former strategist Steve Bannon, who was recently excommunicated by Trump, once had a very different idea of what Trumponomics would look like. Trump's economic agenda, he told CNN in 2016, would include a trillion-dollar infrastructure plan, making use of historically low interest rates. 'Shipyards, iron works, get them all jacked up', he said. 'We're just going to throw it up against the wall and see if it sticks.' It was an agenda that GOP bigwigs would have hated – a plan more John McDonnell than Paul Ryan.
Since then, Trump's economic plans have been shelved. He has opted instead for a hodgepodge of GOP establishment policy, aping the moribund political establishment he set out to shake up. For Trump, it seems, the material issues have always been secondary – it's the theatrics of the new culture wars that matter most to him. We can expect to see such theatrics at Davos next week – no doubt the ratings will be terrific.
Tom Bailey is a spiked columnist. Follow him on Twitter: @tBaileyBailey
Picture by: Getty.
To enquire about republishing spiked's content, a right to reply or to request a correction, please contact the managing editor, Viv Regan.