Three Billboards and the new philistinism
Only a fool would think Martin McDonagh's movie endorses racism.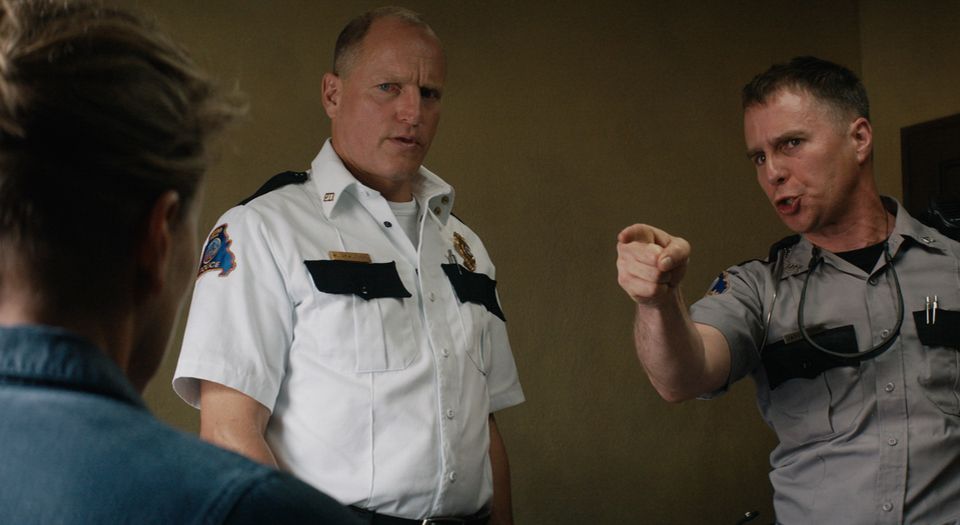 Three Billboards Outside Ebbing, Missouri is the third film by writer, director and self-described 'equal opportunities offender' Martin McDonagh, best known for his cult dark comedy In Bruges. The titular billboards are put up by a mother protesting the lack of progress in a police investigation into the rape and murder of her daughter. This drama has the foul language, dark humour and exaggerated violence of McDonagh's previous work, but it is also a more poignant, if at times heavy-handed affair. It's the odds-on favourite to win Best Picture at the Oscars, and Frances McDormand and Sam Rockwell are highly favoured to win in their acting categories.
However, a backlash is brewing against the film for its portrayal of racism, specifically the cop character that Rockwell plays. When he won his Golden Globe for Best Supporting Actor, commentators in the New York Times and the Huffington Post suggested that by celebrating Rockwell's portrayal of a racist cop, the Globes were somehow endorsing racism itself. No doubt this backlash will build as more people see the film and we get closer to the 'so white' Oscars.
If it's not already absurd enough to act like the Golden Globes has one iota of political (let alone artistic) significance, these critics are claiming that approving of an actor's performance is the same as approving of the character he portrays. Does this mean when the Academy gave Anthony Hopkins the Oscar for playing Hannibal Lecter, it was voicing its support of cannibalism and murder? Imagine how movies would suffer if even a villain's most villainous traits had to be inoffensive.
Those raging against Three Billboards seem not to have seen it. It isn't really even about race. The central moral questions are about justice and vigilantism, as McDormand tries to make up for her daughter's gruesome death. The racism of Rockwell's character is almost incidental. An article in the Guardian said it offered a 'shallow' portrayal of race, and that Get Out is far superior. But this is a ridiculous comparison to make.
One of the sticking points for McDonagh's critics is that he gave Rockwell's character a storyline of moral redemption. This is, again, not really accurate, as the ending is ambiguous, and Rockwell's arc is complex. But in this age of identity politics, everything must be reduced to a binary morality. Subtleties in art become impossible on these terms. There is something anti-human about all this. These people seem to think that someone with backward views can never learn from the error of their ways.
Those writing off Three Billboards Outside Ebbing, Missouri seem to think that seeing unchallenged racism on screen will make mainstream audiences think it is acceptable. But it is these critics who really lack sophistication. They are prioritising their political preoccupations over all else and wilfully rejecting nuance. They seem to think a filmmaker must either approve of his characters' views or spell out his disapproval on screen. In the end, bad deeds sometimes go unpunished, particularly in a Martin McDonagh film.
Christian Butler is a spiked columnist. Follow him on Twitter: @CPAButler
Watch the trailer for Three Billboards Outside Ebbing, Missouri:
Picture by: Getty
To enquire about republishing spiked's content, a right to reply or to request a correction, please contact the managing editor, Viv Regan.