Cyrille Regis: an anti-racist icon
In the face of bigotry, he blazed a trail for black players.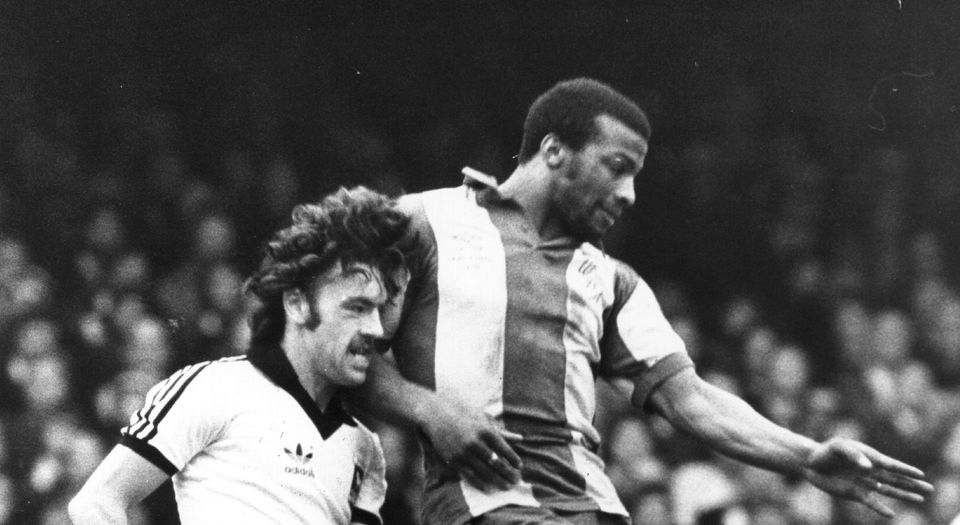 The death of Cyrille Regis, the former footballer, has prompted a remarkable outpouring of tributes from across the football world. The love and admiration for Regis clearly transcends club allegiances.
Regis was a fine footballer, a physically imposing centre forward with 'good feet for a big man', and the knack of scoring 'worldies' – supporters of a certain vintage will recall his piledriver against Norwich which won BBC Goal of the Season in 1982. But the reason his passing will be mourned by fans of every hue and stripe is that he paved the way for black footballers to establish themselves in English football. Growing up as a football-obsessed kid in London in the late 1970s, when casual racist abuse and the threat of physical violence were an everyday reality, for people like me Cyrille Regis, Clyde Best, Vince Hilaire and Viv Anderson were heroes – black players who were stars in a white man's game.
Regis wasn't just adored by fans. Read the tributes to Regis from black footballers who followed his example and it's striking how the same words are used time and again: 'pioneer', 'trailblazer', 'inspiration'. Mark Bright, who led the line for Crystal Palace (and, er, some other clubs), expressed the big fella's social significance perfectly: 'He was more than just a footballer. He blazed a trail for every black player who followed him, an inspiration to myself and many players of my era.'
Although Regis played for seven professional clubs during his 19-year career, it's the West Brom team of the late 1970s and early 1980s for which he'll be best remembered. The Baggies were only the second top flight team – after West Ham – to feature three black players. The trio of Cyrille Regis, Laurie Cunningham and Brendon Batson were affectionately dubbed 'The Three Degrees'. But they were far from an exotic novelty act. Yes, they had the cojones to withstand the vicious racist abuse that was hurled at them from the terraces. But more importantly, their performances on the pitch debunked the conventional racial myths about black footballers. Crystal Palace chairman Ron Noades' infamous quote best encapsulates this stereotype: 'The black players at this club lend the side a lot of skill and flair, but you also need white players there to balance things up, to give the team some brains and some common sense.'
The warm tributes to Regis stand in stark contrast to the boos and monkey grunts which greeted him in the 1970s. But while the obituaries rightly credit Regis with changing English football for the better, the role played by Ron Atkinson, his manager at West Brom, sadly appears to have been airbrushed out of history. It's not difficult to understand why. Atkinson has been in football purgatory ever since he called Marcel Desailly a 'fucking lazy thick nigger' in an unguarded moment in 2004. It was a stupid and offensive remark, but Big Ron's subsequent expulsion from public life means that his positive contribution to the anti-racist cause is now downplayed.
Ron Atkinson was the first manager in the English game to build a team around a spine of black players. As journalist Richard Williams points out, '40 years ago, few English managers trusted black players, whom they saw as athletes rather than footballers'. Atkinson, by contrast, ignored the skin colour and selected black players on merit. 'They could be yellow or purple and have two heads as long as they can play', he once said. In an era when black footballers were seen as mentally weak, lacking leadership qualities and 'not fancying' the cold weather, Atkinson broke the mould and practised equal treatment. For that reason alone, he's as much a trailblazer as Cyrille Regis.
Black players like Regis silenced the bigots through their talent and strength of character alone. Regis demonstrated on the pitch that black players could be tough and courageous, that they could be leaders. There was no Kick it Out campaign and no laws against racist chanting back then. The anti-racist campaigns came much later, after the tide had turned. Terrace racism withered away because black footballers showed they were equals on the field of play. Like the US sprinter, Jesse Owens, they made a mockery of the myth of white supremacy. They became terrace heroes and, eventually, the boos and monkey grunts gave way to cheers.
That's why we should celebrate Regis's legacy. Those who knew him say that, off the pitch, he was a humble, gentle and kind man. Yet while he wasn't an exuberant showman like Muhammad Ali, he was no less of an anti-racist icon.
Duleep Allirajah is spiked's sports columnist. Follow him on Twitter: @DuleepOffside
To enquire about republishing spiked's content, a right to reply or to request a correction, please contact the managing editor, Viv Regan.