Trump's war on terror
The Pakistan tweet shows he is as clueless as his predecessors.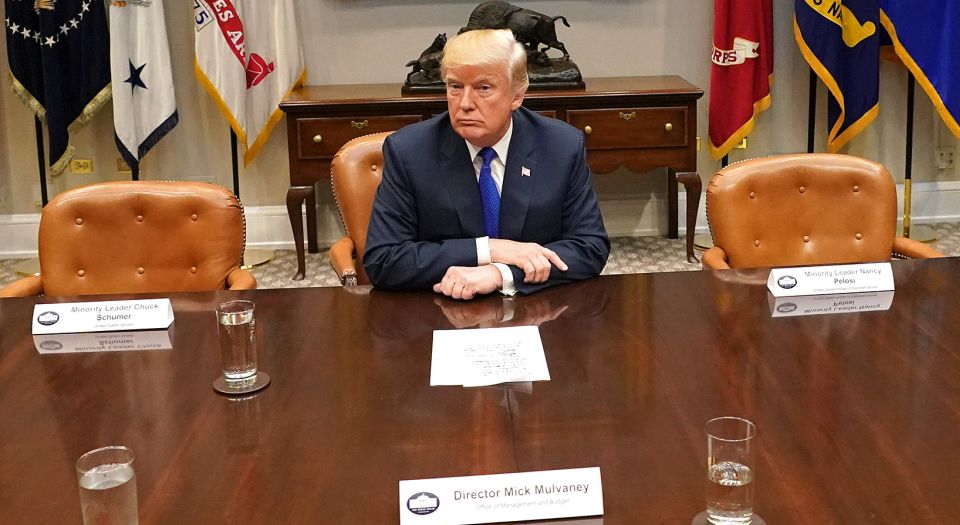 After spending the festive season sequestered in his own private Palm Beach golf club, US president Donald Trump finally re-emerged to begin 2018 in much the same spirit as he had left 2017 – with an aggressive, posturing tweet. 'The United States has foolishly given Pakistan more than 33 billion dollars in aid over the last 15 years', he jabbered. 'And they have given us nothing but lies and deceit, thinking of our leaders as fools. They give safe haven to the terrorists we hunt in Afghanistan, with little help. No more!'
It was both a surprising way for a US president to welcome the New Year, and simultaneously grimly predictable, given Trump's penchant for what can be best described as twiplomacy. After all, in 2017, we saw Trump use Twitter to flirt with a nuclear assault on North Korea, accuse one-time gulf ally Qatar of supporting terrorism, and retweet the likes of nonentity numbskulls Britain First, much to UK prime minister Theresa May's annoyance. It's as if he thinks that managing America's relations with friends, foes and frenemies really is akin to managing his own social-media profile, complete with self-aggrandisement, snarks and troll-ish provocation – as if, in short, his own self-image, affirmed through retweets and comments, is what really matters here.
Of course, it is not what matters here. Trump's daft Twitter poses are also diplomatic, foreign-policy interventions. They inflame tensions between nation states, spur on rivalries and lend international affairs a higher degree of uncertainty. In this particular instance, the Pakistani state responded with a mixture of apparent bafflement and belligerence. Prime minister Shahid Khaqan Abbasi brought forward a national security meeting to discuss the tweet, before releasing a statement accusing the 'American leadership' of striking with 'great insensitivity at the trust between two nations built over generations, and [negating] the decades of sacrifices made by the Pakistani nation'.
This was the substance of Pakistan's retort to Trump – that the US may have given Pakistan billions in aid over the past 16 years, but that was mere reimbursement for its support in the 'war on terror'. 'Seventy-thousand lives for the last 16 years', said Shahzad Chaudhry, a retired Pakistani air vice-marshal, referring to the number of Pakistani civilians and soldiers killed in Islamist attacks, which have mainly been blamed on blowback from Pakistan's alliance with the US. 'The US looks at Pakistan as a transactional nation', he continued: 'Used when needed, and trashed when not needed.'
Trump's tweet didn't just antagonise Pakistan – it also exacerbated tensions between Pakistan and India, with Jitendra Singh, a junior minister in prime minister Narendra Modi's administration, spying a chance to trumpet India's claims to be America's main regional ally, saying '[Trump's tweet] vindicated India's stand as far as terror is concerned and as far as Pakistan's role in perpetrating terrorism is concerned'. And it also prompted the Pakistani state to suggest it will move away from the US orbit and towards China's, one of the world's emerging power-brokers. All this because of a tweet.
But, as we have argued before on spiked, it is important not to overstate Trump's tweeted ruptures to diplomatic protocol. In fact, Trump's problem is not that he has broken with recent foreign-policy tradition; it is that he has revived and continued it. This, remember, was the president who, as recently as December 2016, promised to 'stop racing to topple foreign regimes that we know nothing about, that we shouldn't be involved with'. The president, that is, who was to reverse the West's interventionist trajectory over the past two decades, and, with it, America's.
And yet, within months of being in office, Trump had switched positions, promising effectively to revamp the long-standing 'war on terror'. In June, his national security council – with Lieutenant General HR McMaster and Lisa Curtis, the council's senior director of south and central Asia, banging the drums – was urging Trump to get the US army stuck into Afghanistan once again.
In fact, this is where Trump's New Year stance on Pakistan actually comes from – the not-without-foundation conviction that the Pakistani state has an interest in supporting the Taliban, and some of the other Islamist militants the US regards as terrorists. In fact, the source material for Trump's tweet comes from a speech he made in August last year, when the US announced an expansion of its military presence in Afghanistan. 'We can no longer be silent about Pakistan's safe havens for terrorist organisations like the Taliban and other groups that pose a threat to the region and beyond', Trump said. 'Pakistan has much to gain from partnering with our effort in Afghanistan. It has much to lose by continuing to harbour terrorists.'
In this same speech, Trump even tried to justify his volte face. 'We are not nation-building again. We are killing terrorists', he said. Though he admitted that 'my original instinct was to pull out, and historically I like following my instincts, but all of my life I heard that decisions are much different when you sit behind the desk in the Oval Office'.
And so, since then, the US has not only increased its troop presence in Afghanistan from 10,000 to 14,000, and carried out 2,500 airstrikes, the highest number since 2012. It has also ratcheted up the pressure on Pakistan to cease any tacit support for those the US is currently fighting in Afghanistan. How? Trump is continuing to withhold the latest $255million instalment of a billion-dollar aid package agreed by Congress in August 2016.
Trump's tweet may have been the work of a vainglorious buffoon. But it was also the culmination of his administration's revived 'war on terror' – that is, his continuation of the clueless interventionism and meddling that has long characterised American foreign policy. The problem, then, is not that Trump has broken with diplomatic protocol – although he has certainly done that in a spectacularly clumsy, dangerous way. Rather, it is that he has failed to break with the interventionist trajectory of the past few decades, where posing for a domestic audience, with pledges to fight the baddies and make the world safe, stands in for a grown-up approach to international relations and the affairs of other countries 'that we know nothing about'. Instead, beneath the Twitter bluster and half-cocked statements, the same dismal purpose-seeking and posturing of his predecessors continues unabated.
Tim Black is a spiked columnist.
Picture by: Getty Images.
To enquire about republishing spiked's content, a right to reply or to request a correction, please contact the managing editor, Viv Regan.