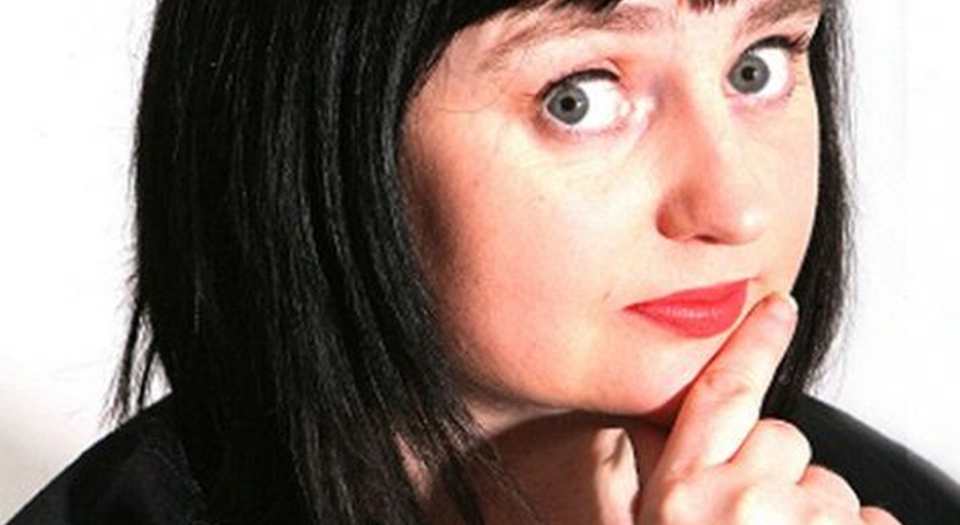 Long-read
'There's nothing crazier than real life'
The author of Room Little Darker talks to Ella Whelan about 'farting out the truth'.
June Caldwell is a writer to watch. Her first collection of short stories, Room Little Darker, has been praised by many, and was named the critic's pick in the Irish Times. Fellow Irish writer Frankie Gaffney even likened it to James Joyce's Dubliners.
She certainly stands out. Her 11 black-as-night tales 'read like boiling tar', the Guardian says, while the Irish Times celebrates their 'shock factor'. She bristles a little when I ask her, over a shaky Skype connection, if she's trying to shock people. 'People have been on to me from the beginning, asking [she puts on a posh English accent], "are you deliberately trying to shock?".'
'I know the stories are slightly weird and bizarre in parts', she continues. 'But for me they represent a reality that's genuinely out there. Real life can be so odd and disjointed. I just wanted to write the brutality I was experiencing, particularly from close-circuit perspectives within relationships. People may confuse that with "filthy shit", but there is dirt and pain in all our lives under the microscope'.
Caldwell is a joy to talk to. Swear words come pouring out of her like poetry, mixed in with cutting insights. ('Our literary scene [in Dublin] is very incestuous and small', she explains; 'we all might as well turn up in each other's sitting rooms'.) And though she balks at the idea that her work is an attempt to break through the up-tight history of censorship of Irish literature, she admits that her drive to write is based on a desire to tell stuff as it really is. 'I was brought up very much under a religious, oppressive regime of church and state, and then you had the IRA and the war and all that going on. So everything was very concealed and censored and hushed and you were told what to do and think for so long, that the minute there's an opportunity to fart out the truth, that's what you do.'
Having spent 13 years working as a reporter – 'writing shite', as she puts it – she found it hard to switch to fiction at first. 'I just kept writing like a journalist.' In fact, her introduction to creative writing was pretty much accidental. Having studied for an MA in Belfast in 2010, she moved back to Dublin to look after her parents and brother, all of whom had become unwell in a short space of time. To get out of the house, she volunteered at the Irish Writers Centre, where she sat in on some short-story courses. 'And I just became addicted to them', she says. 'I loved the fact that you didn't need any tolerance or time for them, and yet they seemed to be so clever and witty. They were so relevant to my life.'
Much of Room Little Darker is wrested from Caldwell's own experience. Which leads me to ask the question fiction writers hate to be asked: 'How much of this is based on real life?' I wince as I ask – not least because Room Little Darker is replete with junkies, sex robots, caged perverts and brain-dead fetuses. But experience is indeed central to Caldwell's writing. 'There's nothing crazier than real life, nothing', she says.
Caldwell tells me about the story behind 'Natterbean', the eighth story in Room Little Darker. 'I got into a cab one day and we were driving down the road and a junkie walked in front of the cab, and the driver said "I hate those fucking natterbeans". I asked him what he meant and he was like "ah, them cunts that are always like 'ah, natterbean up at the clinic and this happened and that happened'". And I couldn't believe how hilarious that was as a word – "natterbean", like, "I'm after been". I wouldn't have been able to make that up. I still see that taxi driver every day, he's over at my local shops. And I've never told him about the story. Now I feel like I owe him a few quid.'
She tells me, mock sheepishly, that this is her 'Joycean steal' – that she grabs stuff straight from the gobs of those around her. And where better to find a plethora of material than Ireland. The king of Irish comedic literature, Flann O'Brien, gave his Mr Collopy an arsenal of insults to fling at his enemies, including 'thooleramawns', 'rodomondarios' and 'pultogues'. Funny, weird words are the magical byproduct of Irish-English, and Caldwell is continuing a long tradition of writers who mine the effortless richness of Irish conversation.
But Caldwell does more than just report what she sees and hears around her. The brilliance of Room Little Darker comes from the way she depicts the inner workings of her characters' minds. The asides and internal monologues are the best part of her work. 'Voice is something that will always grab me', she says. 'For me, a book is always about voice. I love to feel that the writer is completely possessed by a character, and I'm there getting possessed with them.' While the book describes dirt and grime and perversion, there are startling moments of beauty here, too. She describes a half-emaciated junkie as a 'morning fox in an industrial estate looking for crane flies'.
Caldwell tells me about her influences, such as Eimear McBride, who she was 'shaken by', or the bog gothic of Pat McCabe. When I ask her about Joyce, the Godfather of Irish literature, she shuts me down with a laugh. 'I haven't got the balls to take on Joyce. Fucking cheek of me.'
I also ask her about the role of sex in her stories. 'I'm just a middle-aged woman who is semi-disabled with bad hips living with my mother. I'm hardly out attending orgies at the weekend, but for some reason everyone thinks I'm a horny bastard since I wrote the book', she says. 'It couldn't be further from the truth.'
Caldwell makes writing sound so easy – the book poured out of her in just five months. 'I just wanted to write about what I was feeling, thinking, seeing all around me – and going through', she says. 'I'm living through some of those stories.'
Her next project is in the pipeline – it's a tale loosely based on the real-life stories of missing women in Ireland. Here's hoping she doesn't start pulling her punches anytime soon.
Ella Whelan is assistant editor at spiked. Her new book, What Women Want: Fun, Freedom and an End to Feminism, is published by Connor Court. Buy it on Amazon UK and Amazon US.
Room little darker, by June Caldwell, is published by Head of Zeus.
To enquire about republishing spiked's content, a right to reply or to request a correction, please contact the managing editor, Viv Regan.