2017: turning the tide on green crap?
Eco-miserabilism suffered some welcome setbacks this year.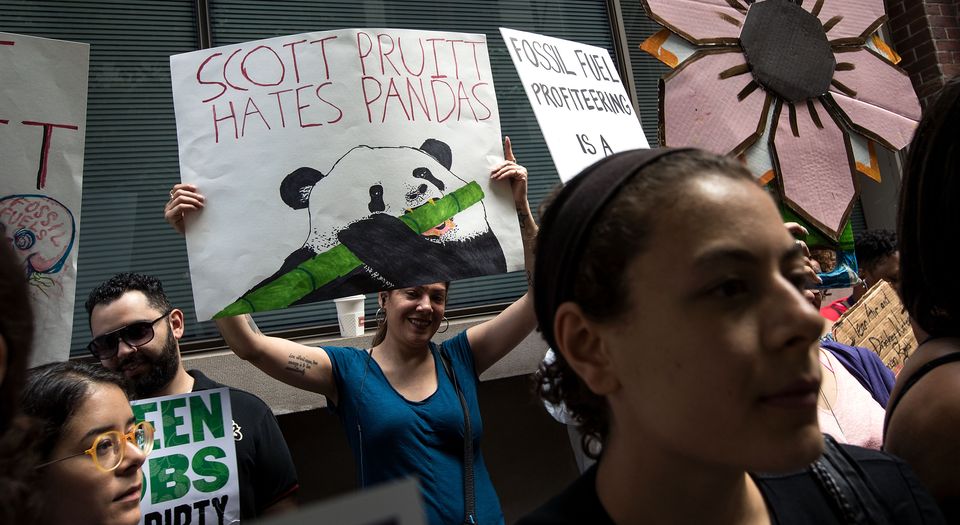 Nothing vexed greens across the world in 2017 more than Donald Trump's inauguration.
Before Trump, climate change seemed to have been cemented into American and global political life. It was central to President Obama's global outlook. But at the same time, it had become a symbol of decadence – part of the cosy consensus of political elites and tech and media billionaires, completely detached from ordinary Americans' lives and interests. Obama's seemingly powerful, presidential statements about the 'overwhelming judgement of science' failed to overcome that gulf.
Trump's dismantling of the old climate-change agenda began with his transition team's review of America's bloated ecological bureaucracy: the Environmental Protection Agency. The EPA's mandate expanded under Obama; Trump's team proposed slashing its budget by a third, sacking nearly a quarter of its staff, reducing its scope, and appointing former Oklahoma attorney general and longstanding critic of the EPA, Scott Pruitt, as its administrator. Environmental activists angrily dismissed Pruitt as a 'climate science denier'. In truth, Pruitt had long urged continued debate and scientific research into climate change, not the complete dismissal of climate concerns from the public agenda.
Then came Trump's announcement that he would pull the US out of the Paris climate-change agreement – a promise he had made in his election campaign. But that was not quite the abrupt end to America's involvement with the global climate agenda that activists claimed it was. The exit would be conducted within the terms of the agreement itself. And it would take four years, meaning it wouldn't be completed until after Trump's first term had concluded. The UN Framework Convention on Climate Change (UNFCCC) process of annual meetings continues, with US participation. The latest meeting was held in Bonn, Germany, in November.
The meeting in Bonn reminded us that there is a frustration with the climate consensus in Germany, too. The losses suffered by Angela Merkel's CDU in the federal election in September meant she was unable to form a government. That was significant because Germany and Merkel have been positioned as champions of green policy. But, as in America, ambitious climate policy in Germany has contributed to the weakening of the consensus on environmental issues, rather than being, as climate alarmists had hoped, the issue on which dwindling political authority might be re-established.
Germany's flagship green policy – the half-trillion Euro experiment in renewable energy, Energiewende – looks like it will comprehensively fail to realise the country's ambition of reducing its CO2 emissions by 40 per cent by 2020. This is a terrible failure for the host nation of a meeting intended to inflict the same policies on the rest of the world.
Environmentalism's embarrassments – the endless recycling of failed prognostications, the weak deal at Paris, the scaling back of climate politics in the US, and ruinously expensive energy policy failures – have forced greens to seek new ground on which to do battle. There has been an increasing focus on regional rather than national and global government. Reflecting a growing scepticism with global politics, new media billionaire Michael Bloomberg and California governor Jerry Brown hoped to circumvent America's position at the Bonn meeting by representing a coalition of US states, businesses and organisations that have pledged to 'address climate change' no matter what policies are decided in Washington.
But it's not easy being green. Brown was interrupted at the Bonn climate talks by his fellow climate campaigners, who accused him of being complicit with fossil-fuel firms. 'Let's keep you in the ground', he told the noisy protesters. Later in the year, as wildfires ripped through California, Brown claimed that climate change was the cause – a claim not supported by empirical evidence. Investigators found that the cause of one of the largest fires had been an accident with a cooking fire at an unofficial homeless camp. The governor of perhaps the richest region in the world does not appear to be competent enough to solve his own state's problems, like homelessness, yet he jets off with his billionaires to 'save the planet'.
This indifference to people and their problems is the signature of environmentalism. It also underlines greens' preoccupation with weather as the root of all humanity's problems. The end of the summer brought an unwelcome return of hurricanes to the US after an unusual 15-year absence. Much shrill green hysteria followed, inevitably leading to claims that the return of extreme weather showed things were getting worse thanks to manmade climate change – despite statistics showing the opposite of this. Climate-change alarmism is nothing if not repetitive and resistant to reason.
The new emphasis on regional politics also led to a shift away from talking about climate change in huge, abstract terms. Climate change is increasingly framed as an air-pollution issue, rather than in the distant language of computer simulations, minute fluctuations of atmospheric gasses, and polar bears. In January, following a concerted effort by UN agencies, London mayor Sadiq Khan joined other European mayors in pushing dodgy mortality statistics to punish poorer motorists and get them off London's roads.
Though London's air is cleaner than it has been for half a millennium or more, Khan claimed that 'toxic smog' had created a public-health crisis that is claiming the lives of thousands of Londoners every year. Khan has no more to offer Londoners than Brown has to offer Californians.
The air-pollution issue was then seized upon by UK environment secretary Michael Gove, who, using the same dodgy stats, announced that sales of petrol and diesel cars would be banned in 2040. In November, Gove announced a total ban on neonicotinoids – the insecticide which green NGOs, on highly questionable data, claim is responsible for a decline in bee populations. Writing in the Guardian, no less, Gove gave the basis for his decision: the precautionary principle, the central tenet of environmentalism.
2017, in short, was a year of green crap. But it was also a year in which the torrent of green crap that had become the norm started to encounter the obstacles of greens' own making. Green crap has always been a desperate struggle to rescue politicians from their own political crises and democratic deficits. Now, in the post-Trump, post-Brexit and increasingly multi-polar world, global and domestic political landscapes are altogether different, and the green crap agenda doesn't work like it used to. That's something to celebrate.
Ben Pile blogs at Climate Resistance.
Picture by: Getty
To enquire about republishing spiked's content, a right to reply or to request a correction, please contact the managing editor, Viv Regan.