In 2017, it was all-out war on press freedom
From Leveson to Stop Funding Hate, snobs want to stifle the press.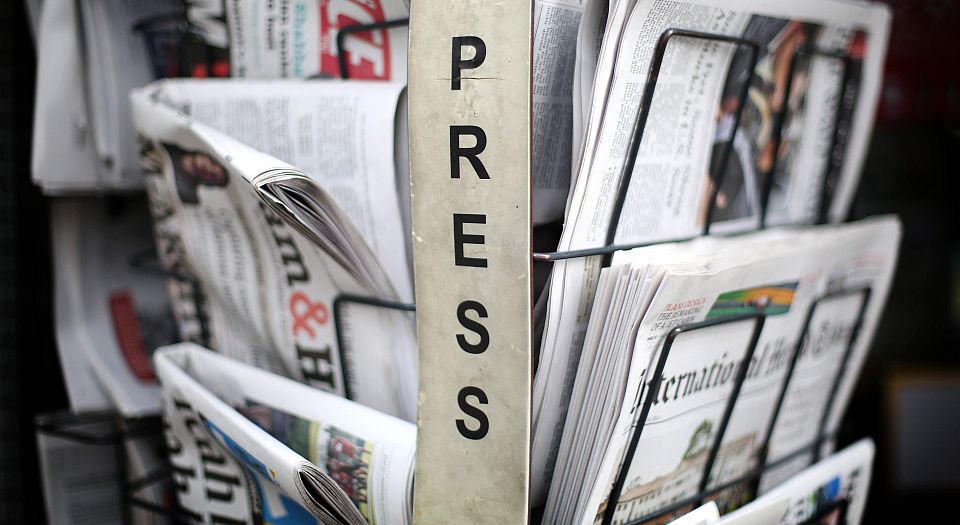 Spiked began 2017 defending press freedom. Sadly, it looks like we must end the year doing the same.
In January this year, the government held a public consultation on the next steps for the Leveson Inquiry – the judge-led inquisition of the press triggered by the phone-hacking scandal at the now-defunct News of the World. The consultation asked whether the government should implement Section 40 of the Crime and Courts Act, which would coerce publications into signing up for state-backed regulation, and whether it should commence with Part 2 of Leveson.
This was a real threat to the press, and our #FreeThePress campaign urged citizens to say No to both prospects. Section 40 would mean strong-arming newspapers into signing up to a press-backed regulator – ending centuries of a (relatively) free press. What's more, the only press regulator that has been approved by the Leveson-created Press Recognition Panel is Impress, which is staffed by snobbish 'hackademics' and funded by tabloid-loathing millionaire Max Mosley. The government was due to announce its decision on this before Christmas, but it has been delayed until early next year.
Meanwhile, an updated version of the Data Protection Bill currently passing through parliament has been hijacked by a group of anti-free-press peers in the House of Lords. They are attempting to push through amendments to the bill which would allow individuals to shut down legitimate journalistic investigations by claiming their data-protection rights had been violated. Moreover, the amendments would transfer a huge amount of power to Impress.
Historically, journalists are entitled to exemptions under data-protection laws, provided their investigations are considered to be in the public interest. The proposed amendments would mean the public-interest exemption would only apply to publications signed up to Impress. And unsurprisingly, most publications want to avoid Impress like the plague.
These aren't the only attacks on press freedom we saw this year. In February, a proposed new Espionage Act suggested journalists and whistleblowers should be treated like spies. This was a recommendation to the government from the UK Law Commission. Had these measures been in place in 2013, it could have led to the imprisonment of then Guardian editor-in-chief Alan Rusbridger, who published the Edward Snowden leaks, for the crime of handling the information passed to his paper by Snowden.

Of course, no review of attacks on the press in 2017 would be complete without mentioning the cringeworthy Christmas-themed censorship campaign, Stop Funding Hate. SFH emerged in the run-up to last Christmas with a John Lewis-style Christmas advert that asked businesses to stop advertising in newspapers that 'spread hate' – namely, the Daily Mail, the Sun and the Daily Express. This year, SFH put out a new advert and is targeting more advertisers. So far it has managed to illicit grovelling apologies from Paperchase and Pizza Hut for the sin of offering Christmas promotions in the Mail and the Sun.
A loathing of the tabloids lies at the heart of these attacks on the press. You can see it in the SFH campaign. It claims to oppose news articles that supposedly spread hate, particularly against immigrants. But a quick look at its Twitterfeed shows it is actually just opposed to newspapers that display any views it disagrees with, such as on the #MeToo movement and the Westminster sexual-assault allegations. This isn't about stopping hate, it's about silencing debate. In trying to censor the views of tabloids, SFH also casts a low judgement on tabloid readers. It is this sneering element of SFH that makes it particularly nasty.
But we shouldn't be surprised by all this tabloid-bashing.The Leveson Inquiry showtrials, cheered on by the great and good, demonstrated how far certain people will go to gag what they view as the 'gutter press'. And it all stems from a distaste for the supposedly gutter people who read it.
So we head into 2018 not really knowing how long our press will remain outside the reach of state regulation. It is a perilous position to be in. Many who attack the press seem blissfully unaware of the damage that would be done if they got their way. History shows us that censoring the press is bad news for freedom, democracy, disagreement and holding the powerful to account.
There's an easy test for whether or not a policy or campaign will be good for society. Just ask yourself this: does it give the individual more freedom, or less? If we censor our press through legislation, or shut papers down through ad boycotts, we will remove the freedom of the public to read what they want and decide for themselves what they think. This New Year, like last New Year, we need to fight for more freedom, not less.
Naomi Firsht is staff writer at spiked and co-author of The Parisians' Guide to Cafés, Bars and Restaurants. Follow her on Twitter: @Naomi_theFirsht
To enquire about republishing spiked's content, a right to reply or to request a correction, please contact the managing editor, Viv Regan.