A year of sexual unfreedom
#MeToo speaks to a misanthropic panic about unpoliced sex.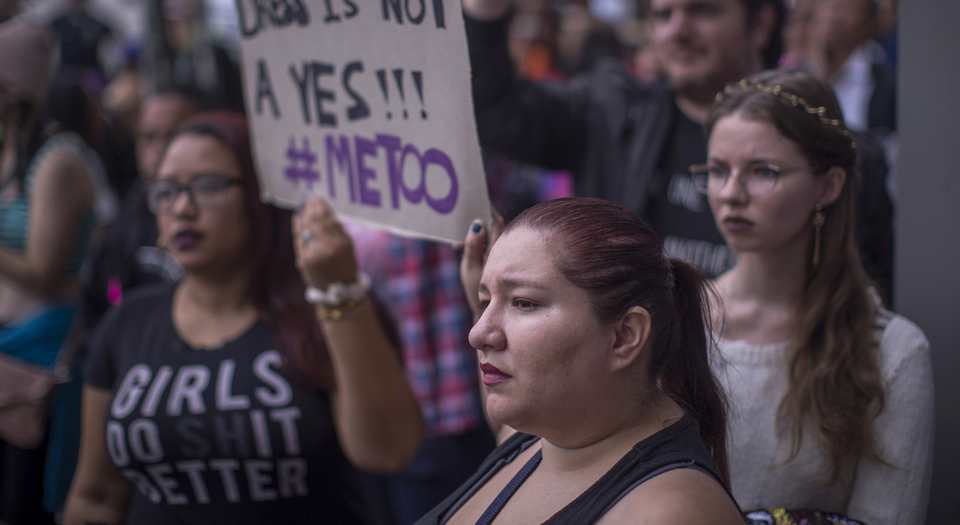 #MeToo, the hashtag used by thousands of women in the wake of the Harvey Weinstein allegations, has been hailed as a breakthrough in the fight against sexual harassment. The New York Times's new gender editor, Jessica Bennett, says #MeToo has become 'a lens through which we view the world, a sense of blinders being taken off'.
Many claim #MeToo has broken an apparent silence around sexual harassment. Time named the 'Silence Breakers' – those who have come out with #MeToo stories – as its Person of the Year. 'Many have waited a long time for this. Don't let it go now. Keep saying "me too"', said the Guardian's Suzanne Moore.
Yet for all these suggestions that #MeToo is somehow a radical new breakthrough, in truth there's nothing that new about it – or radical. It's not even an original slogan – it was first coined by an activist called Tarana Burke in 2006. Before #MeToo, there was #YesAllWomen, which went viral after a mass murder in California, with the aim of exposing 'the misogyny that pervades our culture', as feminist writer Jessica Valenti put it.
And before that, there was #EverydaySexism, which kicked off in 2012, 'documenting experiences of sexism, harassment and assault to show how bad the problem is'. In 2005, Hollaback! was founded, and in 2010 it hit the headlines for encouraging women to 'transform the culture that perpetuates harassment and violence' through sharing their stories on social media. Far from being a 'watershed moment' (as Tom Hanks described it), #MeToo is just the latest in a long line of hashtags claiming to break the silence on the harassment of women.
This idea that women were traditionally silent about abuse is bizarre. One wonders if the champions of #MeToo remember the Take Back The Night marches of the 1970s, or the Reclaim the Night marches in the early 2000s? What about the infamous Slut Walks, which began in Canada in 2011? Feminists seem to be suffering from historical amnesia. And feminists certainly haven't been 'silent' about harassment and rape' – it's all they talk about. 'MeToo is here to stay', wrote one columnist. Yes, and it's been around in one form or another for years. #MeToo and its very similar predecessor hashtags and movements, all devoted to exaggerating the problem of harassment and abuse and encouraging women to be scared, or at least concerned, capture how far feminism has lost its way.
There is so much to criticise about the #MeToo fanaticism and the feminism that produced it. First, it denigrates the seriousness of rape by lumping together everything from catcalling to serious sexual violence on a 'spectrum' of abuse. It is damaging justice, too, by claiming that all allegations of sexual abuse must be believed, even before a proper investigation has been carried out. It demeans women, by claiming we're all silent victims who are unable to speak out without the help of a hashtag. It demeans men by insinuating they are rapists in waiting, or at least a problem for womankind.
But perhaps the most damaging aspect of this drawn-out obsession with sexual harassment is what it is doing to sex and relationships. Behind the salacious drama of call-out culture on Twitter, sexual consent classes on campus, workplace propriety and intensified sex education in schools, there lurks an instinct to problematise and rein in sexual freedom. Feminists demand that Something Must Be Done about sexual harassment, and the response, from the state, civil society and campaign groups, is greater policing of sex and relationships.
So we now live in a world where complimenting someone can be construed as sexual misconduct. Primary schools teach children how to be sure that holding hands is consensual. At some universities, students, who are all at least 18 years old, are sent for mandatory classes on the proper way to have sex. Officer workers are told to refrain from copping off with each other at the Christmas do – you could lose your job for a drunken smooch.
In the past, feminists fought for the authorities to get out of women's lives, including their sex lives. Now they actively call for sex to be monitored. #MeToo has nothing to do with stopping rape and sexual violence – it's better seen as an expression of suspicion towards sexual desire, towards that once unpoliced, experimental area of life in which people meet and flirt. This is why even touched knees, romantic letters, hands around waists and other acts of flirting have become part of the #MeToo hysteria.
One of my first ever crushes was on Bruce Springsteen. My favourite recording was his live version of his song 'Fire'. The lyrics go: 'I'm pulling you close, you just say no. / You say you don't like it, but girl I know you're a liar. / Cos when we kiss, ooooh, fire.' Imagine if someone released a song like that today. There would be uproar, talk of 'rape culture', bans, attacks on Springsteen's reputation. And yet it is an undeniably sexy song that captures something important in the relations between the sexes – that feeling of uncontrollable passion that can be the spark to a new relationship. It is this, this 'fire', that is frowned upon and feared today.
It's time to challenge feminists and others who think women and men can't handle sexual interaction without the watchful eye of the authorities. Here's hoping 2018 will bring an end to this illiberal assault on sexual freedom, and that men and women will ignore the prudes and show the mistletoe some action this Christmas.
To enquire about republishing spiked's content, a right to reply or to request a correction, please contact the managing editor, Viv Regan.