The two Europes
Beneath the sheen of EU 'unity', European peoples are in revolt.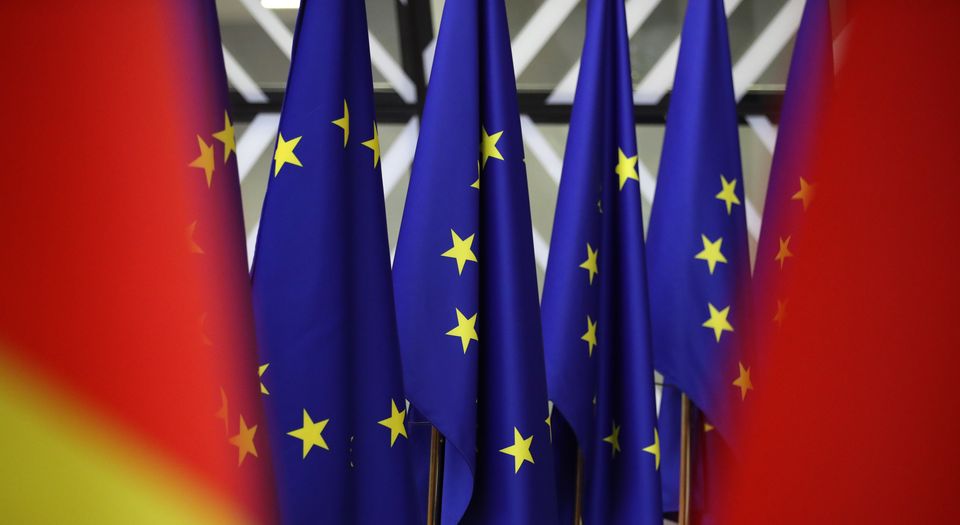 Europe is united. That's what we've heard ever since the Brexit negotiations began. The unity of purpose among the remaining 27 member states has been time and again contrasted with a bitter, divided Britain – whose own government can't even agree on what shape Brexit should take. But the remarkable goings-on in Brussels last night show what a flat-out lie the idea of EU unity is.
Last night the European Commission, furious with Poland and its ruling Law and Justice Party (PiS) over its overhaul of its judiciary, triggered Article 7 – the so-called 'nuclear option', which could lead to Poland being issued with a formal warning and, with the backing of all other member states, being stripped of its voting rights.
The reforms themselves – which would give the PiS more power over the appointment of judges – would no doubt damage the rule of law in Poland. But that's not really what this is about. The EU acted not out of a love for judicial independence, but from a loathing of national independence, the freedom of democratically elected governments to make the laws judiciaries preside over. European Commission vice-president Frans Timmermans said last night that 'we are doing this for Poland, for Polish citizens' – but it is Poles alone who should hold their government to account, not a distant oligarchy making threats.
The triggering of Article 7 may be unprecedented. But this legalistic tyranny is hardly out of character. The EU is currently suing Poland, Hungary and the Czech Republic for refusing to accept the refugee quotas forced on them in 2015. The chaotic handling of the refugee crisis has brought out both the anti-democratic fury of the EU, and a backlash from and solidarity among Central and Eastern European states. Indeed, Viktor Orban's Hungary has pledged to block any attempt to strip Poland of its voting rights.
A chasm between the EU and a number of its member states is widening – with the migration issue to the fore. Austria's new Eurosceptic chancellor, Sebastian Kurz, of the conservative People's Party, has just formed a coalition with the hard-right, anti-immigration Freedom Party. Though paying lip-service to the EU, Kurz campaigned on standing up to Brussels over migration and opposing Emmanuel Macron's push for further integration.
It's clear why this message resonated. Austria, after all, is a nation that has borne the brunt of EU censure before – the last time the Freedom Party tried to enter a governing coalition, in 1999, the EU imposed sanctions and made member states cut off diplomatic ties.
But this isn't just a story of the pro-EU West versus intransigent Central and Eastern states. Italy, a founding EU member, goes to the polls in March, and the governing Democratic Party is being edged by the populist Five Star Movement and an alliance of right-wing populist parties. Five Star leader Luigi Di Maio is demanding reforms of the Eurozone, and threatening a referendum on leaving the Euro if these are not delivered. And his party has led in 13 consecutive polls.
Italy has been wracked by economic crisis and the mass influx of refugees from the Med, and had a democratically government replaced by EU-backed technocrats in 2011; it's no wonder a populist, Eurosceptic message is gaining ground, particularly among Italy's millions of unemployed young people. Remarkably, Italy is the only nation in Europe in which Euroscepticism is actually higher among younger voters – according to one survey, 51 per cent of under-45s want Italy to leave the EU entirely, compared with 26 per cent of those 45 and older.
Even among the nations most central to the European project, dissatisfaction with the EU is growing. A Pew report before the Brexit referendum found that 61 per cent of French people were 'unfavourable' towards Brussels, higher than in Britain. And in Germany, the de facto leader of the bloc, voters have just made the right-wing Eurosceptic Alternative fur Deutschland the Bundestag's third-largest party, handing Angela Merkel's Christian Democratic Union and Martin Schulz's Social Democrats their worst results ever.
Yet the response from European elites has been one of denial. Schulz, who lost an estimated half a million votes to the AfD, is calling for a United States of Europe. President Emmanuel Macron may have trounced the far-right Marine Le Pen in the presidential elections in January, but then he was in essence the Not Her candidate. The pro-EU former banker's approval rating hit historic lows after the election (though it does now seem to be on the bounce). And his calls for further EU integration show a tin ear to public discontent that can only catch up with him.
The delusion of pro-EU elites seems to know no bounds. Macron's triumph in France, and the centre-right Mark Rutte's seeing off of Geert Wilders in the Dutch elections in March, were hailed as victories over populism. But though the French and Dutch may have returned Macron and Rutte, the fact remains that Le Pen received 34 per cent of the vote and Wilders' Party for Freedom picked up seats and became the Netherlands' second-largest party. French and Dutch voters turned to far-right, anti-EU parties en masse. This is not what dodging a bullet looks like.
To dismiss these revolts as a mindless flare-up of nativism and prejudice, as many in Brussels are doing, is a grave mistake. The results that have rocked the continent this year were driven by many factors, and some states are more anti-immigration, more concerned about identity, than others. But what they have in common is a railing against an establishment that, as both refugee and Eurozone crises have shown, is dismissive of people's concerns and suffering. And it is an indictment of the European left, more likely to organise against the populist upsurge than to try to channel it into something more progressive, that so many agitated voters are turning to the right.
What we have here are two Europes. The continent is divided between east and west, north and south, and between political elites and the people they claim to represent. Will 2018 bring a rush to the door that Brexit has opened? Unlikely. Even the nations in conflict with the EU still want to remain within it. What's more, Eurozone members are tethered to Brussels in a way that would make leaving extremely difficult, especially for those already rocked by crisis. As a result, even the most right-wing of Eurosceptic parties seem uneasy about pushing for this – Le Pen backed down on the Euro in the final weeks of her campaign. No party has yet emerged with the positive vision and popular support necessary to make clear what leaving would entail, and why, for the sake democracy and sovereignty, it would be worth it.
But this other Europe, the real Europe, the one made up of frustrated people who want a different politics, rather than distant bureaucrats and delusional politicians, isn't going anywhere. And the EU's anti-democratic ways, as we saw in Brussels last night, are only storing up a bigger backlash for the future. For those of us who are interested in sovereignty, in democracy, in freeing Europe from the technocratic straitjacket of the EU, this populist upsurge is something to cultivate, not scorn.
Tom Slater is deputy editor at spiked. Follow him on Twitter: @Tom_Slater_
To enquire about republishing spiked's content, a right to reply or to request a correction, please contact the managing editor, Viv Regan.