The Disaster Artist: tribute to an unintended masterpiece
James Franco's latest tells the story of the greatest bad film ever made.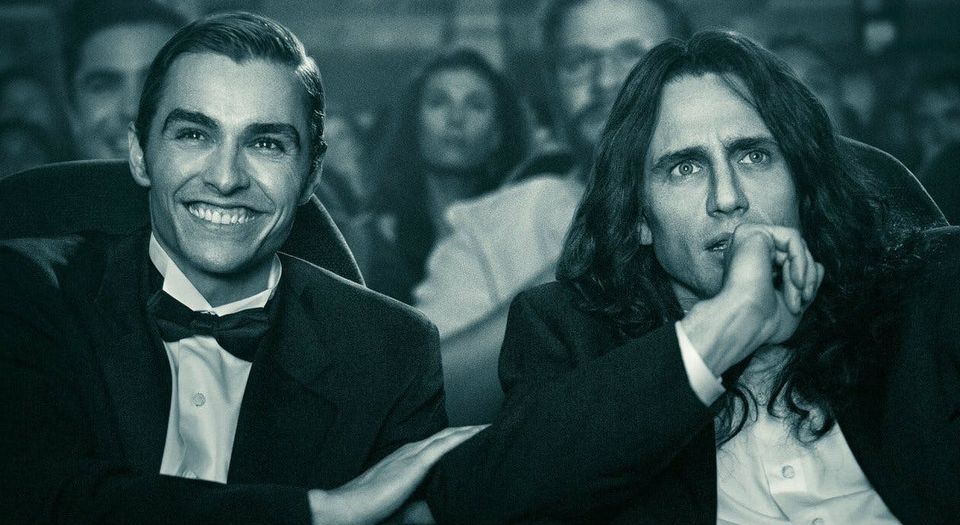 The Disaster Artist, directed by and starring James Franco, celebrates the real-life story behind The Room. That's the 2003 cult film starring, produced, written and directed by Tommy Wiseau, who Franco portrays here. Where once Ed Wood's Plan 9 From Outer Space was considered the greatest bad film of all time, it has been unquestionably surpassed by The Room, which has even earned the nickname 'the Citizen Kane of bad movies'.
The Room was ostensibly a domestic drama. Wiseau played Johnny, a man torn apart when his fiancee has an affair with his best friend. Its unusual combination of over-the-top acting, plot strands that go nowhere, randomly disappearing characters, non-sequitur dialogue, and a generally surreal atmosphere, made it into a multimillion-dollar cult phenomenon.
Many cinemas worldwide, including London's Prince Charles cinema, hold monthly screenings, where fans are known to dress up as characters from the film, heckle throughout and partake in a number of absurd rituals, such as flinging plastic cutlery around, a nod to the framed photos of cutlery that inexplicably appear in the background of many shots in the film. Wiseau is known to attend screenings to answer fans' questions and hawk merchandise.
Wiseau is a bizarre and mysterious figure. He has long, dyed-black hair, and wears shades and multiple belts around his waist. While he speaks with a thick Eastern European accent, he claims to be from New Orleans. Both his place and date of birth remain unknown. It's also unknown how the hell he got the reported $6million he needed to finance The Room. Fans like to believe it was from some sort of money-laundering scheme.
Wiseau's co-star and 'best friend', Greg Sestero, wrote a book (with journalist Tom Bissell) about The Room's production in 2013, called The Disaster Artist, from which Franco has adapted his film. Both the book and Franco's adaptation tell the story behind the mythmaking and mystery.
We meet Wiseau and Sestero as struggling actors in the opening scene. At an acting class, a shy Sestero (played by Franco's brother Dave) timidly acts out a scene from Waiting for Godot. Wiseau then does a crazed riff on A Streetcar Named Desire's 'Stella!' scene. His acting is obviously terrible, but Sestero is enthralled by how fearless he is, and wants to learn how to be like him. The pair eventually become friends and move in together in a spare apartment Wiseau just happens to own in Los Angeles.
When Wiseau inevitably can't find any acting work, he decides to produce his own film to star in. This is where the fun begins. He can't decide whether to film The Room in digital or celluloid, so he shoots the entire thing on both formats, on side-by-side cameras. He creates an exact replica of the alley outside the studio as a set, rather than just filming in the alley. In one of the most tense scenes, he fires major members of the crew for badmouthing him, while naked. (The Room has many strange and dragged-out love scenes.)
And all of it actually happened. In fact, the only glaring addition to Sestero's account here is a scene in which Bryan Cranston, playing himself in his Malcolm in the Middle days, offers Sestero a role on an episode of Malcolm he's directing, which Sestero turns down to stay with Wiseau. If this seems unbelievable, it's because it never actually happened. But this is a minor problem with an otherwise very good film.
The Disaster Artist excels not only as comedy, but also as a study of a strange and complicated relationship. It ponders whether Sestero was in fact exploiting Wiseau and probes at the loneliness behind Wiseau's bravado. The nonsensical plot of The Room is, after all, incredibly depressing: all of the protagonist's friends betray him, leading him to a grim end. All the while, Franco's spot-on impression of Wiseau makes this his best performance in years.
By the end of The Disaster Artist, you can't help but feel that Tommy Wiseau is a true hero of cinema. With absolutely no talent, he set out to make a beloved movie, and he achieved it – even if it was not quite in the way he expected. This film is a wonderful testament to The Room, that most unintended of masterpieces.
Christian Butler is a spiked columnist. Follow him on Twitter: @CPAButler
Watch the trailer for The Disaster Artist:
To enquire about republishing spiked's content, a right to reply or to request a correction, please contact the managing editor, Viv Regan.