We're all Mary Whitehouse now
The rage against deviant art has returned in PC form.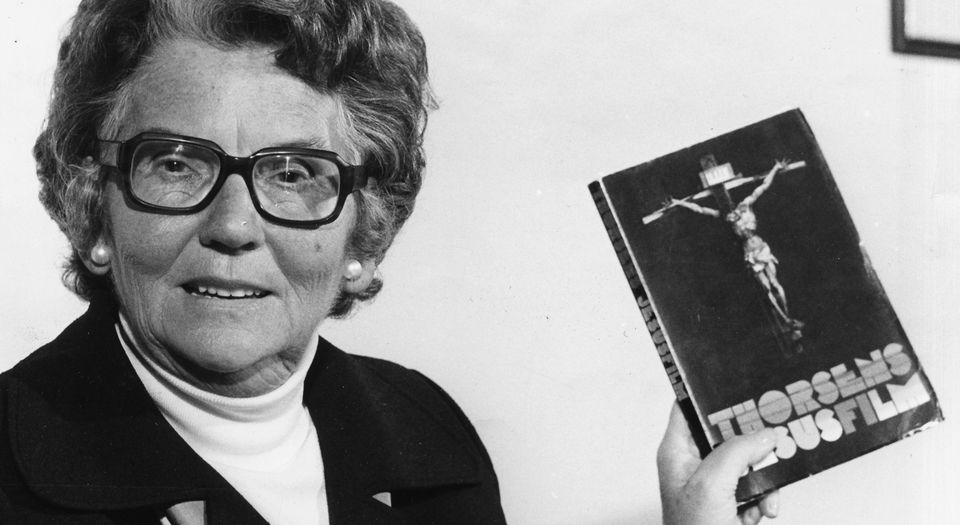 The celebrated writer William S Burroughs shot his wife in the face. The sculptor Eric Gill molested two of his daughters and his pet dog. The novelist Anne Perry helped to bludgeon her best friend's mother to death with a brick. Lord Byron committed incest with his half-sister. Joe Orton boasted about having sex with underage boys. Caravaggio murdered a man while attempting to castrate him. Michael Bay made Transformers.
Few would seek to defend these acts. In modern parlance, they would be described as 'problematic'. But it's worth reminding ourselves that just because an artist is widely admired, that doesn't make him or her incapable of committing terrible crimes. There has always been disagreement over whether or not art can be separated from the artist, but lately the question seems more pressing than ever.
The epidemic of sexual allegations in Hollywood, for instance, has had a tangible impact on the industry's creative output. Kevin Spacey has been systematically erased from the new Ridley Scott film All the Money in the World, and Netflix has announced that it is scrapping Spacey's biopic of Gore Vidal, which was scheduled to appear next year. Similarly, the release of Louis CK's new film, I Love You, Daddy, has been postponed, in response to the comedian's admission that he masturbated in front of women on numerous occasions, albeit consensually.
'If you laugh at Louis CK now, you're accepting his worldview', claims a headline in the Guardian. It's a curious, and demonstrably false, assertion. The best kind of laughter is an involuntary reflex, one that Louis CK is particularly adept at provoking. To claim that he is no longer funny since the scandal broke is to indulge in a bizarre form of revisionism, however well intentioned.
Even those who are long dead are being 'called out' for failing to live up to ethical standards that would have been alien to them in their own lifetimes. One website identifies 10 'problematic' (there's that word again) authors who fall into this category. Charles Dickens is dismissed for mistreating his wife, Rudyard Kipling for his 'downright lyrical racism', and Dr Seuss for his 'early, super-racist work'. For those of you unfamiliar with the 'woke' terminology, 'super racism' is more problematic than traditional racism, but perhaps not so problematic as 'lyrical racism'. In order to argue with the new puritans, you need to master an entirely new lexicon.
The truth is that most of us are perfectly capable of distinguishing between any given artwork and its maker. The curators of the recent Queer British Art exhibition at Tate Britain were happy to include pieces by Kenneth Halliwell, in spite of the fact that he beat his lover (Joe Orton) to death with a hammer. Norman Douglas was continually on the run for sexual crimes, but that doesn't mean that South Wind isn't a tremendous novel. I'm also told that Myra Hindley made some fairly decent tapestries.
In a sense, it's a purely subjective matter. If you can't enjoy a work of art without first being assured of the artist's personal rectitude, then that's your loss. What's more worrying is when this principle is imposed on others. For example, when campaigners in Worthing appealed for the removal of a plaque commemorating Oscar Wilde (on highly spurious charges that he had sex with minors), they were acting as moral arbiters seeking to change an important aspect of the town's landscape.
It isn't only writers who are being scrutinised for their morality, but their characters also. There have been calls to boycott HBO's Game of Thrones for Ramsay Bolton's rape of Sansa Stark. Quentin Tarantino has been accused of 'misogyny' for the treatment of Daisy Domergue in The Hateful Eight. And one critic has demanded that David Lynch be 'called out' for the 'twisted brutalisation of women' in the latest series of Twin Peaks. It's as though the rather fundamental distinction between imagination and reality no longer applies.
Such critics are convinced that depictions of misogyny contribute to a culture in which this kind of behaviour can thrive. It is known as 'media-effects theory', and is now commonly accepted as an article of faith, even though six decades of research has yet to produce any persuasive evidence of a connection between mass-media consumption and behavioural patterns in society. The fear of a malleable public that will enact the crimes they see on screen is what informed the 'video nasties' hysteria of the early 1980s. It is the very same idea that underpinned Mary Whitehouse's 'Clean Up TV' campaign. It has just as little credibility now as it did back then.
Nevertheless, the moral policing of art has become depressingly commonplace. Last week the Royal Court theatre in London announced that it was cancelling a run of Andrea Dunbar's play Rita, Sue and Bob Too on the grounds that, in the current climate, 'the staging of this work, with its themes of grooming and abuses of power on young women… now feels highly conflictual'. Not only is this an anachronistic misreading of the play — it also buys into the absurd idea that theatrical representation is automatically a form of endorsement. The theatre has since reversed its decision following widespread criticism, but its original statement regarding the perceived immorality of the play reveals just how far the prevailing philistinism has spread.
If you are one of those people who insist on hectoring us about 'problematic' art, or who would seek to control what we watch and what we read, I'd like you to consider the following three points. Firstly, it is not the role of artists to provide moral instruction, through either their lives or their work. Secondly, by reducing art to political ideology, you are completely misconceiving its purpose. Finally, and perhaps most crucially, modelling yourself on Mary Whitehouse is never a good look.
To enquire about republishing spiked's content, a right to reply or to request a correction, please contact the managing editor, Viv Regan.