Keep feminist pressure groups out of schools
Kids shouldn't be exposed to the moral panic about misogyny.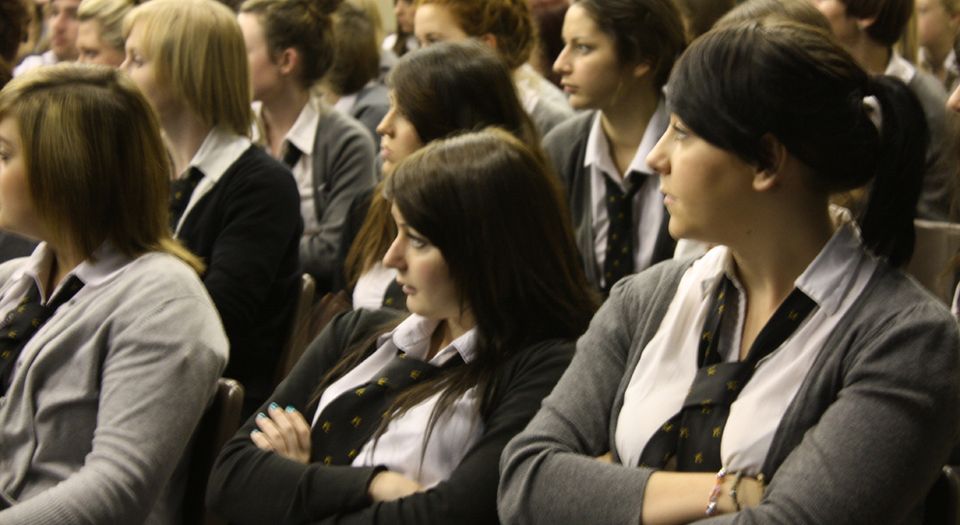 According to a newly published report from the National Education Union (NEU) and UK Feminista, sexism in schools is 'endemic'. From their first days in uniform, girls apparently run a daily gauntlet of unwanted touching, name-calling and up-skirt photos. In the classroom they face a barrage of misogynistic language and sexist attitudes. Sexual harassment, sexist stereotyping and sexist language are all, apparently, 'highly prevalent'. To quote the report's title, when it comes to sexism in schools, 'It's just everywhere'. But it is worth asking a few questions before teachers are packed off for re-education, playgrounds are policed, and boys and girls segregated for their own protection.
According to the report, over a third (37 per cent) of female students have personally experienced some form of sexual harassment while at school. Of course, any such incident is unacceptable. But do these figures really demonstrate that sexual harassment is 'highly prevalent' and 'endemic'? The label 'female students' encompasses young girls in infant schools right up to 18-year-old young adults. Yet there's a world of difference between playground kiss-chase, the antics of hormonal teenagers, and young adults negotiating first-time relationships. The report fails to differentiate, however; all are lumped together.
NEU and UK Feminista conflate sexual harassment and sexism. Their report sets out to reveal 'the voices of girls around the country who are being subjected to sexual harassment and sexism'. Sexism and sexual harassment are not the same thing. Sexual harassment can encompass serious incidents of groping and sexual assault. Sexism, on the other hand, is today used to describe a teacher asking for 'a strong boy' to help move some furniture, having different uniforms for boys and girls, or separating boys and girls for PE lessons. The report assumes sexism leads to harassment and that presenting girls as different from boys legitimises sexual assault. What a misanthropic view of young people.
Sexism, according to the report, is endemic. But the sexism described is difficult to pin down. It is described as 'prejudice, stereotyping, or discrimination, typically against women, on the basis of sex'. It seems to be primarily a feature of language: we're told that '30 per cent of female students in mixed-sex schools have personally been described using language they felt was sexist, compared to 18 per cent of boys'. But when even referring to pupils as 'boys and girls' is considered by some to be a dangerous form of gender stereotyping, it is only surprising that as few as 30 per cent of girls report being victims.
The report moves rapidly from sexism to misogyny. We're told 'the use of misogynistic language is commonplace in schools'. This blurring of misogyny, serious sexual harassment and everyday sexism serves a purpose: it teaches all girls that they are victims of boys' bad behaviour. We're told that 66 per cent of female students and 37 per cent of male students in mixed-sex sixth-forms have experienced or witnessed the use of sexist language in school. By a sleight of hand, an already small sample size is narrowed further, and, by focusing on sixth-formers, reported events stretch back over a 14-year period. If an 18-year-old claims that once, when she was seven, she heard a boy shout across the playground that 'boys are better than girls', then that is recorded as an experience of sexist language.
The report also contains a great deal of angst from teachers. 'I work in a private school where the gender roles are still very clearly defined. The boys wear shorts, the girls long skirts, the boys play football, the girls, netball. Often boys are asked questions in maths/science before the girls – and boys often talk for the girls', claims one teacher. Routinely allowing boys to talk for girls is clearly bad pedagogy – but it's worth remembering at this point that teaching is a profession thoroughly dominated by women. What's more, campaigns to challenge girls' underachievement and raise their aspirations are longstanding and well-funded.
What we are not told in this latest sexism panic is just how well girls are doing at school. They outperform boys from their first days and across all subject areas. Girls do better overall in public exams aged 16 and 18. This year, 55 per cent of young women went on to university compared with only 43 per cent of young men. And this is not new: girls have been outperforming boys for a quarter of a century now. If school is really such a daily torment of misogyny and sexual harassment for girls, then it is clearly not holding them back.
Unfortunately, the proposals to challenge sexism in schools could well be to the detriment of both girls and boys. The report suggests an astonishing 69 per cent of teachers claim an overly heavy focus on academic subjects prevents them from tackling sexism. In other words, they want to spend less time teaching children subject knowledge and more time warning them of the evils of sexism. This will further redefine the role of schools away from education towards an explicit socialisation agenda.
UK Feminista and the NEU assume that sexism and sexual harassment are normalised and underreported. In reality, their report fuels a very fashionable panic. It takes trivial and everyday interactions between children and teachers – especially between mixed-sex groups of teenagers – and labels them as harassment and misogyny. The report cites a finding from Girlguiding UK, that 75 per cent of girls and young women aged 11 to 21 report that anxiety about potentially experiencing sexual harassment affects their lives in some way. It's not any sexual harassment they have experienced that girls worry about – it is the threat of what is to come. UK Feminista is at the forefront of escalating these worries in the minds of young people.
Unsurprisingly, the report concludes by arguing for quasi-professionals, such as UK Feminista, to be better funded and have a bigger role to play in schools, particularly in government plans for revamped relationships and sex education (RSE). Parents and teachers who care about the education and wellbeing of girls and boys should be campaigning to keep UK Feminista, Everyday Sexism and all the other feminist pressure groups out of schools.
Joanna Williams is education editor at spiked. Her new book, Women vs Feminism: Why We All Need Liberating from the Gender Wars, is out now.
To enquire about republishing spiked's content, a right to reply or to request a correction, please contact the managing editor, Viv Regan.