May's compromise will fracture the nation
The PM's capitulation to the ECJ will create two classes of citizen.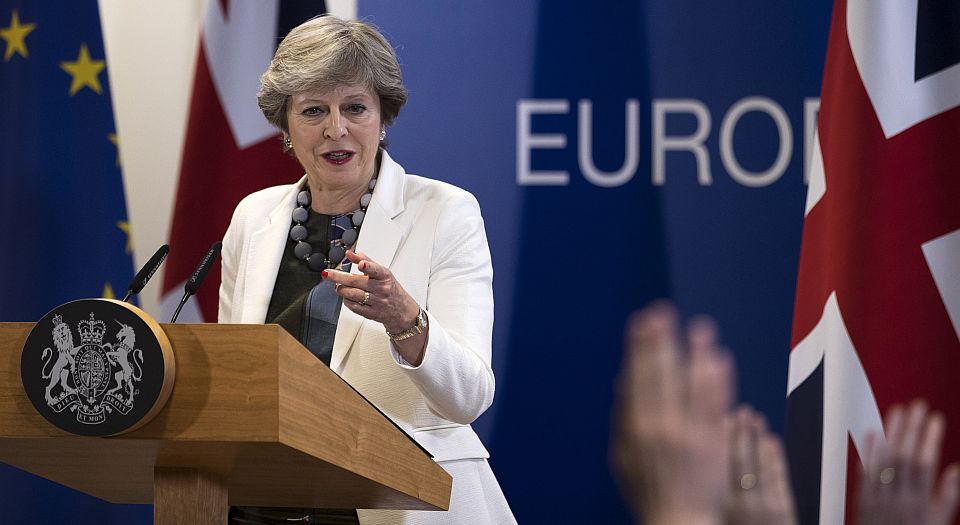 Last Friday, Theresa May's government concluded the first part of a deal on Britain's withdrawal from the European Union. It envisages a bilateral treaty between Britain and the EU that will guarantee the rights of EU citizens in Britain post-Brexit. If it comes to pass, this agreement will end Britain's claim to being a sovereign state, for it will create a protected class of citizen, living in Britain, whose rights are determined not by Britain, but by the EU.
Sovereignty was supposed to be one of May's red lines for the Brexit negotiation. In her Lancaster House speech, she said that 'we will take back control of our laws and bring an end to the jurisdiction of the European Court of Justice in Britain', and that we would ensure that British 'laws will be interpreted by judges not in Luxembourg but in courts across this country'. This red line signified the most elementary requirements for a sovereign state: it must be able to make its own laws with acts of parliament, interpret those laws with its own judges, and ensure that a foreign court does not determine those laws' development. Friday's Brexit deal envisages that all three of those requirements will be abridged.
Firstly, the law on citizens' rights will not be made in an act of parliament, it will be made under a bilateral treaty. This treaty will have 'direct effect', meaning that the treaty itself will create the rights of EU citizens. It may be that the rights created under that treaty will be transposed into an act of parliament, but the parliamentarians who enact such a law will be passing it with all the independence of ventriloquist dummies, with words put into their mouths by EU officials. As May's deal spells out, if these dummies pass a law that conflicts with EU requirements, then the EU law 'will prevail over inconsistent or incompatible legislation'.
Secondly, British judges will have no freedom to deviate from the EU's laws on citizens' rights, which over time will develop and change. This is because the treaty will require 'consistent interpretation and application' between Britain and the EU. Non-deviation will be secured as a matter of legal principle by the principle of consistency. British judges will be like impressionists, doing the best they can to deliver the judgements that would have been delivered by the European Court of Justice (ECJ) if Britain hadn't left the EU.
Thirdly, when Britain leaves the EU on 29 March 2019, the ECJ will become a foreign court, but May's deal makes clear that ECJ jurisdiction will not cease on 30 March. Indeed, it will continue throughout any period of transition that is agreed, and then for another eight years. The government says the transition period will be 'about two years', but many commentators suspect it will be much longer. In other words, for at least 10 years after Brexit, and possibly much longer, Britain, a supposedly sovereign state, will be subject to the jurisdiction of a foreign court.
Court jurisdiction in a foreign country is unprecedented in the postwar era. As law professor and former ECJ judge Franklin Dehousse put it in May, this sort of treaty would turn Britain into 'some kind of new 1930s Shanghai, where the EU citizens will benefit from multiple privileges'. The only difference between then and now would be that it will be Britain that will be subjected to the jurisdiction of a foreign court, rather than the other way around. Conservative MEP Daniel Hannan was right to tweet that EU jurisdiction over EU citizens in Britain would be akin to allowing the US Supreme Court to 'uphold the right of American expats here to bear arms'. A state is only sovereign if it acts by the principle of one people, one law.
Many Tory MPs have claimed that May's deal on the issue of EU citizens represents a reasonable compromise for Britain. ECJ jurisdiction, they say, 'will only be for a time-limited period'. This overlooks the fact that while ECJ direct jurisdiction is time-limited, ECJ indirect jurisdiction is not. In other words, when direct jurisdiction ends (eight years after the end of any transition period), the ECJ will retain indirect jurisdiction: the law that British judges apply will be the law that is developed by the ECJ. When Britain leaves the EU, it will, on the issue of EU citizens' rights, be subject to laws made and developed by a foreign court.
The British government is creating a fractured population, in which there are British citizens with rights determined by the British parliament and EU citizens with additional rights determined by the EU. In September, Boris Johnson wrote in the Daily Telegraph that 'you don't have to be some tub-thumping nationalist to worry that a transnational sense of allegiance can weaken the ties between us'. Yet May is proposing to give legal effect to this 'transnational sense of allegiance'. And if she does so, rifts between British citizens and EU citizens will widen.
This will be driven by differences in political values and cultural sentiment, and by material differences. For example, it is already the case that a non-EU spouse can only join his or her partner in Britain if he or she has an annual income of at least £18,600. No such condition is applied to an EU spouse. Over time, as EU law develops, the distinctions between British and EU citizens will widen, and it will always be British citizens who come off worse. This is because May's deal will require the withdrawal agreement to stipulate that EU citizens cannot be discriminated against on the grounds of nationality in the exercise of their citizens' rights. In other words, it would be possible to treat EU citizens more favourably than British ones, but not the other way around. There is a risk here that British citizens will become second-class citizens in their own country.
A further problem is that EU citizens' rights have been on an expansionist curve ever since the concept of EU citizenship was first heralded in the Maastricht Treaty of 1992. The ECJ then turbo-charged the concept in 2001, when it held that EU citizenship is 'destined to be the fundamental status of nationals of the member states'. Over time, the ECJ will widen the nature and scope of rights held by EU citizens further. Marina Wheeler QC has noted that the ECJ is known for its 'jurisdictional muscle-flexing' at the expense of national sovereignty.
EU citizens cannot currently vote in national elections (and were not allowed to vote in the EU referendum), although they have an EU-established right to vote in local elections. But suppose that, some time after Brexit, the ECJ flexed its jurisdictional muscle again, and held that EU citizens cannot be denied a right to vote based on their nationality. If that happened, British legislators could do nothing to stop EU citizens in Britain voting in parliamentary elections or referendums.
Brexiteer and cabinet minister Michael Gove, having declared the agreement a victory on Friday, has since said that after the deal is done, the British people will be able to change it at the next election. He is deluded. Bilateral treaties are not like acts of parliament – they cannot merely be repealed or amended by the passage of subsequent legislation, a process under the control of a sovereign parliament. A treaty that has a specific purpose, such as the protection of EU citizens, will ordinarily endure until that purpose no longer needs to be met. There is no chance of the EU agreeing to a provision in the withdrawal agreement that would allow for the treaty to be amended or terminated as the British so choose.
Last Monday the Brussels talks collapsed at the last minute when the Democratic Unionist Party (DUP) objected to a deal that paved the way for a customs border between Northern Ireland and the rest of the United Kingdom. It was breathtaking then that the British political class was prepared to fracture the nation geographically, and would have done so had it not been for the last-minute involvement of the DUP. Five days later, May's deal was done. But where the original geographical fracture was removed, an equally offensive fracture was revealed.
May's deal guarantees that post-Brexit there will be two classes of citizen: British citizens and EU citizens. The rights pertaining to EU citizens will be determined by bureaucrats in Brussels and by judges in Luxembourg. The rights will expand, and British politicians will be helpless to alter them. British judges, meanwhile, will be required to give effect to them. We do not know how the content of EU citizens' rights will develop. But we do know that any discrimination between British and EU citizens can only be in favour of the latter. These rights will endure for the rest of the century and will apply to millions of EU citizens living in Britain. Theresa May's government is on the verge of turning a sovereign state into a fractured EU vassal state.
Jon Holbrook is a barrister. Follow him on Twitter: @JonHolb
Picture by: Getty
To enquire about republishing spiked's content, a right to reply or to request a correction, please contact the managing editor, Viv Regan.