The myth of hipster racism
Lena Dunham might be irritating but there's no evidence she's racist.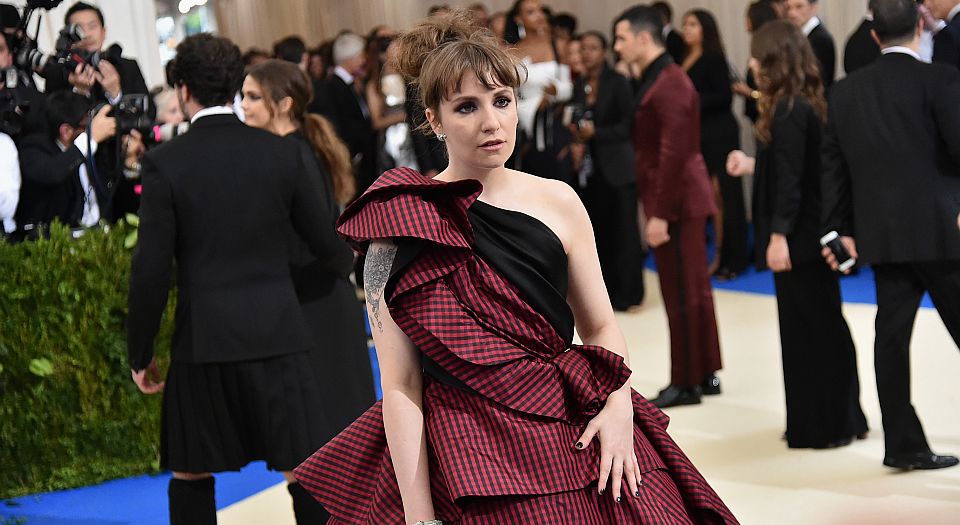 As a prominent campaigner for a Hillary Clinton presidency, and co-founder of the feminist newsletter Lenny and co-creator of HBO's Girls, Lena Dunham has become a poster girl of the new feminism. At the same time, she's also regularly attacked by the new identitarian left, with her (admittedly very annoying) outbursts being branded 'problematic af' or insufficiently intersectional.
The latest allegation comes from one of her own writers, Zinzi Clemmons, who has cut ties with Lenny and denounced Dunham for her 'hipster racism'. The immediate context of Clemmons' resignation is Dunham's poorly worded defence of her friend and Girls co-writer Murray Miller, who has been accused of sexually assaulting mixed-race actress Aurora Perrineau. But Clemmons' resignation statement is mostly devoted to Dunham's past – or more accurately, her friends' pasts. For instance, a girl in Dunham's circle was known to use the n-word in conversation, and if she was called up on it, she would insist it was just a joke. It seems in Clemmons' mind, you only have to know a 'hipster racist' to be a 'hipster racist'.
The charge of hipster racism has produced much media handwringing. The Guardian claims hipster racism is 'deeply embedded in our culture'. A key tenet of hipster racism is an 'ironic, self-reflexive humour', according to communications expert Rachel Dubrofsky, and as such it is especially a problem in the world of comedy. 'Some of the most popular white women comedians are terrible hipster racists', says Dubrofsky, naming and shaming Tina Fey, Amy Schumer and Sarah Silverman. From this standpoint, jokes about race and racism, which might once have been understood as simply jokes, are seen as a veil for the joke-teller's own latent racism.
The Guardian adds that 'hipster racism is thinking you can use someone else's culture as a prop', connecting it to the fierce debates around cultural appropriation which have raged on campus and in the artworld. Ibram X Kendi, a professor at American University, argues that 'hipster racism helps us understand that even though someone might not have intended to be racist, they were'. This echoes the idea of 'microaggressions' – minor, usually unintended slights that are perceived as racist. Like asking someone where they are 'really' from.
Vice, erstwhile bible of irreverent hipsterism, though more right-on than rebellious nowadays, has produced a handy guide on 'How to Know If You Are a Hipster Racist'. Tell-tell signs include playing devil's advocate or being on the wrong side of pop-culture race debates like #TakeTheKnee; being 'colourblind' and refusing to see people as racial objects; and finally, 'you talk about white people as if you aren't white', which describes just about every self-described 'progressive' on the internet, forever droning on about the ills of all 'white men'.
So the charge of hipster racism appears to be just another expression of today's hypersensitivity to race and the growing tendency to racialise every interaction, expression or act. Hipster racism, like racism in general, is defined so broadly as to encompass both colourblindness and the jokey acknowledgement of race. Since intent is also considered irrelevant, off-hand humour, sincere attempts to be friendly and self-conscious attempts to appear 'woke' can all be demonised as hipster racism.
As for Dunham, she has indeed made her fair share of racially charged jokes. For instance, in a since-deleted tweet she said: 'An uncool thought to have: is that guy walking in the dark behind me a rapist? Never mind, he's Asian.' But it's quite clear that she is more of a loudmouth than a bigot, prone to eating her words no sooner than they've been spewed. Dunham has recently made public apologies for comparing Bill Cosby to the Holocaust and for saying she found men who spoke out against Harvey Weinstein 'sexually irresistible'. She even wrote an essay called 'Sorry Not Sorry' on her so-called 'apology addiction'. The news cycle of her 'problematic' outbursts followed by immediate climbdowns has become such a fixture of pop culture that it has spawned a parody Twitter account of mock apologies, such as 'Lena Dunham Apologises For Thinking The Spanish Inquisition Was A Tapas Bar On Good Morning America'.
In a sense, she's been hoist by her own petard: her brand of identity politics sets behavioural and linguistic standards that are so exacting that she herself regularly breaches them. At the time of writing, she has yet to apologise for the behaviour of her university friend who used the n-word years ago, but in the near future we can expect to hear how that experience provided yet another opportunity for her to 'learn and grow'.
But today's climate of heightened racial sensitivity is not funny. It has led to demands that universities provide race-awareness workshops, in the belief that black and white students cannot possibly coexist peacefully without training. More seriously, in the US, in a shocking reversal of the gains of the civil-rights movement, campuses have caved in to demands for racially segregated graduation ceremonies and even housing, in the name of protecting students from racial microaggressions. The new racial thinking presents itself as a progressive, anti-racist force, when in fact it is rekindling old, nasty prejudices and infantilising black people. The charge of 'hipster racism' is merely the latest weapon in the fraught culture wars, and it needs disarming quickly.
To enquire about republishing spiked's content, a right to reply or to request a correction, please contact the managing editor, Viv Regan.