Indulge this Christmas – it's what Jesus would have wanted
Ignore the health bores. Listen to the Bible instead.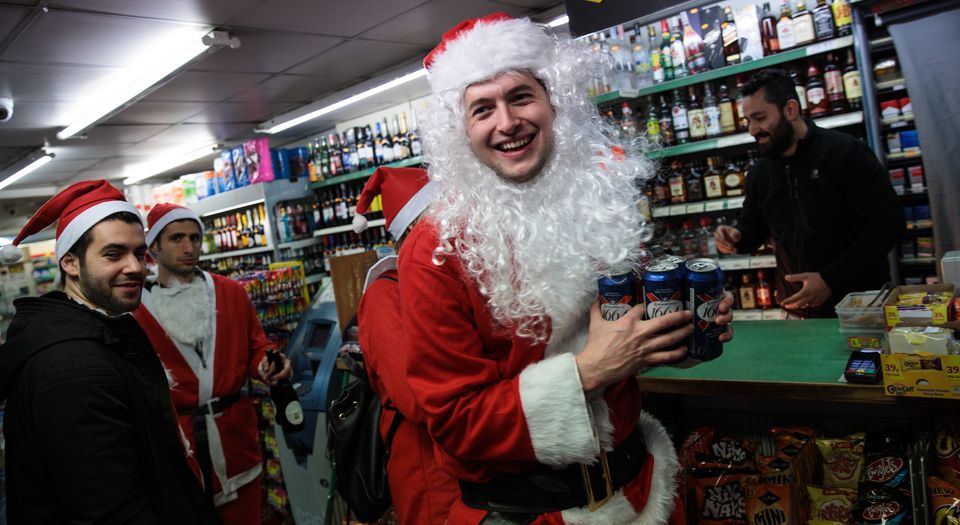 Life can be grim in Scotland. Billy Connolly recounts tales of his childhood of being chivvied into the bitter North Sea in a pair of woollen trunks while out on the oil rigs grown men were being told they wouldn't last five minutes in the water.
In the depths of winter I expect Scots are pleased to indulge in a few creature comforts to get through the long, dark nights and pervasive chill. Unfortunately, they are cursed with a government which seems hell bent on making their enjoyment of life as difficult as possible.
The Scottish National Party (SNP) this month rejoiced at the Supreme Court giving a green light to minimum alcohol pricing, which will price many lower wage earners out of a moderate tipple. And now the party is setting its sights on other treats.
The new Scottish diet and obesity strategy proposes restrictions on the promotion and advertising of food and drink high in salt, sugar and fat. Tam Fry of the National Obesity Forum – who recently advocated the banning of chocolate bars containing more than 250 calories, because that's a 'quite sufficient snack for anybody' – is eager that Christmas treats are targeted in Scotland, too. In fact, he fully expects the Scottish government to 'crack down' on our seasonal consumption. His eminence has decided that 'what is not permissible in my view is the way in which the retail industry really piles pressure on at festivals such as Christmas, Easter and birthdays to maximise profit with food that is indulgent and less than healthy'.
Oliver Cromwell would have been proud to swell his ranks with such a moral arbiter of the Scottish public's choices.
Of course, this Grinch-esque outlook isn't unique to Scotland, nor is it new. Around this time every year the health zealots crawl out of the woodwork to issue dire warnings about the perils of Christmas gluttony. We are told to refuse that extra turkey leftover sandwich, to stick to our 14 alcohol units per week even in the festive period, and to ration kids with the Celebrations tub for fear of them ballooning in size by the new year.
This follows swiftly on the heels of frustrated whining by health obsessives over the ever-popular Coca-Cola truck tour. Middle-class puritans in 28 cities are demanding that Coca-Cola distribute water rather than deliver the treat of a glittering bright red truck and a 150ml can of pop, which always brings enjoyment to children in the run-up to Christmas. In Liverpool, councillors have seriously argued that the truck should be banned.
We are not even into December yet, but the misery industry is already gearing itself up for the annual Christmas guilt trip. I'm sure we will endure much more of this before 2017 is out.
Much of it is grounded in a pompous distaste for the simple pleasures enjoyed by the uncultured masses. There is a pernicious undercurrent of contempt for what the right-on health lobby sees as vulgar consumerism during the festive period. You must stay virtuous over Christmas and resist the siren voices of big business. You are not really choosing, apparently; rather, you are a victim of advertising, and the righteous path is to think of cancer every time you are tempted by a treat.
I beg to differ. I'm far from a religious type but if you wish to experience a truly spiritual Christmas, it would be wise to ignore the health-lobby careerists. Why? Because the Bible tells us so.
The Book of Ecclesiastes advises us to enjoy life at every opportunity, because 'there is nothing better for a person under the sun than to eat and drink and be glad'.
The Gospel of St Luke describes how the angels brought 'tidings of great joy' at the birth of Christ, and that it signalled a time of 'goodwill to all men'. It didn't talk of being a bit careful about the joy and, by the way, the righteous thing to do is to deny goodwill to as many people as possible by way of bans and restrictions. 'Fear not', said Gabriel to the shepherds. He didn't say be fearful of everything your family enjoys eating.
And the clincher? Jesus wasn't averse to handing out the grub so that 5,000 'all ate and were satisfied'. Also, his very first miracle was to turn water into wine. I rest my case.
There may very well be valid reasons why you should be watchful of your diet and consumption throughout the year, but at Christmas? No. If you want to observe Christmas and celebrate the birth of Christ in the way that the scriptures tell us to, then ignore the health police and eat, drink and be merry. It's what the angels and Jesus himself would have wanted.
Martin Cullip is a blogger and businessman.
To enquire about republishing spiked's content, a right to reply or to request a correction, please contact the managing editor, Viv Regan.