Britain First: a monster of the left's own making
Get off your Twitter high-horse: your cowardice created this.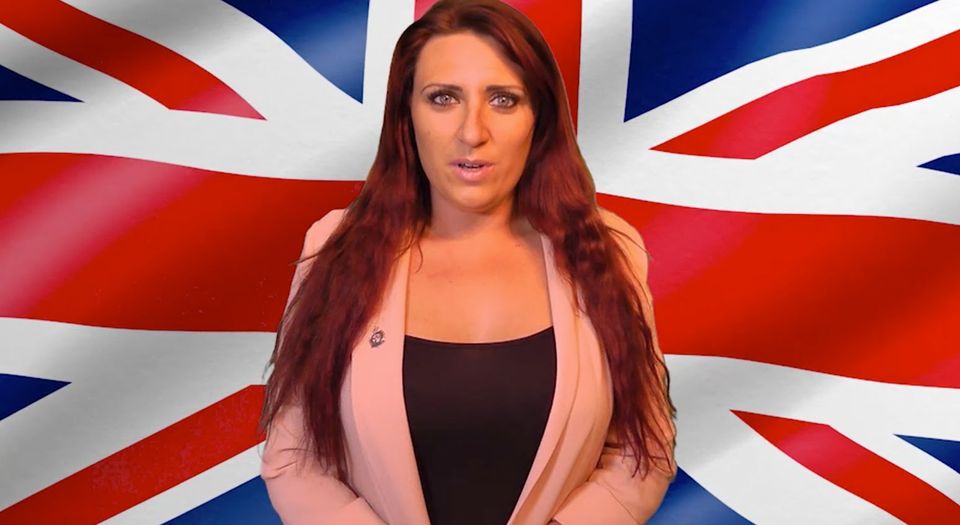 Christmas has come early for the time-rich Trump-haters of Twitter, those people who have got themselves into a perversely symbiotic relationship with the oaf in the White House and are now only capable of demonstrating their goodness by reminding us of his badness, day in, day out. Trump has only gone and retweeted Britain First, the odious right-wing group that thinks Muslims are the source of Europe's every social and moral ill. Trump shared a tweet by Jayda Fransen, the brash, weird woman who fronts Britain First, containing a video titled, 'Islamist mob pushes teenage boy off roof and beats him to death!'. It's too perfect. It's the smoking gun the 'Trump is Hitler' lobby has been waiting for. Here's the actual president sharing actual hard-right propaganda about how awful Muslims are. Twitter is going to implode; they cannot believe their luck.
First things first: for Trump to share this tweet is unquestionably evidence of his idiocy, childishness, prejudice, dearth of the most basic PR nous, and lack of online decorum. The man's a moron. It's one thing for a teenager to retweet stuff he knows he shouldn't, or for us non-presidents to get on Facebook when we're drunk and Like stupid shit. But the president of the United States? That is just nuts. It's proof of his infantile streak, his lack of awareness of the historic responsibilities of his office. This artless man should have his phone taken off him. 'Delete your account' might be one of the more grating phrases in this era of virtual intolerance, fired at those who merely criticise the excesses of #MeToo or share off-colour gags, but someone in the White House should seriously consider saying it to Trump. 'Mr President, that's enough with the Twitter. Step away.'
But the Brits, and others, currently raging against the president, the virtual leftists fulminating about 'fascism in the White House' and 'Islamophobia' now getting the blessing of the actual president of the US, the British MPs insisting parliament denounce Trump, the Muslim community groups saying this proves anti-Islam hate is goose-stepping through the virtual and political worlds etc, etc – you can all do one, too.
For you made this monster. Britain First is a mess of your unwitting creation. You, and your censorship, and your cowardice, and your pathologisation of concern about Islam, and your treatment of any questioning of mass immigration as tantamount to a hate crime, created the space for these new, 'edgy' right-wing movements to take root and expand. In making certain things unsayable, you paved the way for these largely virtual loudmouth outfits to say: 'We will say the unsayable.' Britain First is a cast-iron example of how the chilling of public debate never, ever fixes problems or disappears people's concerns or prejudices; it merely warps them, and often worsens them, and forces them to take root elsewhere.
What did these guardians of acceptable thought think would happen when they ringfenced Islam from ridicule, with the weapons of both law and social opprobrium, and made it pretty much the only ideology that we cannot freely, openly criticise? If you make concern about Islam into a mental sickness (Islamophobia), and nod as Twitter is policed for signs of anti-Islam sentiment, as speakers are banned from campuses because they don't like Islam, and as concern even about Islamist violence is treated as evidence of a prejudiced, racist malaise of the mind, then you send a very clear message to sections of the public: 'You cannot express your views in public. Not unless you want to be called racist and scum. Not unless you want to lose your job. Not unless you want to be named and shamed by us. So go somewhere else.' And people do. Many go to fairly mainstream right-wing groups that are willing to discuss issues about religion, immigration and values. Others vote for new, sometimes unattractive parties, like Germany's Alternative fur Deutschland. And some, not many, get drawn into groups like Britain First who make a big, showy, bloated deal of just how willing they are to say what we're now not meant to say.
Here's the thing. So shrunken has the space for honest, all-views-welcome moral and political discussion become in recent years that now even to speak of 'British values' is to risk being branded a racist. And they're surprised that in a climate like that a group called Britain First is making waves? And they call Trump stupid. He is, but so are they if they don't recognise the direct contribution their fear and chilling of rigorous discussion about faith, values and the future have made to the growth of Britain First and others. Trump's bluster, the bluster of Britain First too, is a product of this chilling. You people losing it on Twitter today – you are the midwives of this new weirdness.
Brendan O'Neill is editor of spiked.
Picture by: Youtube.
To enquire about republishing spiked's content, a right to reply or to request a correction, please contact the managing editor, Viv Regan.