Stop jumping on the trans-wagon
Transgender ideology should be subjected to more rigorous debate.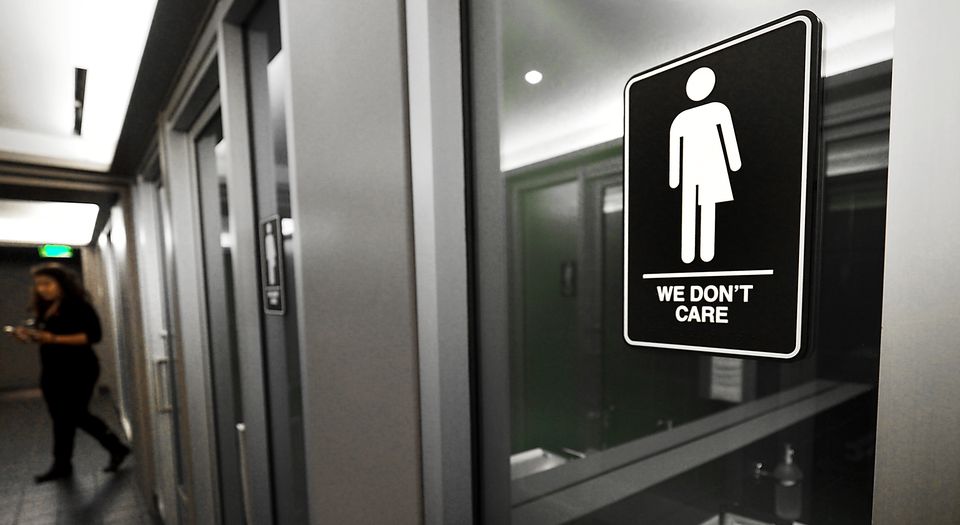 Who knew the dressing-up box was such a source of controversy? Let boys wear tutus and tiaras, cried the Church of England this week, as if across the country boys with a penchant for tulle and sparkles were being forced into tool-belts and firemen uniforms. Personally, I'm looking forward to the boys' tutu march, which must surely be imminent.
Once again, the trans agenda is dominating the news. Trans performance artist Travis Alabanza accused Topshop of transphobia when assistants at a Manchester branch refused to let him change in the women's changing rooms. It later emerged that Topshop had recently enacted a gender-neutral changing-room policy, meaning anyone can use any changing room. So Alabanza had a point when he complained about their refusal to let him change with the teenage girls.
Meanwhile, 'queer role models' from the Bristol organisation Drag Queen Story Time (DQST) will be teaching nursery-age children about genderfluidity during storytime in libraries, schools and hospitals. Issues such as misogyny and homophobia will also be included. Good luck to parents trying to explain misogyny to children who don't yet know the days of the week. No doubt those who would prefer it if their children could hear Winnie the Pooh without a side of politics will simply go elsewhere for storytime.
But there is a serious issue at stake here. The transgender agenda is creeping into public life without any kind of debate or discussion as to whether it should. New schools guidance in Scotland says teachers should not 'overly question' children's gender confusion, and advises them not to inform the parents of said confusion if the child doesn't want them to. Even worse, it advocates reporting parents to the local authorities if they struggle with their child's genderfluidity.
In Oxfordshire, a schoolteacher has been suspended and could lose his job because he allegedly 'misgendered' a pupil. Joshua Sutcliffe said 'Well done, girls' to a group that included a girl who self-identifies as a boy. He told the Mail on Sunday: 'I was absolutely shocked to be told by the head that I was under investigation… I didn't know what was happening. It was surreal, Kafkaesque.' Andrea Williams, chief executive of the Christian Legal Centre, which is supporting Sutcliffe, said: 'This is one of a large number of cases we are encountering where teachers are finding themselves silenced or punished if they refuse to fall in line with the current transgender fad.'
When critics raise concerns about transgender politics, the backlash is fierce. They are instantly accused of 'transphobia'. Times columnist Janice Turner was labelled a 'bigot' for daring to raise questions about how trans politics is affecting children. An academic at Bath Spa University had a proposed study into transitioned people who want to 'detransition' blocked, so as 'not to offend people'. And on Wednesday this week, it was reported that the entire executive committee of a local Labour Party resigned in protest at an alleged smear campaign against their women's officer. Anne Ruzylo was allegedly subjected to a campaign of harassment and branded a 'TERF' (trans-exclusionary radical feminist) after she raised concerns about government plans to change the Gender Recognition Act to make it easier legally to change genders.
Shutting down debate over transgenderism is becoming the standard response. Increasingly, it looks like trans activists are not searching for equality – they are looking to enforce an ideology. The Stonewall Trans Advisory Group's five-year plan includes recommendations that faith groups change their liturgical language to incorporate non-gendered terms. The fact that a teacher has now been suspended for using the 'wrong' language shows the reach of this authoritarian linguistic policing.
Those who were offended by Janice Turner's column say they are speaking out to stop the bullying of transgender children. My heart goes out to troubled children dealing with gender dysphoria, and to their parents, who must find things difficult. But this isn't about 'bullying'. Most parents and teachers want to discourage bullying and will encourage children to be kind to people of all stripes. There is a difference between promoting sensitivity between peers in schools and changing school policies to fit a particular political agenda. Some schools have already changed school-uniform policies and toilet facilities, and are policing teachers' language in the name of transgender inclusivity.
In the workplace and public sphere, similar demands are being made over gendered facilities and language. Yet there is no mass swell of demand for these changes. Trans people are not marching in the streets demanding that society bend to their needs. So why has almost every institution, including even the CofE, jumped on the trans-wagon?
There is a kind of madness at play here. A tiny, vocal minority has managed to dominate the news and even public policy with its agenda. Politicians have joined this PC crusade in the hope of appearing 'progressive' – without, it seems, giving any thought to the consequences of making sex and gender so relativistic. Whatever you think of trans politics, the shifts we're seeing raise big questions about our society and we need to be able to discuss and debate them. Moreover, we should be very wary of any political group which demands total adherence to its viewpoint and shuts down any attempts to challenge its discourse.
Naomi Firsht is staff writer at spiked and co-author of The Parisians' Guide to Cafés, Bars and Restaurants. Follow her on Twitter: @Naomi_theFirsht
To enquire about republishing spiked's content, a right to reply or to request a correction, please contact the managing editor, Viv Regan.