Remember, the past is a foreign country
It's wrong to judge people of the past by today's moral standards.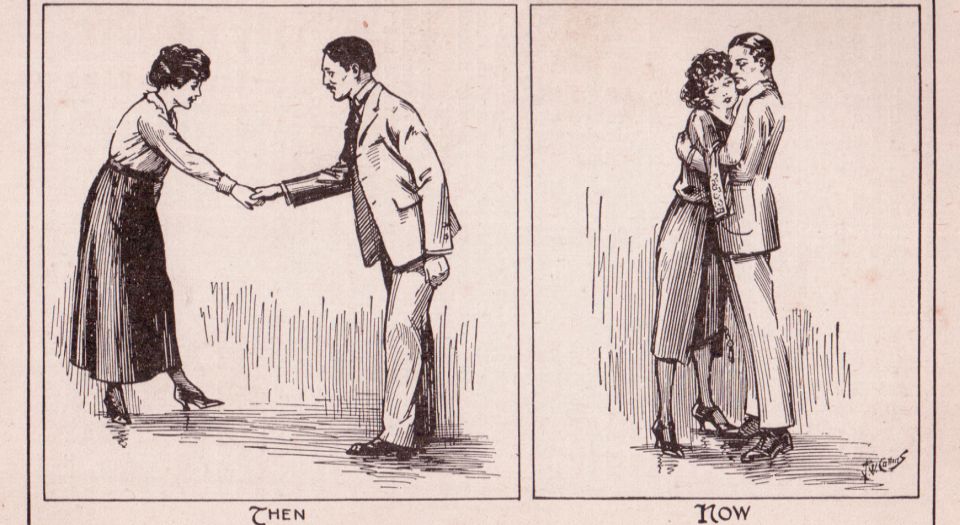 While it is considered mandatory today to respect the culture and different lifestyles of peoples other than ourselves, it seems we are not so tolerant when it comes to people who lived in the past, who also possessed different moralities to ours.
This is the most glaring aspect of the latest round of the ongoing war against men for things they did in the past. Many men in recent years have been pursued for behaviour that wasn't considered offensive or taboo in the 1970s (or 1980s): touching a woman's knee, making a pass, seduction, flirtation at work, watching pornography, talking dirty. That's just how things were. I suppose the next step is to round up everyone who wolf-whistled or made an Irish joke a couple of decades ago. As someone has observed on Twitter, we are cultural relativists in space but not in time.
It is absurd to judge people by today's standards for behaviour from a different time. As we know, the past is a foreign country. The ancient Spartans used to leave unwanted babies to die. The Ancient Romans considered watching men kill each other perfectly normal entertainment. For centuries in Europe women were literally regarded as second-class citizens. And yet historians seldom condemn the past; they merely explain it.
We are treading on dangerous territory when we translate the gulf between today and yesterday into moral triumphalism, as if we in 2017 have reached an ethical apex from which we can peer down imperiously at all before us. As one correspondent to The Times put it at the weekend: 'If I am to be judged by today's standards for yesterday's behaviour, how should I behave today to ensure no problems tomorrow?'
We haven't ascended to some final, settled moral plateau. Morality, like fashion, always changes of its own accord. Judging yesterday's culture by contemporary standards sets a perilous precedent, because it is inevitable that in 40 years' time there are things we do in 2017 that they in 2057 will find repulsive and offensive.
We don't know what it will be, which is all the more reason not to be culturally absolutist in time, because, in a terrifying dystopian way, we have no idea what transgressions we are currently making. But judging by current trends, I would wager that we will be condemned in two areas: our treatment of children and our attitude to animals.
The trend in the past 50 years has been one of giving more rights and liberties to children: there are calls now to abolish any physical chastisement of infants and some parents now allow them to change their sex if they so wish. If we regard corporal punishment with horror and strict didacticism in schools with disdain, I suspect the people of 2057 will find the idea of schools an abomination and the concept of telling children off at all an outrage.
Our view of animals has also undergone a considerable loosening, as the ever-increasing number of vegetarians attest. Advances in substitute and synthetic meat technology will hasten this trend, and I wouldn't be the first (Yuval Noah Harari is perhaps the best-known advocate in this area) to predict that future generations will abhor not merely the meat industry of 2017, but the entire idea of killing and eating animals.
But who is to know what will come to pass? The fact is that when it comes to history, it is not only more reasonable to be a culturally relativist — it also more wise. Because if we continue with this mentality, some time in the future you will be punished for something you didn't know was wrong.
If they are wiser than us, the behaviour that future generations will find most repugnant about our era is the current sinister 'Pestminster' hysteria.
---
Calm down, Catholics
Elsewhere in The Times' letters page, on Tuesday, there appeared this correspondence: 'Sir, I was interested to read the recommendation in Lewes, East Sussex, that the bonfire members should not black their faces as it was "offensive". I and other Catholics find it offensive that an effigy of a pope is burnt each year.'
Maybe I have never been sufficiently Catholic or pious to be ever remotely offended at the infamously excessive and carnivalesque Bonfire Night at Lewes, or indeed the festivities of 5 November more broadly. As a child I never noticed any anti-Catholic sentiment on Bonfire Night, which is logical, because in the rest of England there isn't any.
As an adult I learned to put it in context: there were once religious wars in England, which the Protestants won. Catholics came to be reintegrated in the 19th century, so that by the 20th century anti-Catholicism had vanished. This is why Bonfire Night is so inoffensive these days. If the people in Lewes burn an effigy of the pope, they are paying tribute to history; no one believes they are really anti-Papists.
So I'm getting bored and a bit annoyed with Catholics being offended by Bonfire Night, jumping on the victimhood bandwagon. Either don't take it literally and just enjoy it, or do take it literally and accept that Catholics were dangerous terrorists in Elizabethan and Jacobean England. This is why they weren't prosecuted for heresy, but for treason.
---
The myth of white male privilege
In the dreadful Huffington Post, someone called Jesse Benn writes of the concept of 'white wounding', where merely by being white you are oppressing someone. 'Owning up to and acknowledging the inherited benefits of whiteness', writes Mr Benn, 'is an integral aspect of working toward racial justice in white spaces'.
Some people seem to think being white is the defining factor in culture today, automatically granting superiority. Others think it is being male. I don't know whether these people are just blinkered by their monomania or just very stupid, but clearly race and gender are both important factors, as is that other factor which few people speak about today (not least the Labour Party): class. Ultimately, no one single part of your identity defines you, let alone confers automatic privilege.
I write this week's column in the library in Dover, a town where you will see white males sleeping under doorways, sitting aimlessly on public benches, or drinking in the daytime to forget reality. They are unemployed, bored or destitute. It's the same in many places elsewhere in England and in America's Rust Belt. Such is the reality of so-called white male privilege.
To enquire about republishing spiked's content, a right to reply or to request a correction, please contact the managing editor, Viv Regan.