Whiskey to the people!
Chattanooga's first legal distillery since Prohibition is a cause for celebration.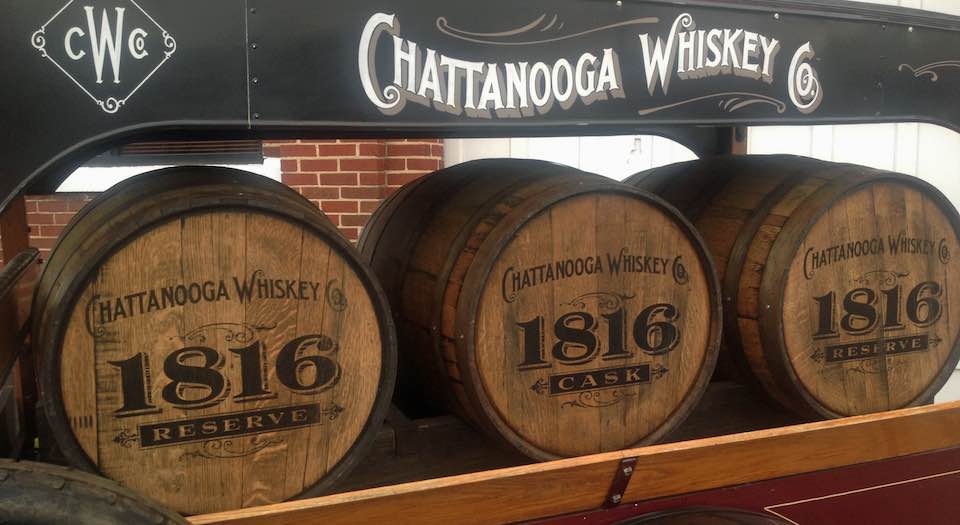 The line was out the door and down the block on Market Street, in the heart of Chattanooga, Tennessee. The crowd gathered for the release of Chattanooga Whiskey Experimental Series: Batch 001.
No, the residents of Chattanooga are not inebriates lining up to get their daily fix. The sight was an unusual one, and it was caused by unique event: Chattanooga Whiskey Batch 001 is the first bottle of liquor legally distilled in Chattanooga since Prohibition.
Although Prohibition was repealed in 1933, the old blue laws remained on the books until deregulation efforts in 2009. Even then, Chattanooga was excluded.
This all changed, writes southern-culture publication the Bitter Southerner, with Chattanooga Whiskey. Using nothing but social media and grassroots campaigning, it got the support of the county – and then the state – by the spring of 2013.
Chattanooga Whiskey serves to illustrate a larger point for urbanists, state and local lawmakers, and craft distillery aficionados alike. Craft distilleries not only have a positive economic impact, but serve to foster local community as well.
Whiskey is a culture. And that culture could come back – if we let it. Before Prohibition, Chattanooga was the largest distilling hub in the state, with over 30 distilleries. Tennessee was poised to compete with Kentucky, and even hosted the brand now called Four Roses for two years, before becoming a dry state.
Chattanooga Whiskey was not created just to make a profit. Its founders cared about the history of Chattanooga and loved the city. Wes Phelps, long-time restaurateur and supporter, said that, 'As I got to know [co-founders] Tim and Joe, I realised it was more than just an idea to make money. They actually never talked about money or success.'
Chattanooga Whiskey's motto is: 'Whiskey to the people.' And standing between the people and its whiskey are outdated regulations. While discussing where to build the distillery, the founders ran into some particular challenges. Behind the legality of distilling lies a complicated web of exceptions, loopholes, zoning and city code waiting to trap potential distillers and suck their spirits dry. As Chattanooga Whiskey co-founder Tim Piersant noted, 'In the South, there's a church within 500 feet everywhere', which makes finding a location particularly difficult.
The legacy of Prohibition lives on in other parts of the country, too. Leading up to Prohibition, New York bar culture produced a range of local and unique spirits. Prohibition 'not only killed the bar culture, but it killed our taste buds', says Allan Katz, co-founder of New York Distilling Company. 'The idea of having quality spirits behind a bar in a consistent nature really became forgotten.'
New York has only just begun its own distilling renaissance after removing a large hurdle to start-up costs: the state dropped its distillery licensing fee from $65,000 to $1,000. That's when Tuthilltown Spirits opened as one of the first distilleries in New York since Prohibition – and has since been added to the National Register of Historic Places.
The owners of Washington, DC's first legal distillery since Prohibition – New Columbia Distillers, opened only in 2012 – faced similar problems when attempting to serve their spirits on location. Despite communicating with council members, 'nobody seemed interested in pushing' deregulation efforts, says co-owner Michael Lowe.
This isn't just about economics. The toll that regulations can take on culture are difficult to quantify. Though what's clear is that deregulation can give citizens and companies the freedom to remake their communities. Sociologist Ray Oldenburg writes in his book The Great Good Place that in all great cultures, there are 'third spaces' between work and home that are vital to a strong culture and strong community, like 'cafes, coffee shops, bars, hair salons and other hangouts'.
'Whiskey to the people' sits in that tradition. And it's a movement worth drinking to.
Ethan Greene writes on urban culture and market-driven local policy for Young Voices.
Picture by: Larry Miller, published under a creative commons license.
To enquire about republishing spiked's content, a right to reply or to request a correction, please contact the managing editor, Viv Regan.