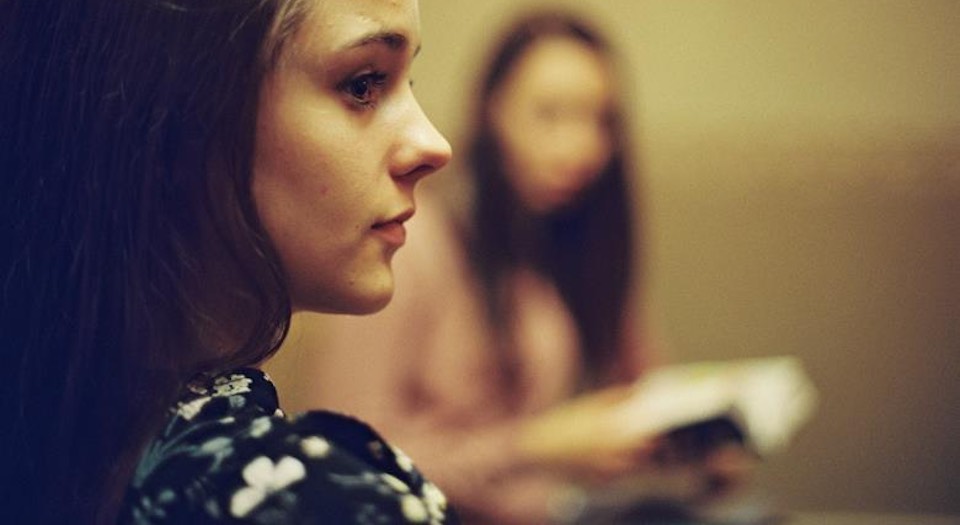 Long-read
Apostasy: an unforgiving faith
Daniel Kokotajlo provides a compassionate take on the moral struggles of a family of Jehovah's Witnesses.
In his debut feature film about family relationships between three Jehovah's Witnesses, writer-director Daniel Kokotajlo has achieved an emotionally profound and beautifully measured insight into a universal theme: the dilemma between religion and humanity.
Set in Manchester in the UK, Apostasy narrates the story of 18-year-old Alex (Molly Wright), her elder sister Louisa (Sacha Parkinson) and their mother Ivanna (Siobhan Finneran), who live within a small but active community of Jehovah's Witnesses. Kokotajlo, himself an ex-Witness, keeps his camera close to his subjects, allowing the viewer to read facial expressions and to enter into the spaces between the sparse dialogue. Sisters Alex and Luisa do missionary work in their local multicultural community, while Ivanna holds down a day job in an office and does a bit of street leafleting on weekends. Kokotajlo manages to paint a humane picture of three people with rich emotional interiors who live an ostensibly drab existence occupied primarily by waiting for the next life. The film's centre of gravity is the toll this takes on all three.
Few films pass the Bechdel Test as easily as Kokotajlo's. The mother and two daughters form a triad of relationships in which each one has as much (or more) to lose from maintaining the relationship as from breaking it. Ivanna risks losing her daughters, Louisa her home and family, and Alex her very life. Despite the heavy costs of doing so, each of these women longs to support and care for the others. That their faith is what makes this impossible is as powerful an indictment of religion as any film has ever delivered. Luisa's pregnancy lights the fuse that threatens to blow them apart. After the elders of the community declare her 'disfellowshipped', Ivanna and Alex must decide whether to shun her completely or be excommunicated themselves.
Ivanna is a particularly complex figure precisely because her character draws viewers into the emotional dilemma so often suffered by women who internalise religious control. So deep is her psychic immersion in this patriarchal Lebenswelt that she is willing both to endure injustice towards herself and participate as an agent of control over other women, even when those women are beloved sisters, mothers and daughters. As such, Ivanna is a proxy for women the world over who are raised from birth in patriarchal religions. She is at once frustrated and frustrating; sympathetic and objectionable. The viewer perceives her both as an obstacle to other (more likeable) characters' happiness, but also in deep conflict with her own.
The need to choose between the welfare of her daughters and her own faith destroys her own happiness while preserving a much less tangible, but seemingly indispensible 'system'. Kokotajlo lets us watch as Ivanna's faith is stretched ever thinner, to the excruciating point that it destroys her ability to protect her own children or even to assert her moral responsibility towards those who most need her. Ultimately her faith breaks her heart.
By means of remarkably restrained storytelling techniques, Kokotajlo is able to reveal the hollowness of a faith that forces human beings to remain – as his camera so deftly does – passive spectators rather than morally responsible participants. In the sphere of morals, agency and choice mean everything, and yet Ivanna's faith has stripped her of both. Her job is to believe in a good world, not to make one. And her perfect world – Jehovah's – is set completely apart from this messy place where fallible mortals choose and stumble and make good and bad things happen, by means of their participation in a spectacularly perplexing performance of choices. The very belief system that Ivanna claims as her sole moral purpose eclipses her moral agency and supplants it with empty abstractions.
Apostasy is not a religious film, and yet Daniel Kokotajlo's masterful work treats even the most obtuse religious fanaticism with the type of compassion and forgiveness religion too often only preaches.
Terri Murray is director of studies at Hampstead College of Fine Arts & Humanities, London. She is the author of Thinking Straight About Being Gay: Why it Matters if We're Born That Way (2015). (Buy this book from Amazon(UK).)
To enquire about republishing spiked's content, a right to reply or to request a correction, please contact the managing editor, Viv Regan.