The taming of Eminem
His anti-Trump freestyle is being praised by the PC elite he once raged against.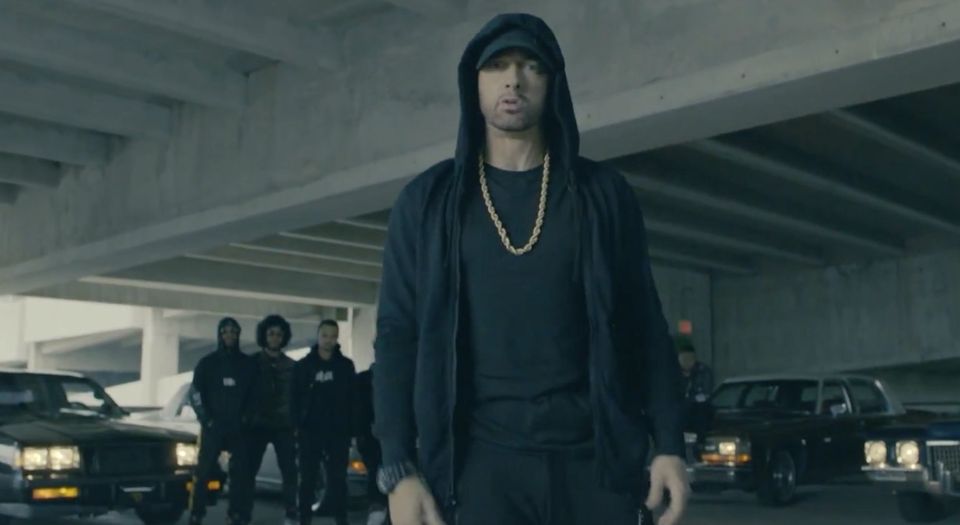 Hip-hop icon Eminem has (once again) re-appeared, this time with a scathing freestyle about Donald Trump. The clip was first aired as part of the BET Awards on Tuesday night. Like much of Eminem's best work it is delivered with impeccable timing and laced with anger and humour. But it's also his most conformist effort to date.
The four-minute clip has been met with gushing acclaim. The New York Times said it 'overshadows' the numerous anti-Trump hip-hop efforts that have clogged the airwaves over the past 12 months. Various celebrities such as Ellen DeGeneres and LeBron James have tweeted it. Snoop Dogg filmed himself calling Eminem a 'real nigga' in response. And others have hailed Eminem's bravery in risking alienating some of his fans with his opinions. (In fact, many Trump supporters took to social media to say that, despite disagreeing with Eminem's political views, they still love his music.)
What this freestyle really signifies is Em's transition from dangerous, cagey railer against PC into a member of the Hollywood elite. Once, Eminem, real name Marshall Mathers, was determined to say what others (even in hip-hop) would not, and controversy dogged his first decade in the limelight. On his first album, The Slim Shady LP, he fantasised about murdering his estranged wife and disposing of her body. Referencing his 'white trash' trailer-park upbringing in Detroit, his style and content riled polite society. He was sued three times following the album's release. One of the parties was his own mother.
As his career wore on, Eminem continued to draw controversy. He began performing wearing dungarees, a mask and wielding a chainsaw. His second album, The Marshall Mathers LP, carried on this nihilistic persona, making lewd jokes about Christina Aguilera and carving out chilling tales of obsession, abuse and murder. The song 'Stan' ingeniously told the story of a crazed fan, who is in love with Eminem, who descends into madness and kills himself and his pregnant girlfriend.
His refusal to abide by the rules was informed by a hatred of snobby censorship, aimed at him and his fans. On 'White America', a track from The Eminem Show, he took aim at Tipper Gore, co-founder of the Parents Music Resource Center, and the person we have to thank for 'Parental Advisory' stickers, who singled out Eminem's music as violent and misogynist: 'Fuck you, Tipper Gore! Fuck you with the freest of speech this Divided States of Embarrassment will allow me to have.' He was also criticised by Hillary Clinton (who he defends in his latest freestyle). And in 2001 his songs were banned by the University of Sheffield's students' union – an early indication of a growing culture of censorship on British campuses.
The Eminem of those days seems a far cry from the Eminem we saw on Tuesday night, who told his fans that if they supported Trump they were no fans of his. The former lyrical innovator is indulging in garden-variety Trump-bashing. You can't open a newspaper or flick through Twitter without seeing some celebrity slam Trump for his alleged xenophobia and misogyny. No doubt, Trump is a thoroughly unpleasant man. And given his comments on press freedom and calls to sack protesting NFL players, he's a threat to free speech, too. But the American public are growing tired of hearing the same anti-Trump comments over and over again, not to mention the press's insistence that such statements are somehow 'brave' or 'controversial'.
That freestyle was neither. The Eminem who once spat in the face of the PC elites is now being praised by them. Slim Shady has been tamed.
Michael P Fitzpatrick is a writer and teacher based in London.
Watch Eminem's BET freestyle:
To enquire about republishing spiked's content, a right to reply or to request a correction, please contact the managing editor, Viv Regan.