The hysteria in the Harvey Weinstein scandal
This is no longer about individual justice – it's about collective vengeance.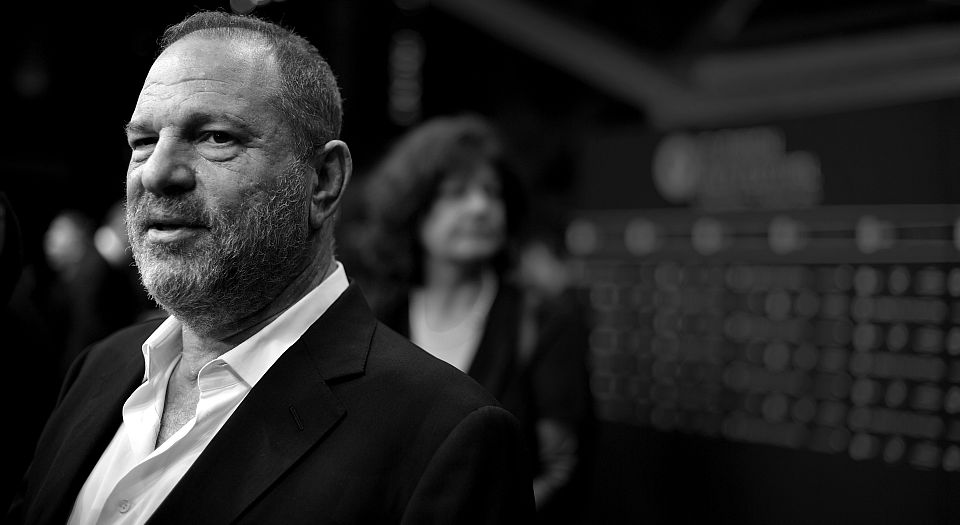 'Is the accuser always holy now?'
Those words spoken by John Proctor in The Crucible, a voice of concern in Arthur Miller's swirling Salem, keep intruding into my mind as I read reports about Harvey Weinstein's alleged foul behaviour. Actress after actress is coming forward to allege that Weinstein harassed her, molested her, or in some cases raped her. All these women must be treated seriously and sensitively. It seems likely, given what we know, given what we've heard, that Weinstein abused these women.
But are the accusers holy? Are their accusations all we need to decide Weinstein is a criminal creep? Should their allegations be sufficient to condemn him? That's how it's looking right now, and this should worry us. A lot.
Across the media and Twittersphere, on TV talk shows and in newspaper gossip circles, the allegations against Weinstein are treated as truths. Almost as final judgements. He's guilty as sin – that's how you feel, right? Admit it. It's how I feel. I'm just not sure I should.
That Weinstein denies the allegations is treated as immaterial, as if the right of individuals to deny accusations against them, and to be presumed innocent of those accusations until found guilty of them, were insignificant. As if this right were not the building block of justice and the thing that separates our fair societies from the finger-pointing hysteria of pre-modern or tyrannical regimes.
This is not to say the actresses are lying. That would be an outrageous thing to imply, as some foul trolls have. Every person who makes an accusation of an offence must be listened to and respected. Otherwise justice doesn't work. But it is to ask: don't we need more than accusation to destroy a person? Can it be right for any individual – whether mogul or poor, famous or unknown – to be broken by the allegations of another?
Some will counter that, in some instances, Weinstein paid women to stay silent about things he allegedly did to them, and this proves his guilt as a serial abuser. 'No smoke without fire.' In truth – and I know this can be hard to accept – those payments are not sufficient even to make a guilty judgement in those individual instances, never mind in relation to newer accusations. Our rigour before we apply the brand of guilty, and banish someone, must be deeper.
Weinstein stands accused of committing horrendous crimes against women. Exploitation, harassment, assault, rape. If these accusations are true, the book should be thrown at him. It is precisely because the accusations are so serious that the febrile climate swirling around Weinstein right now feels so wrong, and so insufficient. It's bad for the accusers, bad for the idea of justice, and, no one will care about this, I know, bad for the accused.
Here are some things about the Weinstein scandal that I think should be causing more concern.
Trial by media
Everyone loses out when the media act as judge, jury and executioner. Even when it's respectable outlets like the New York Times and the New Yorker, which have been at the forefront of reporting the Weinstein allegations, playing the moralistic role tabloids normally adopt in relation to accused famous people.
Media trials are wrong. If you have been assaulted or raped by a man, go to court, please. We want these men off our streets. Trial by media both sensationalises and diminishes allegations. It sensationalises them by packaging them up in as titillating a way as possible, for sales and retweets. And it diminishes them by treating even something as dreadful as an allegation of rape as a thing Ronan Farrow should write longreads about rather than something a judge and jury, on behalf of us, the citizenry, should rule on and potentially punish.
If Weinstein did not rape women, then what's happening to him right now is ugly. But if he did, then it isn't ugly enough. Alleged rapists should be in court, under the judgement of society itself. They deserve something more severe than the tut-tutting of the New Yorker. Trial by column and feature and gossip damages legal ideals and can let actual abusers off the hook of democratic punishment.
Guilt by association
One of the most disturbing things in the Weinstein scandal is the media and moral pressure being heaped on anyone who ever met him to denounce him now. Loudly and publicly. Actors and actresses are being strong-armed to say how disgusted they are with Weinstein. Tough luck if they believe in the process of justice and would prefer to withhold their own personal feelings until that has been served. That isn't an option now.
Woe betide any Weinstein associate or contact who doesn't now point a finger and say, 'I CONDEMN'. The Guardian went so far as to publish a list of 28 Hollywood names who had failed to respond to its insistence that they slam Weinstein. It's like a new blacklist. All these people were subsequently ridiculed online. Denounced as rape apologists, enablers of evil, corrupted by their own silence. There's a pre-modern feel to it. 'Denounce the devil or we will presume you are in concert with the devil.' Last night's Newsnight on the BBC was trailed with this line: 'Tonight, Jez Butterworth publicly denounces Harvey Weinstein.' Roll up, roll up. Butterworth will now escape censure. He has saved himself.
This media naming and shaming of people who have merely worked with Weinstein is the thing that most makes this seem like something more than the exposure of one man's alleged behaviour; which makes it feel more like an act of intolerance, almost of hysteria.
The silencing of disagreement
That possible hysteria can also be glimpsed in the fury visited upon anyone who questions whether Weinstein is evil, or even guilty of everything that has been alleged. When fashion designer Donna Karan rather foolishly asked if some women invite male advances – overlooking that it's abuse, not advances, that is being alleged – she was turned instantly into a global pariah. Her reputation is destroyed, we're told. People are boycotting her clothes. Her business will be 'throttled', experts say. Some people are posting photos of themselves destroying her garments. 'BURN IT', say tweeters of her clothing. She's a 'disgusting human being' and we should 'burn her clothes', online commenters cry. What is this? Burn the witch's wares?
It's striking that a media campaign that presents itself as standing up for women in the entertainment industry can turn with such venom on someone like Karan. In short: 'When we said "women", we didn't mean evil bitches like her.' Now Lindsay Lohan is getting it in the neck for saying, 'I feel very bad for Harvey Weinstein right now'. She has since deleted her comment. Too late: the internet has judged that she can now never make an acting comeback. She's finished. Because she failed to renounce the devil.
That this isn't an open, level-headed search for justice and instead has become something darker and weirder is clear in these clampdowns on anyone who speaks out of turn.
The politicisation of abuse
Bitter right-wingers, still reeling from liberals' obsession with Donald Trump's 'pussy' comments and sexist behaviour, are gleefully using the Weinstein thing to attack Hollywood and other right-on institutions. This proves, they say, that these self-satisfied left-leaners are nastier and more rapacious than the right.
This is dangerous. They do not realise – or more likely they do not care – that injecting politics into something as serious as accusations of sexual assault and rape makes securing justice even more difficult. The accusations become so loaded, so politically weaponised, that the possibility of finding the truth and making recompense is seriously degraded. The end becomes political shaming of social groups, or ways of thinking, not reasoned judgement.
The search for moral cleansing
'Cleanse yourselves', said actress Rose McGowan on Twitter.
McGowan was paid by Weinstein after an 'episode in a hotel room' in 1997. She was telling 'dirty' Hollywood to cleanse itself. This is a dominant theme in the commentary on Weinstein: malevolence is widespread, hidden everywhere, and it must be exorcised. 'We all know a Weinstein', columnists say. Do we? This is what the Weinstein scandal has become, or threatens to become. A national cleansing; an American cleansing. The use of alleged crimes to search for evil, and expel evil, and make ourselves Pure and Good once more. Again, not unlike Salem.
The Weinstein allegations raise very serious questions indeed about the 'casting couch' culture. These questions must be answered. But in turn, the intense, even frenzied moralisation of these allegations raises questions about the broader social and political climate today, and the possibility that it is diminishing reason and justice.
Brendan O'Neill is editor of spiked.
Brendan will be speaking at the session Brexit – where are we at? at the Battle of Ideas festival in London on 29 October. Get tickets here.
Picture by: Gettty
To enquire about republishing spiked's content, a right to reply or to request a correction, please contact the managing editor, Viv Regan.