Guns aren't to blame for the horror in Vegas
Fetishising weapons leads to a distorted public discussion.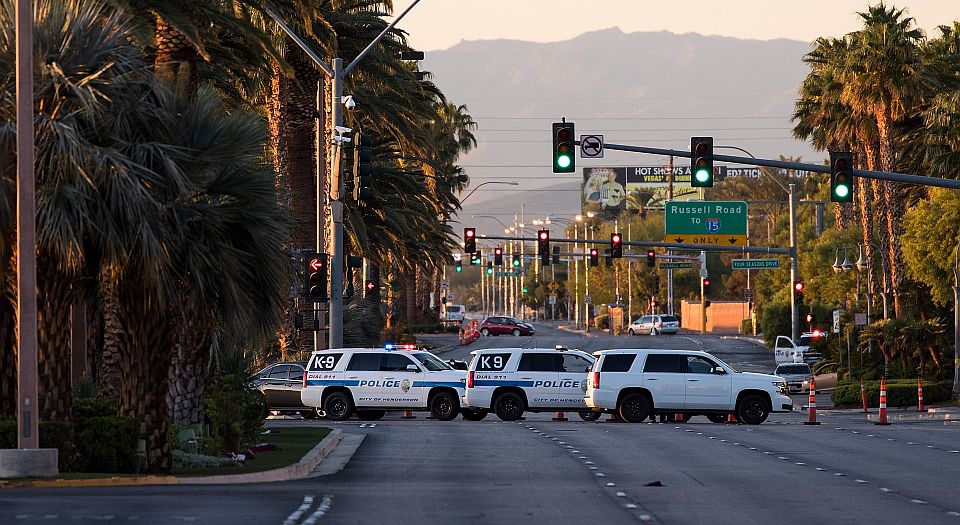 The horrendous massacre on Sunday night in Las Vegas, where 59 people were killed and 527 injured, immediately provoked calls for gun controls. On the floor of the Senate, Democratic minority leader Chuck Schumer pleaded: 'We can't banish evil or madness from the earth, but we sure can do what we can in our power to make our country a safer place. We need commonsense reforms and these reforms have broad public support in the face of tens of thousands of gun deaths every year.' This is not completely accurate: only about half of Americans support more controls and, when they do, they opt for mental-health and criminal-background checks rather than bans.
Pop stars Lady Gaga and Ariana Grande tweeted for gun control, as did some other celebs. Hillary Clinton, a long-time opponent of guns, tweeted on Monday morning in reference to proposed legislation, the Hearing Protection Act, supported by the National Rifle Association, which would make noise-suppressors for guns legal. 'The crowd fled at the sound of gunshots. Imagine the deaths if the shooter had a silencer, which the NRA wants to make easier to get', she said.

'When you have weapons of war in wide circulation, you get war-like casualty counts. Not what the Founders had in mind', Democratic senator Jeff Merkley of Oregon tweeted: 'House bill for easier access to silencers = more carnage in these kinds of shootings. Terrible idea.' Another Democratic senator agreed: 'Congress should take up and vote on legislation to ban military-style weapons.'
Republicans dismissed Democrats' calls for action, saying that now was a time for 'unity'. House speaker Paul Ryan said mental-healthcare reform is crucial to preventing future mass shootings. In response to Vegas, Donald Trump told reporters: 'We'll be talking about gun laws as time goes by.'
So what measures would have prevented 64-year-old Stephen Paddock from killing and wounding so many people?
The perhaps frustrating answer is – none. There is simply no way of preventing someone determined to kill and maim from doing so. Background checks would have detected nothing out of the ordinary in Paddock. He had no criminal record save for a traffic violation. There were no known mental-health issues.
What about the weapons he used? As far as can be told, Paddock used semi-automatic rifles fitted with a bump stock – a device that makes the rifle fire in bursts, like a machine gun. There have been no reported finds of suppressors but, if he did use them, the sound of his shooting would still have been heard, counter to the ignorant tweets. There are two main elements responsible for the noise we hear as a gunshot – the high pressure gases escaping from the muzzle, and the sonic boom created by a bullet as it passes through the air faster than the speed of sound (1,080 fps at sea level). The suppressor can slow the escape of gases from the muzzle, but can do nothing about the latter effect.
Ban assault weapons? This politically defined category of guns — a selection of rifles, shotguns and handguns with 'military-style' features — only figured in about two per cent of gun crimes nationwide in the US before a ban introduced in 1994. The number now is closer to one per cent. From 1994 to 2004, when the ban was rescinded, it was ineffectual. A government report published in 2004 concluded that the effect of the assault-weapon ban was 'small at best and perhaps too small for reliable measurement'. Assault weapons are high profile because they are used in mass shootings – Las Vegas, Orlando, Sandy Hook, Columbine – but rifles kill very few people in the US. In 2014, according to the FBI, all rifles – including assault weapons – killed 248 people; fewer than were killed by shotguns (262) and hands, feet, fists, etc (660). 

Banning bump stocks is probably on the cards after this incident, but the Bureau of Alcohol, Tobacco, Firearms and Explosives (ATF) perhaps allowed them (other similar mechanisms have been banned) because they render rifles inaccurate. They are only for hobbyist shooters and have never been used for mass shootings before this incident. It is very possible that Paddock may have killed more people had he aimed more carefully and not shot wild bursts into the crowd of country music fans gathered in Vegas.
This crime occurred because Paddock was determined to kill large numbers of people. The fact that police found stockpiled explosives ought to alert us to the fact that the means that he used to kill was less important than his determination to do so. Focusing on guns – and irrationally focusing on guns responsible for less than two per cent of gun homicides per year simply because they look too butch – will not stop determined murderers from destroying human life. Mohamed Lahouaiej-Bouhlel killed 86 and injured 458 others with a lorry in Nice. No one blamed the truck.
Fortunately, events like this, though shocking, are rare, even in the US. What should Americans do? Leave the gun-control handwringing to Washington and finger-wagging Europeans and continue to attend concerts and have a good time. As country singer Lee Brice, who played the Las Vegas festival two nights before the attack, said: 'There's a pride in country music and what they stand for and what they believe in and I don't think that's going to change because of one person who wants to take that away from them.'
Kevin Yuill teaches American studies at the University of Sunderland. His book, Assisted Suicide: The Liberal, Humanist Case Against Legalisation, is published by Palgrave Macmillan. (Buy this book from Amazon (UK).)
To enquire about republishing spiked's content, a right to reply or to request a correction, please contact the managing editor, Viv Regan.