Uberphobia: when anti-capitalism turns ugly
The nasty prejudices behind the celebration of Uber's troubles.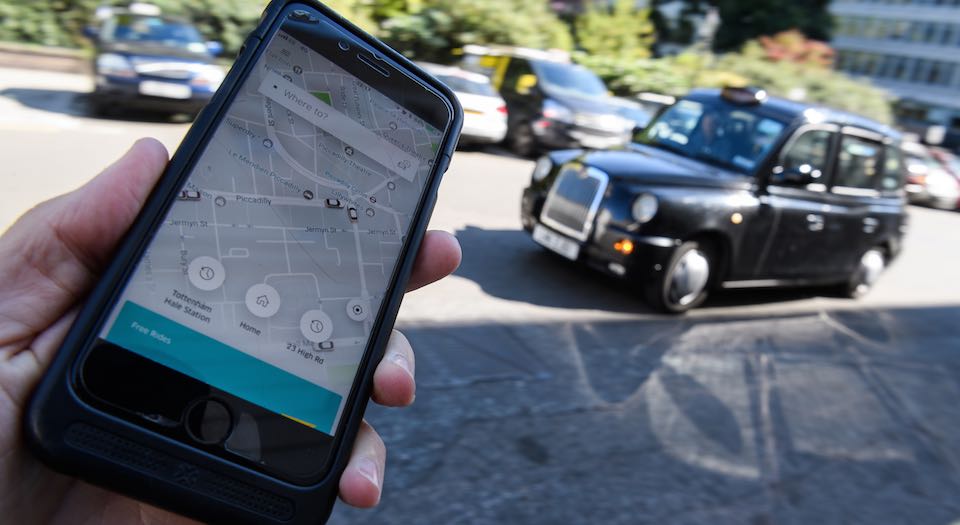 The satire writes itself these days. For the past 16 months, ever since voters said No to the EU, the supposed liberal set has been signalling its virtue over migrant workers. These Remainer types have filled newspaper columns and dinner-party chatter with sad talk about foreigners losing the right to travel to and work in Britain. Yet now these same people have chortled as London mayor Sadiq Khan and his pen-pushers at Transport for London (TfL) have refused to renew Uber's licence in the capital. Which means 30,000 people will lose work. Many of them migrants. They cry over migrant workers one day, and laugh as they lose their livelihoods the next.
Anyone would think their overriding concern is less with migrants' right to work than with their own insatiable need to engage in political posturing. And right now, when it's trendy to be anti-capitalist, to sneer at Silicon Valley fat-cats who make apps that employ people in far from ideal conditions, the posture that guarantees one's spot in liberal circles is to be Uberphobic. Sticking it to Uber, making a spectacle of one's haughty disdain for the vagaries of life in 21st-century capitalist society, takes precedence over concern for workers themselves. Welcome to 2017, where it's cool to be anti-capitalist but not pro-worker.
You don't have to be a naive fanboy of Uber to be worried about TfL's bureaucratic clampdown. I use Uber, as do millions of Londoners, because it is cheaper than taking a black cab and it is cashless and convenient. But this doesn't mean I think Uber is perfect, or even all that good. It isn't very innovative — having merely invented an app that exploits truly innovative breakthroughs like telecommunications and the motor-car — and it doesn't reward its drivers well enough. Drivers' expenses — car hire, car insurance, petrol — plus Uber's 20 per cent commission mean some drivers in the UK earn a pretty low wage. And through classifying its drivers as self-employed, Uber has avoided having to pay them sick and holiday pay. (This was challenged at a UK employment tribunal this year, and now Uber must cover the pay of drivers who have logged more than 500 journeys if they are ill or injured for more than two weeks or if they're called up for jury duty.)
And yet whatever Uber's failings, what Khan and his cronies have done is wrong, and harmful. They have forgotten that good intentions — let's be generous and presume their intentions were good — can be dangerous. In this case, the removal of Uber's licence on the basis of public safety — TfL's key concern is with Uber's 'approach to reporting serious criminal offences' and the methods through which it vets its drivers — has had the consequence of turning upside down the lives of Uber's largely migrant workforce. Just like that, with the swipe of a bureaucrat's pen, the work they did will soon no longer exist. Anti-Uber apologists for the state's effective sacking of 30,000 drivers are saying: 'Well, they weren't workers, just self-employed people, and they can now self-employ themselves elsewhere.' Such a cavalier attitude to people's lives. However you look at this decision, the fact is people who had work will no longer have that work.
And who are these people? They're the less well-off. Many are migrants. They are people taking their chances in the so-called gig economy because the 'real' economy has nothing for them to do. They are people like Pal Singh, 61, who told the Financial Times: 'I need this job for living. I have bills to pay… Who is going to give me a job now?' Mr Singh is proud of his recent weekly earnings: £1,050, £897, £841. That's a lot of money to lose. They are people like Mohammed Nizam Jearally, who lost his job with the NHS and turned to Uber, where he now earns more than his NHS wage. It is a chilling bureaucracy that would end such work without a second thought, and a foolish left that would cheer it on as a blow against capitalism.
In the words of the Independent Workers' Union of Great Britain, 'This is a devastating blow for 30,000 Londoners who now face losing their job and being saddled with unmanageable vehicle-related debt'. The arguments being pushed by some leftists to justify this 'devastating blow' are perverse. They say TfL's decision is good because Uber treats its workforce like 'slave labour'. Let's leave to one side their ahistoric hyperbole; the really messed-up thing here is the idea that the way to improve the lives of mistreated or underpaid workers is by taking away their work, taking away all their pay. This isn't solidarity with workers: it's virtual leftists choosing the cheap thrill of signalling their middle-class disgust for capitalism over standing with people who had work and soon will not.
One of the ugliest sentiments behind Uberphobia is the idea that this service is a threat to the public, especially women. Darkly, the new left is at one with the anti-migrant hard right on this question: both have cheered Uber's licence loss on the basis that women of London must be protected from unregulated drivers. Let's get this into perspective. Last year it was revealed that between February 2015 and February 2016 there were 32 allegations of sexual assault against Uber drivers in London. There were a total of 154 allegations against all taxi and car firms, meaning Uber made up a minority of complaints. What's more, there are millions of Uber journeys in London every year, so the chances of assault are minuscule. It's the same in the US. There was scandal when it was revealed that Uber had received complaints from women who said they had been raped by drivers. It received five complaints between 2012 and 2015, which means 0.0000009% of car journeys involved an alleged act of rape. Uber is very safe indeed.
It is hard to avoid the conclusion that, from both leftish feminists and the hard right, the panic about Uber is driven partly by fear of unregulated foreign men driving around our cities. The state must regulate, they say — and they mean it must regulate both business and foreigners, both fat cats and untrustworthy outsiders, both moneymen and migrants. Cheering as migrant workers lose their work and being complicit in the depiction of migrant drivers as a rapacious threat: sections of the liberal-left have really exposed their prejudices through their posturing against Uber. The tragedy of Uberphobia is that it confirms that even anti-capitalism is now virtue-signalling. It is no longer a serious call to improve working people's lives; it is just the fleeting thrill of shouting 'Down with Uber!' without ever letting the issue of its drivers' livelihoods cross your pristine, virtuous mind.
Brendan O'Neill is editor of spiked.
Brendan is speaking at the events 'Is the left eating itself?', in NYC on 2 November, and 'Is political correctness why Trump won?', at Harvard on 6 November, as part of spiked US's Unsafe Space Tour. Get tickets here.
To enquire about republishing spiked's content, a right to reply or to request a correction, please contact the managing editor, Viv Regan.