Trigger warnings won't resolve trauma
PTSD shouldn't be dealt with in the classroom.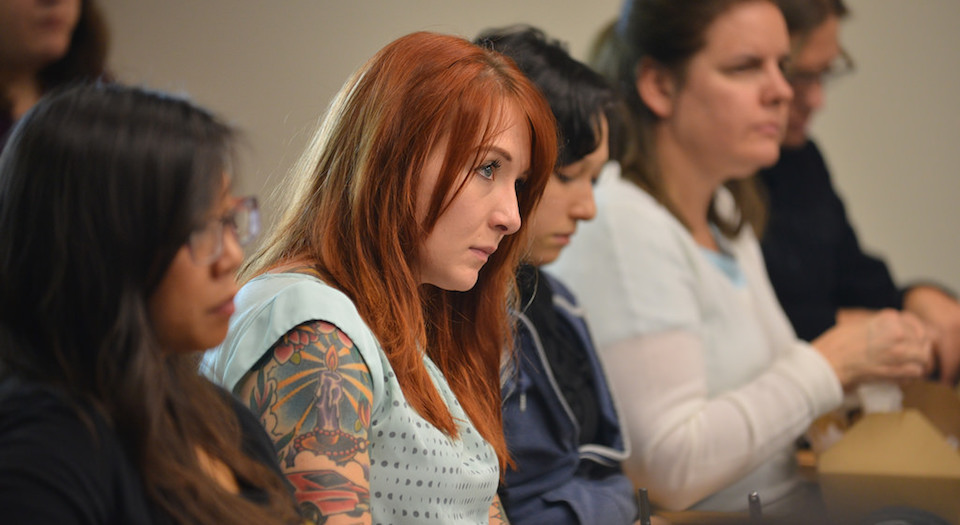 Over the course of the last decade, trigger warnings have transcended the blogosphere and have been imported into the classroom. A considerable number of educators have embraced the routine of placing content warnings on texts and potentially sensitive areas of their academic syllabuses. These are intended to indicate to survivors of trauma that they may be about to encounter material they find triggering, and that they may want to remove themselves from the situation.
Within certain academic departments it has been decided that content indicators are the most appropriate method of accommodating the recovery of survivors of post-traumatic stress disorder (PTSD), and furthermore, that the classroom is the most appropriate environment for such a recovery to be managed.
Trigger warnings were originally conceived within the feminist blogosphere and within likeminded activist circles. They were a tool used in a wider strategy of resistance to evils such as misogyny, transphobia, rape and sexual assault. Their use within these settings does acknowledge a very important truth: that trauma incurred from harassment, as well as physical and sexual abuse, is often harboured by survivors – who receive little support. The acknowledgment of trauma and the effects it has on survivors is, of course, the first step one must take to heal from it. But it is the first step within a much longer journey to recovery.
If survivors of trauma democratically decide within their own groups that they should prioritise trigger avoidance as their own form of resistance, they are obviously free to do so. But to import this strategy into the classroom, a space that is already unfit to treat conditions like PTSD, creates a censorious environment where many difficult but incredibly important topics simply cannot be broached in the depth they deserve. Moreover, this strategy promotes the pernicious lie that PTSD sufferers can heal themselves by just sweeping their troubles under the rug. That's a cruel falsity that must be shattered.
The use of trigger warnings in this educational context can reinforce a behavioural trait known as maladaptation. This is the antithesis of adaptive behaviour, which constitutes an action one takes to alter a non-constructive behaviour into a more positive, constructive form of behaviour. In the case of maladaptive forms of behaviour, one may believe they are taking an action to combat their anxiety, such as avoiding potential triggers within texts, but it is counterproductive in alleviating the stress of the trauma over a long-term period.
By mandating the use of trigger warnings, educators who may have no specialist experience as mental-health professionals appropriate the role of therapist-by-proxy within the classroom. This is incredibly dangerous, and it is astonishing that those who claim to have the best interests of PTSD sufferers at heart do not seem to consider the harmful implications of this.
Avoidance of triggers is inimical to recovery. When any PTSD patient meets the symptomatic criteria for the disorder, the aim of the therapist is not to maintain the occurrence of symptoms within the patient – the entire point of a therapist's intervention is to help a patient recover. Educators who give into student demands for trigger warnings, and therefore endorse avoidance, then become an obstacle to a survivor's recovery. They create an echo chamber within their classrooms where, in the short-term, a survivor will feel safe from their trauma. But this will make them less prepared for navigating the outside world, which doesn't come with such warnings.
The Institute of Medicine concluded in 2008 that a form of cognitive behavioural treatment known as prolonged-exposure therapy is the most effective treatment for PTSD. Prolonged-exposure therapy involves direct, first-person reimagining of the trauma that a patient experienced, and multiple times. This technique was proved to reduce a traumatic memory's capacity to cause distress in numerous cases. Furthermore, Robinaugh and McNally found in 2011 that the more central a case of abuse was to a female survivor's identity, the more severe their PTSD symptoms were.
Consequently, according to Robinaugh and McNally, there are two obvious courses of action for survivor recovery. Firstly, survivors must build up long-term resilience to traumatic memories. Secondly, they must find a way to ensure they do not define themselves by their abuse. These two fundamental aspects of recovery are undermined by slapping arbitrary trigger warnings on any potentially upsetting content.
We must not allow flaky political ideology masquerading as bona fide clinical psychology to become accepted practice in the classroom. We must elevate the voices of the psychological community who advocate the development of resilience to traumatic memories, rather than those who endorse the indulgence of personality pathology. Having been taught at university by many of these educators, I'm sure most of them have nothing but good intentions when they deploy trigger warnings before classes. But as St Bernard's old proverb goes, the road to hell is paved with good intentions.
Rob Byrne is a writer.
Picture by: Ford School, published under a creative commons license.
To enquire about republishing spiked's content, a right to reply or to request a correction, please contact the managing editor, Viv Regan.