That Lukaku chant: it's open season on 'football scum' again
'Anti-racism' is a cover for expressing contempt for working-class fans.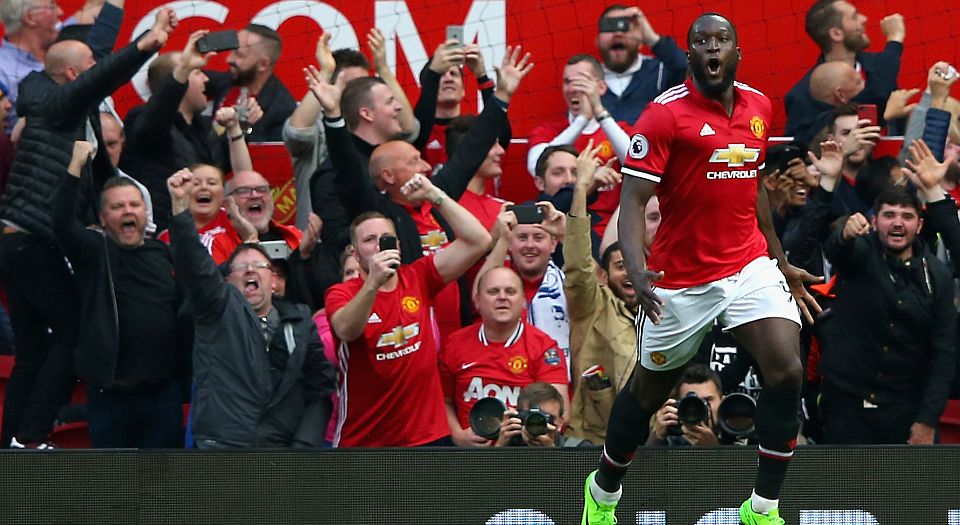 The middle-class, NuFootball, cucumber-sandwich-bringing tourists to the terraces who claim to love the Beautiful Game yet who hate its Ugly Fans are upset. Again. Those brutes who ruin football with their standing-up and shouting and those strange accents they speak in have gone and invented another offensive chant. This time it's Manchester United fans, and the target of their gruff speech is United player Romelu Lukaku. A few fans have been chanting about Lukaku's knob, suggesting it is a large one, and the stiff, prissy, post-Nick Hornby newcomers to the game are aghast. 'It's racist!', they cry. Well, when 70,000 largely working-class people form a heaving, passionate crowd, there's bound to be racism, right? It's in the genes.
The chant, sang to the tune of the Stones Roses' 'Made of Stone', goes as follows: 'Romelu Lukaku / He's our Belgium scoring genius / He's got a 24-inch penis / Scoring all the goals / Bellend to his toes.' It's daft, of course, and rude, as is a great deal of what gets said and sung at football matches. But racist? Please.
Yes, there's an old, ugly colonial history of obsessing, whether with horror or glee, over the alleged sexual prowess and 'talent' of black men. But that isn't what's happening here. This isn't a gang of imperialism-influenced racists seeking to demonise black people; it's just football fans celebrating one of their favourite players with a knowingly provocative chant. It would take a very ungenerous, football-suspicious, anti-fan mind to see this chant as an act of racism on a par with those twats who threw bananas at black players in the Eighties.
Sadly, there are a lot of those minds around, forever primed to holler 'RACIST!' at white working-class blokes who enjoy football. Sections of the media and football's 'anti-racist' morality police went into meltdown. Kick It Out accused United fans of promoting 'racist stereotypes'. A writer for the Mirror said the fans were hurling a 'cheap and insulting stereotype' at Lukaku. The BBC interviewed an 'expert on crowd behaviour' – FFS – who decreed: 'It does perpetuate a racist stereotype… and Manchester United fans need to face up to that fact.' The thing that really needs to be kicked out of football is this disturbing and patronising crowd-psychologising of fans, as if they were a vast, problematic blob to be studied and corrected. How ironically dehumanising.
The Guardian's Marina Hyde, the Edith Sitwell of football commentary, gave United fans an aristocratic dressing down. 'Attention', her headline cried at the football throng: 'All racial stereotyping is racist.' Cute, considering she once referred to some fans as 'knuckle-draggers'. Remember, kids, you're only allowed to refer to white working-class people as apes. Guardianistas are convinced English football is racist, which is remarkable given a whopping 30 per cent of professional players are black whereas I'm pretty sure a young black man in Britain is more likely to be shot by the police than to get a job at the Guardian.
Eton-educated poet Musa Okwonga said United fans were reducing Lukaku to his 'body parts' and their supposed love for him could easily turn into 'racist fury if he has a slump in form or scoring': 'Their anger will be loaded with an extra venom.' Note the pre-emptive disgust here, the expectation that at any moment this horde, this mob, this crowd could turn, could switch, could become a venomous army of prejudice. Look, you can dress this up in the garb of anti-racism as much as you like but it still amounts to an Eton-educated poet telling football fans they're scum.
And that's the thing about the so-called 'anti-racism' project in football: it is really just a means through which some very old, ugly prejudices against fans can be pursued in a seemingly PC way. It's no longer acceptable to call fans savages. You can't call them scum anymore. Even 'hooligan' is drifting from media parlance. Terms like 'knuckle-draggers' slip out every now and then, but I'm sure they are regretted for their realness, for what they reveal. No, it's in the language of 'anti-racism' that football fans, the football crowd, must now be euphemistically demonised, presented as lesser people, less good, less human, in essence. Unlike us, they are always on the cusp of venomous behaviour; unlike our knuckles, their knuckles drag; unlike our speech – polished, correct, never testing PC boundaries – their speech is crude and rough and deserving of censure. 'Unlike us': it's moral self-distinction in the guise of opposing racism.
The truth is that racism has disappeared from the game. There is nothing like the racial tensions of a few decades ago. Kids of every colour worship black players. Football is anti-racism in action, made flesh, made sport, every weekend: blacks and whites watching blacks and whites play their beloved game. Yet the more racism disappears from football, the more our supposedly football-loving but fan-hating new elites claim to see it, in every chant, in every look, in every breath those people take. Their aim is not to kick racism out of football. It is to sanitise football; to make those 90 minutes in which people cut loose and chant and feel things they don't chant and feel in everyday life as starched and grey as their technocratic worlds are. It's a creeping colonisation of football, of that morally ungoverned space in which passion rules, by an army of the bland and offended.
Two black football people notably refused to condemn the Lukaku chant as racist: Paul Ince and Lukaku himself. Ince, a former United midfielder, said, 'I don't think the chant is racist… it was amusing, a bit of a laugh.' And yesterday Lukaku himself, in tandem with United, said he had received 'great backing' from United fans, and they have 'meant well with their songs', but he then suggested they should 'move on together' from the current chant. That is, he hasn't condemned fans as venomous, knuckle-dragging racists, but he does want them to stop using that particular chant. And the fans always promised they would stop chanting it if he asked them to. So that's it, settled. These fans have demonstrated far more respect for Lukaku than the commentariat have. For days the commentariat took offence on Lukaku's behalf, as if he were a child requiring their educated protection. White, posh columnists and activists speaking for a black man without finding out what he himself thinks? If only there were a word for such behaviour.
Brendan O'Neill is editor of spiked.
Brendan is speaking at the events 'Is the left eating itself?', in NYC on 2 November, and 'Is political correctness why Trump won?', at Harvard on 6 November, as part of spiked US's Unsafe Space Tour. Get tickets here.
To enquire about republishing spiked's content, a right to reply or to request a correction, please contact the managing editor, Viv Regan.