Oslo: the death of ethical foreign policy
A play on the 1993 Middle East deal reminds us how bad good intentions can be.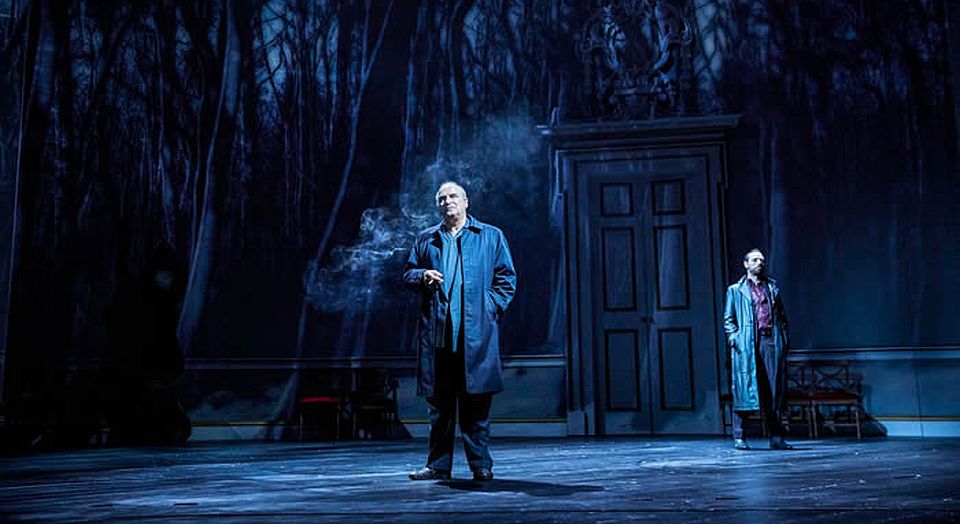 The road to hell is paved with good intentions. And what better intentions can you have than seeking to resolve the Arab-Israeli conflict that has bumped along since the times of David and Goliath? Such are the intentions that moved Norwegian diplomats Terje Rod-Larsen and Mona Juul to set up the secret negotiations in Norway in 1993 that resulted in the handshake between Israeli prime minister Yitzhak Rabin and PLO leader Yasser Arafat overseen by President Bill Clinton on the White House lawn a year later.
They are also the good intentions that possessed American playwright JT Rogers to write this supremely well-meaning, but ultimately toothless play about the rocky course of the secret negotiations. In it we learn how Larsen alarmed the Norwegian government by bringing the warring sides together in secret and persuaded PLO finance minister Ahmed Qurei to talk with Israeli academics Yair Hirschfeld and Ron Pundak. At the time it was illegal for any Israeli official to meet with the PLO, so once an interim agreement had a been drafted, it became necessary for Uri Savir, director general of the Israeli Foreign Ministry, to make a binding agreement possible.
Underpinning both Rogers' and Larsen's ambition is the belief that progress is always possible wherever people get talking and share their common humanity – especially if those talks are accompanied by an excellent dinner, fine whisky and tireless good manners. This is surely also the basis of the Tony Awards handed out to his play for its run on Broadway. And yet if there is one thing more fragile than these peace talks, it is the gentile suppositions that underpin them. As PLO firebrand Hassan Asfour blurts out in a telling moment of frustration, 'It is the capitalist behemoth that has to be confronted, not bourgeois family values'. The violence of his outburst becomes an almost embarrassing moment of comedy. But it also indicates the oceanic historical and social forces that are being kept at bay by both the Norwegian diplomats and Rogers' drama.
What Larsen and Rogers are desperate to avoid is the shadow of what is judiciously called 'dick-swinging'. The threat of dick-swinging among these jostling alpha males is the very thing that this urbane liberal code is intended to dispel. The idea that human beings might be territorial apes is in this worldview bleakly intolerable. And yet even if the negotiations are deemed to succeed, the fact that they are being held by unelected officials deciding the fate of an entire region in private ought to be just as troubling.
At a dramatic level, too, Rogers' play is oddly lacking in conflict. You'd have thought the Arab-Israeli struggle supplied enough conflict to keep us going for another couple of millennia, but much of that conflict here goes on behind closed doors. What we do see merely recrudesces familiar bile. Caught in the middle of this is Larsen – a diplomat who is also that rarest of all things, a dapper sociologist. In this role Toby Stephens amusingly oozes unctuous self-satisfaction in the gorgeous fabric of his three piece, pin-striped suit, but he also quietly squirms every time his enterprise teeters. He is admonished and exhorted in equal measure by the thoroughly courteous Lydia Leonard as his wise and patient wife Juul. But all she and Larsen control is the supply of coffee and booze, while making sure that the cook doesn't serve her pork speciality.
In the context of such suffering in the Middle East itself, it's hard to take seriously the Norwegian characters' anxiety about risking their careers (including Howard Ward's humorously volatile foreign minister Johan Jorgen Holst). Even so, Peter Polycarpou is outstanding as PLO man Qurei. Big and bearish, powerful with an emphatically volatile side, he also brings warmth, charm and gravitas, making him a thoroughly clubbable Arab. He's a man with whom you can break bread and in line with Western liberal standards holds his pleasures close to his principles. Next to him Nabil Elouahabi prickles with hardline frustration as his Marxist sidekick Asfour. As Qurei's opposite Israeli number Uri Savir, Philip Arditti is a leaner, more calculating proposition inclined to froideur and blind fury, but he appreciates fine champagne just enough for Larsen to work with.
Bartlett Sher directs a thoroughly even-handed production in which he is careful to do nothing so illiberal as to pass or imply judgement. Instead he keeps a virtuously open mind in a show that gives every character free rein. Correspondingly, Michael Yeargan's set design is a tastefully bourgeois confection of the sort approved by pampered bureaucrats the world over. He presents us with symphony of grey costumes of the apparatchiks against the lofty walls of Norway's corridors of power painted an elegant duck-egg blue. On these walls, images of Palestinian intifada are intermittently projected, tactfully reminding us of grim, distant realities.
What is kept at arm's length more than anything, however, is the no less awkward question of what the Oslo agreements have achieved. Previously considered by Western powers and Israel as nothing more than a terrorist organisation, the PLO returned from exile in Tunis and a Palestinian Authority was established in the Gaza Strip. Yitzhak Rabin, who eventually rubber-stamped the talks, was assassinated in 1995 and the Second Intifada followed in 2000. With Israel's illegal settlements expanding and Gaza subjected to blockades, alongside all the sporadic violence on both sides, no one would claim that the situation in Palestine and Israel has stabilised much. At most there has simply been a normalisation of a palpably unjust state of affairs. The pretence of impartiality can be hard to bear and when Asfour (again) explodes, telling the Israeli delegation that they must decide if they are victims or master, a ripple of grateful applause runs through the audience.
What then is the purpose of this play which commemorates a moment in the dispiriting history of the Middle East which loomed so large and changed so little? With the crisis in Western democracy that has seen liberal elites shaken to their foundations, the dick-swingers are very much back in the driving seat. Even if it's possible to overlook the disingenuous Western policy of supposed non-intervention in some parts of the Middle East, as well as the brutally violent interventions in other parts, the good intentions of Western liberals have been shown to be utterly ineffectual. This play therefore serves as an almost sentimental swansong for a liberal geopolitical vision of ethical foreign policy that may be well-meaning but is also thoroughly discredited. Their once fine hopes now hang by a thread in a game they know they've already lost.
Patrick Marmion is a playwright, journalist and associate lecturer at the University of Kent. He is speaking at the session 'Playing politics: should theatre be a safe space?' at the Battle of Ideas festival in London on 28 October.
Oslo is at the National Theatre until 23 September, then at the Harold Pinter Theatre from 2 October to 30 December.
To enquire about republishing spiked's content, a right to reply or to request a correction, please contact the managing editor, Viv Regan.