A killing in Harlow: the shame of Remainers
We must confront the elite's lies about the killing of Arek Jozwik.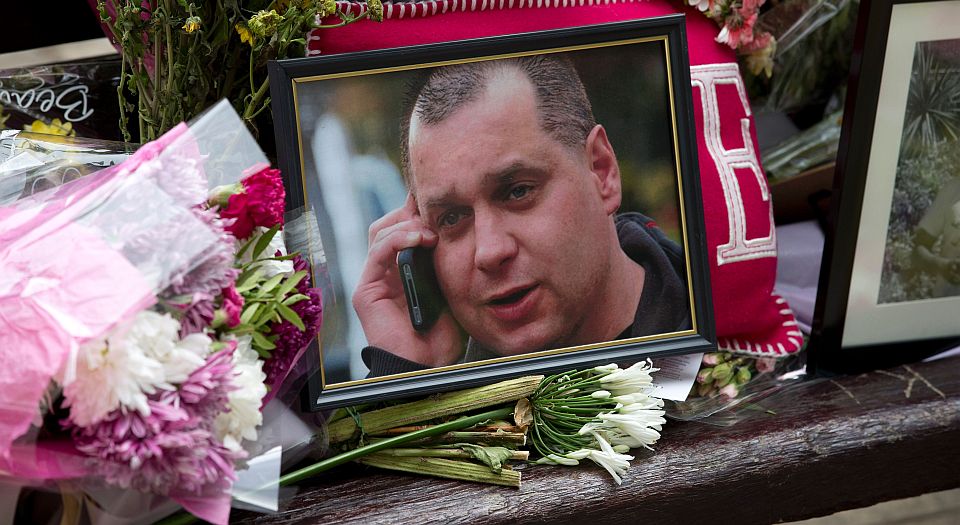 A few days ago, a 16-year-old boy from Harlow in Essex was sentenced to three-and-a-half years in a young offenders' institution for the manslaughter of Arek Jozwik, a Polish man who had been living and working in Britain. The sentencing didn't generate much media interest. There were no thinkpieces. Not much tweeting. Just some perfunctory news reports. Which is strange, because in August last year, when the boy, then 15, landed the fatal blow on Mr Jozwik, the media couldn't get enough of this terrible incident. The commentary was ceaseless. The killing trended. But they've forgotten it now. And the reason they've forgotten it, the reason Mr Jozwik's name has been all but erased from commentary circles, is pretty awful.
It's because Mr Jozwik's tragic fate is no longer politically useful to them. Back on 27 August 2016, at 11.30pm, when Mr Jozwik crossed paths with a bunch of pissed-up teens, there was hysteria in the air. Not in Harlow itself. What happened there was, by all accounts, a gruesome accidental killing. Mr Jozwik and a friend got into a row with the teenage boy and his friends, and the teenage boy threw a punch that caused Mr Jozwik to fall back and hit his head against the pavement. He died from head injuries two days later. Tragically, this kind of thing happens when people clash at night. According to psychological reports submitted to the court, the boy regretted what he did and felt remorse over Mr Jozwik's death. He didn't mean to kill him. No, the hysteria wasn't in Harlow. It was in Westminster, and on Fleet Street, and among the chattering classes – sections of Britain which in August 2016 were reeling badly from the Brexit vote two months earlier. Their response to the Harlow killing was swift, and unhinged.
Instantly, without the benefit of evidence, they turned it into a hate crime, a racist crime, a Brexit crime. They held it up, almost with perverse glee, as symbolic of the nasty place Britain was destined to become as a result of Brexit. Given their now cynical forgetting of Mr Jozwik – a forgetting Big Brother would be proud of – it can feel difficult to recall how thoroughly the anti-Brexit elite exploited Mr Jozwik's killing. It was everywhere. The headlines were endless. This killing 'exposes the reality of post-referendum racism', said a headline in the Guardian. In its coverage of the killing, the Telegraph reported – and perhaps spread – 'fears [that] migrants are being targeted in post-Brexit hate crimes'. Head of the EU Commission, Jean-Claude Juncker, said the killing was part of the 'galloping populism' unleashed by our vote for Brexit. We voted, Mr Jozwik died. We did it.
Harlow was reduced to a symbol of evil, emblematic of 'Brexit hate'. A writer for the Guardian reminded us how the politics of this Essex town had worsened (allegedly), meaning it went from 'a New Labour base… [to] a Tory seat which had an overwhelming support of 68 per cent for leaving the European Union'. And thanks to the Brexit victory, some people there 'feel empowered… to express their racist and xenophobic views'. They had been waiting for a chance to unleash their inner spite and bile, and Brexit permitted them to do so. As a result, Mr Jozwik died.
This narrative was widespread. The Independent took it even further: this Brexit killing dashed 'the great hopes for [this] postwar New Town', it said of Harlow, which was planned out in 1947 and finished in the 1960s. The killing of Mr Jozwik was more than an indictment of Brexit – it raised questions about the entire nature of Britain and of the British working class, apparently. This new town and other new towns were meant to be 'essays in civilisation', the Independent said, quoting the postwar Labour government that built them for working-class survivors of the London Blitz, but 'such grand hopes [have] ended in a now tired-looking shopping arcade in The Stow area of Harlow' – where Mr Jozwik was killed. The sense that postwar Britain itself was unravelling, and that the working class had become a terrible and hateful disappointment to the political elite, was palpable. They spied in this one incident the rot of an entire nation, and the decline of a people.
Officialdom got involved. EU bureaucrats denounced the Harlow race hatred apparently green-lighted by Brexit. Poland, in agreement with UK officials, sent police to Harlow. Activists and tweeters cited the killing as proof that racism was rampant after the vote to leave the EU. This 'violent death' confirms 'racism has been on the rise since Brexit', said the left-wing People's Assembly. The Twittersphere brimmed with fury over 'Brexit mobs', 'Brexit racism' and 'xenophobia' in this 'shithole full of racist chavs' (tweeters always say more explicitly what columnists must only intimate).
Soon, reporters were heading to Harlow like Victorian-era colonialists tentatively stepping into strange, tribal lands. Only where those colonialists brought racism with them, today's Brexit-fearers went in search of racism so that they might advertise their own purity against it. A Vice reporter focused on Harlow's old far-right movements (long disappeared). The political editor of the New Statesman visited Harlow and found a town full of casual racism and which 'has some way to go' to become a better place.
His report, his descriptions, didn't ring true. And that isn't surprising. None of this, none of the elitist hatred for Harlow, was true. Its very foundation – that Mr Jozwik was murdered because of Brexit, by Brexit – was a complete and utter lie. His killing was neither murder nor racist. It was accidental and the motive, so far as we know, was late-night antagonism. In December last year, four months after the killing, it was revealed that the Crown Prosecution Service wasn't treating the killing as a hate crime. The CPS really is not shy about treating things as hate crimes, so this was very significant indeed. It was an admission that there was no evidence, not a sliver, that xenophobic hate was the motivation for that punch that unwittingly led to death. As to Brexit, it didn't come into it at any level whatsoever. For all we know, the teenage boy and his friends might not even have been aware of Brexit.
When the CPS dropped the hate element in December, observers who had wrung their hands over the killing for months quietly dropped the whole thing, too. No explanation. No apology. No look-back at the unfounded things they had said. No reversal of their frankly demented claim that a democratic vote could have fuelled a drunk 15-year-old to kill a Pole. Fast forward eight months to the sentencing of the boy this week and, again, they're saying nothing. Mr Jozwik's tragedy is no longer interesting to them. It's an embarrassment, in fact, since it stands as grim proof of how far they lost the moral and political plot last August in the wake of the Brexit vote. So shush his death. Hide it. Forget it. As firmly as they turned this tragic man into a political symbol, they now bury his life and death to save their own blushes.
It's the great shame of Remainers. Yes, there was 'rampant hatred' in Britain in the weeks after the Brexit vote. But it wasn't in places like Harlow. It didn't come from ordinary Brexiteers. It was in political circles and media circles, where the contempt for Brexit speedily morphed into contempt for the lower orders that voted for it. Into denunciations of entire towns and classes. Into bile about the 'low-information voters' who had wrecked the elite's pristine Britain. Into a fact-lite conviction that the rabble were in the grip of violent hatred. It wasn't evidence but prejudice that made them turn on Harlow and by extension the rest of working-class Britain. The demonisation of Harlow was the truly hateful thing back then, and it was also the pinnacle of 'post-truth': that is, it was based on a lie. In raging against the alleged hatred of the Harlow hordes and others, elite Remainers revealed their own hatreds, their classist fear of democracy, their low political outlook that meant they were even willing to exploit the death of a migrant to attack the lives and beliefs of the less well-off.
RIP, Mr Jozwik. Britons are deeply sorry you were killed in our country where you made your home, and that our political and media elite used your death to propagate untruths.
Brendan O'Neill is editor of spiked.
Picture by: Getty
To enquire about republishing spiked's content, a right to reply or to request a correction, please contact the managing editor, Viv Regan.