Don't gender-neutralise our kids
Why the war on gender is bad for children.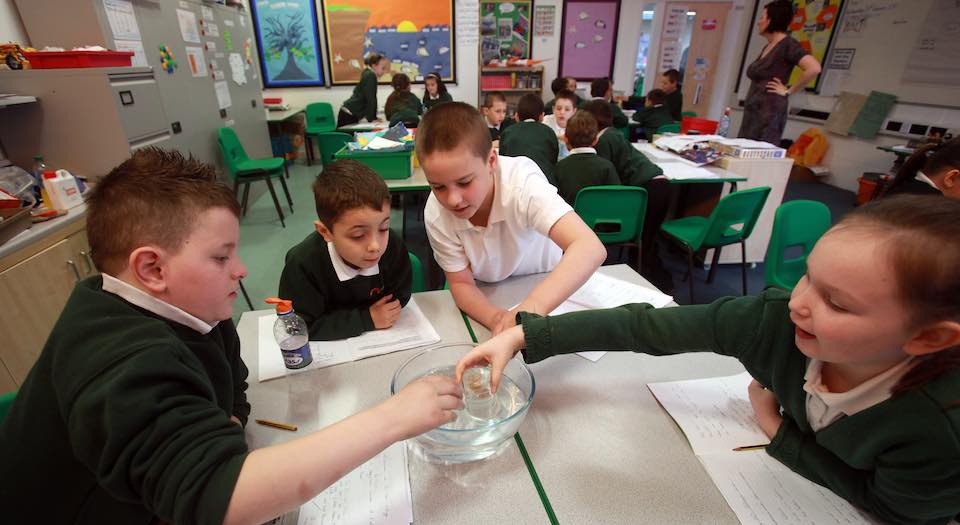 The more campaigners argue we should 'let clothes be clothes,' the more politicised children's clothing becomes. Primark bargains and hand-me-downs from family and friends have, for some children, been replaced by wardrobes carefully crafted to reflect parental values. Once children's clothes had to withstand playground dirt and a nightly scrubbing down; today they must work much harder signalling parental attitudes, particularly towards gender.
Unironically dress your daughter in a pink sparkly dress and your son in a blue 'tiny terror' t-shirt? You may as well carry a banner publicly declaring your Daily Mail-reading, Brexit-backing tendencies. The children of today's new-left elite wear dinosaur prints, bright colours and dungarees – all strictly gender-neutral. Dresses are great on boys who are thinking of transitioning but still going through a genderfluid phase, but less so on girls. Shops like Clarks that label girls' shoes 'dolly babe' and boys' shoes 'leader' are ridiculed and shunned.
Until recently, school uniform was immune to parental taste. A great leveller, uniform eroded the distinctions of social class performed through fashion. No longer. Today, an increasing number of schools have introduced gender-neutral school uniforms. Now, parents used to signalling their opposition to sexist stereotypes through their children's clothes don't need to stop at the schoolgate. Praise for John Lewis's decision to label all its children's clothes as 'for boys and girls' was closely followed last week by news that an East Sussex school has ordered all pupils to wear trousers as part of the new gender-neutral school uniform.
What children wear to school is now considered a matter for lawyers. Parents of a Kent teenager hired a solicitor to argue that under the Equalities Act 2010, their chosen school must recognise that their son wanted to be known as Lily and 'treated as a female student'. In response, more schools, fearing litigation, are now bringing in a gender-neutral uniform policy.
As a result, two parents are threatening their son's Church of England Primary School with legal action because a boy in his class was allowed to wear a dress to school. 'We believe it is wrong to encourage very young children to embrace transgenderism', the parents have declared, not unreasonably. 'Boys are boys and girls are girls. Gender dysphoria is something we as Christians need to address with love and compassion, but not in the sphere of a primary-school environment.'
The time schools dedicate to worrying over what children are wearing is time away from discussing what children should be taught. In my experience, the best-performing schools with the most authoritative teachers are quite laid back about what children wear. There is, however, a huge difference between taking a relaxed attitude to uniform and instigating a specifically gender-neutral policy.
Formally presenting a gender-neutral uniform suggests to children that gender is inherently problematic – something toxic which needs to be, quite literally, neutralised. In the case of the trousers-for-all policy, it is the feminine that is eliminated. Instead of giving children more choice, girls are told that wearing a skirt, choosing to dress like a woman, is not acceptable.
Many young children enjoy being a boy or a girl. They identify with role models of the same sex and take part in role-playing and dress-up games, acting out the parts of adult men and women. Of course, as they grow up, many children challenge the stereotypes. Future adult careers are no more determined by the games a child plays aged five than they are by the names of the shoes they are given. To assume adults are simply destined to act out the expectations placed upon them as children speaks to a peculiarly passive view of people.
The current war against gender tells us far more about the concerns of a small number of adults than it does about children. Having failed to eradicate all differences between men and women in society, campaigners turn to a captive audience of schoolchildren to shape the world as they would like it to be.
Increasingly, such politicised but anti-democratic attempts to shape society through altering the behaviour of children are played out in schools. Over the course of several decades the role and purpose of schools has changed from a concern with the transmission of disciplinary knowledge and cultural capital, to socialising children in preparation for adulthood. The solution to every problem in the adult world – from obesity to climate change to poor economic-growth rates – is sought in what children are taught in schools. In this context, education itself has been redefined from mastery of a body of knowledge to the demonstration of particular skills, competencies and values. As schooling comes increasingly to be concerned with socialisation, the values children are inculcated into are no longer those of the parents, extended family networks or local communities.
The attempt to make schools gender-neutral represents a rejection of the adult world as it currently is – with girls growing up to be women and boys growing up to be men. With all traditional models of masculinity and femininity rejected, children are presented with a blank slate of grey neutrality. But this blank slate is far from liberating. Children can't take their gender for granted and move on to more exciting things in life. Rather than encouraging children to take delight in who they are or revel in pushing the boundaries of what is considered acceptable for men and women, they are taught to see gender as complicated and problematic. They need to spend time working out how they feel about their gender.
Children are taught that their feelings about their gender override biology, social convention, and, for children from religious families, God. Putting the individual at the centre of their own world means everything in life is evaluated solely in terms of its implications for individual wellbeing. Being an adult man or woman is reduced to nothing more than the pursuit of recognition in a world of bland, gender-neutral conformity. Let girls wear pink dresses and boys wear football strips if they want to — they'll most likely rebel anyway, but the world will be far less dull.
Joanna Williams is education editor at spiked. Her new book, Women vs Feminism: Why We All Need Liberating from the Gender Wars, is published by Emerald Publishing. (Buy this book from Amazon(UK).)
To enquire about republishing spiked's content, a right to reply or to request a correction, please contact the managing editor, Viv Regan.