An all-female Lord of the Flies would be just as savage
In desperate times, gender differences wither away.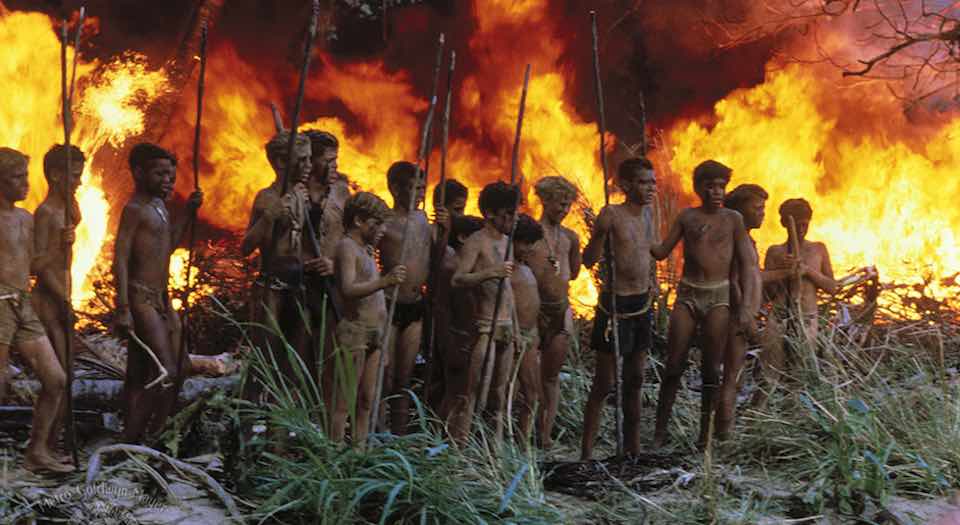 Have you read the latest? 'Twitter has reacted angrily….' Yes it's that opening sentence to reports which has become all-too-familiar these days. I suppose it's a sign of our infantile, perpetually angry era. And the current something generating online fury is the news that Warner Bros is to remake Lord of the Flies with an all-female cast.
Reports that William Golding's classic 1954 novel will return to the cinema, this time featuring girls, has 'provoked outrage' from female writers who, says The Times, have 'savaged' it. They argue that the tale of marooned schoolboys who descend into barbarism is an allegory of the innate violent nature of men. Roxane Gay, author of Bad Feminist, wrote on social media: 'An all-women remake of Lord of the Flies makes no sense because the plot of that book wouldn't happen with all women.' The American writer Rachel Syme also responded: 'The thing about Lord of the Flies is that it's about systemic male violence and how it replicates.'
Leaving aside that dreadful mot du jour, 'systemic', a cliquey non-word which instantly sets the bullshit alarm bells ringing, what is intriguing in this episode is the double standards afoot. Were a man to talk in public of the different inherent characteristics of men and women, he would be accused of 'biological determinism' or lose his job – which is exactly what happened to a Google employee the other week.
There has always been three kinds of feminist. First, there are the determinist types who champion the cause of women because they think the 'fairer sex' are by nature more peaceful and cooperative than men. Then there are the egalitarian, blank-slate types, who champion the cause of women because they regard them as no different to men and want equal treatment. And then there is today's most common type of feminist, the one that miraculously manages to hold both these viewpoints simultaneously – that women are special and different, but also equal and the same. This cognitive dissonance accounts for the confused and bellicose nature of feminism today.
An all-female Lord of The Flies scenario wouldn't be free of violence and hatred. If we are to indulge in gender cliches, as the 'outraged of Twitter' insist, I imagine that a group of young women marooned on an island would end up verbally bullying and bitching about each other, changing best friends and enemies on a monthly basis, as is the norm at all-girls' schools. They'd be calling each other slags behind each other's backs and decrying what an awful dress sense that slut has. 'Have you seen what she's wearing?' There would also be shrieking, name-calling, hair-pulling and face-scratching, as happens at pub closing time around Britain at weekends.
The feminist writer Camille Paglia, a biological determinist of a sort, once argued that if the human species had no men, Homo sapiens would still be living in mud huts. It's men who are responsible for progress, she wrote, as well as being responsible for wars. A group of women left marooned on an island might not start killing each other, but they wouldn't get anything constructive done.
In truth, when left in desperate circumstances, any difference between men and woman evaporates. We've seen this at it's most superficial on television with Big Brother, where the contestants become just as awful and conniving and scheming as each other. More grimly, leaf through Anne Applebaum's recent book, Red Famine: Stalin's War on Ukraine, which documents how starving Ukrainians were even sometimes reduced to eating their own children. It's a stark reminder that all of us, women and men, revert to a brutal Hobbesian state of nature when civilisation breaks down. Anger and 'outrage' are reminders of the savage within.
---
Islamophobia isn't the problem, PC is
It's been reported that thousands of state primary schools are allowing girls as young as five to wear the Muslim religious headscarf as part of approved school uniform. This has resulted not from any sustained campaign by British Muslims, but rather has been initiated by the schools themselves. As Gina Khan, a children's rights campaigner in Birmingham, told The Sunday Times: 'Schools are allowing it because they are afraid of being called Islamophobic.'
The fear of being labelled Islamophobic and racist is today much more evident than actual Islamophobia. It certainly has had more tangible consequences. This fear led to the reluctance of the authorities to take action against rape gangs in Rochdale, Rotherham and Newcastle. The same fear is behind the sacking of Labour's Sarah Champion and Jeremy Corbyn's reluctance to talk about a rape culture among elements of the Pakistani community in the north of England. It's why Barnardo's recently used a photo of a white girl in its campaign to highlight female genital mutilation. It's why last week the Guardian attacked The Times and Daily Mail for their reports on a Christian girl allegedly being placed in the foster care of an ultra-conservative Muslim family.
The Guardian has accused these newspapers of stoking Islamophobia and racism with their coverage. The real story here is that the liberal-left is utterly terrified of saying anything that could be interpreted as Islamophobic or racist – even if it's true. Left-liberals care about their social standing and reputation among friends and peers far more than they do about abused or traumatised children in east London or the north of England. Fear of being stigmatised as Islamophobic trumps all. This is the priority of today's self-regarding and egotistical 'caring' liberal-left.
---
Education doesn't make you wise
Speaking of which, Yasmin Alibhai-Brown writes on Twitter this week: 'I speak four languages. I am an immigrant. Both make me smarter than Little Englanders. Shame you can't see that. Open your eyes.'
We've come to expect such self-regard from people like Alibhai-Brown, as we have the consensus that people who opposed Brexit are more intelligent. Well, I understand five languages, have two degrees, have written books, and I voted Brexit, so clearly this isn't true. Right?
Well, not really. Intelligence and levels of education don't alone suffice when it comes to important, real-life matters such as Brexit. Experience and wisdom matter even more. Whether you like it or not, many voted Brexit because they have seen how EU free movement has changed the demographics of where they live, and not to their liking. Experience determined their vote. And it's the wisdom and the knowledge that multiracial, multinational and multilingual empires always collapse that was a determining factor for other Brexiteers. Educated people can actually have very poor judgement, as Alibhai-Brown's thoughtless tweet proves.
To enquire about republishing spiked's content, a right to reply or to request a correction, please contact the managing editor, Viv Regan.