TV ads: why whites and straights are out
The obsession with 'diversity' in advertising feels a little sinister.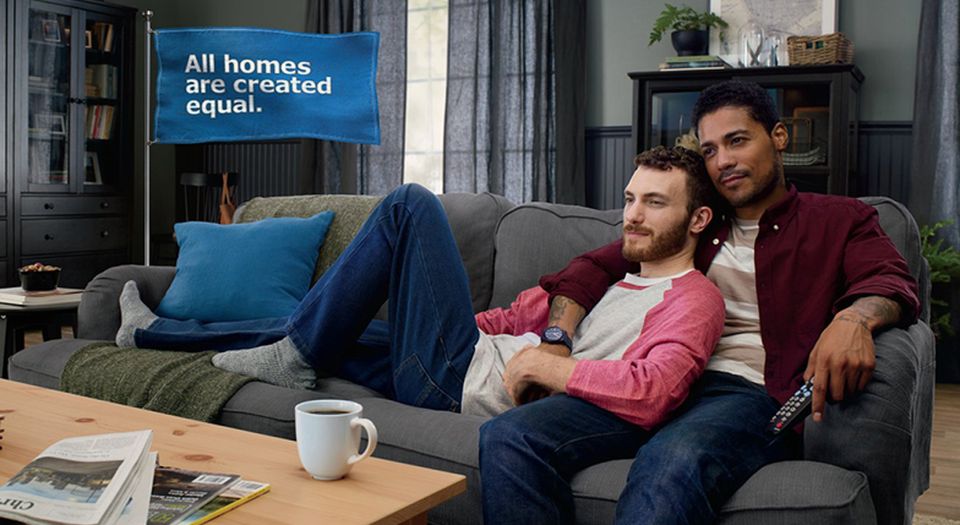 According to a report in The Times on Saturday, advertisers are 'so worried about being accused of racism or homophobia' that they are shying away from using images of white people and straight couples. A survey of 500 companies by Shutterstock Inc reveals that a third of advertisers questioned said they had used fewer white models and heterosexuals over the past year, and they were taking this approach to 'prevent perceived discrimination'. Marketing departments are even putting diversity above relevance to their target audience, 'to avoid accusations of bigotry'.
That ethnic minorities are over-represented in television adverts has become obvious over the past 12 months. If you live in London, Birmingham or Manchester, where the majority of ethnic-minority Britons live, or places with sizeable or majority ethnic-minority populations, such as Leicester, Bradford, Oldham or Burnley, you may not have noticed this. But I wouldn't be surprised if the rest of Britain has. I have anyway. The Britain as represented on television adverts these days scarcely resembles the east Kent in which I live. For example, while there are hardly any white faces in current McDonald's adverts, there are hardly any black faces in McDonald's in Dover or Folkestone.
It's a similar story for the over-representation of gay people. Big cities and Brighton have their gay communities, gay residential areas and Gay Pride marches, but the rest of Britain only has gay individuals. I happen to live in a town that has always had a large gay population, but it's never had a gay 'community'. Here they have always been middle-aged or pensioners, long settled with their partners and well beyond the age of playing the mating game or needing to proclaim who they are.
According to The Times report, half the advertisers said 'they were using fewer white people because they no longer represented "modern society"', which seems a somewhat peculiar, and certainly metrocentric, viewpoint. Still, if advertisers feel such a move is commercially wise, if they want to appeal primarily to the big conurbations, and if they want to incorporate diversity into their 'brand', so be it. Tokenism is their prerogative, as is virtue signalling. And after all, there's nothing new about advertisers getting 'with it' in order to sell commodities. Benetton was famous for it in the 1990s and today Kenco and BP flaunt their ethical and socially conscientious credentials, while current adverts for Maltesers feature disabled people.
There's nothing wrong about modern adverts representing modern Britain in its diversity. The real problem here stems from that all-too-pervasive word of today: 'perceived', which is central to current 'hate crime' legislation (see last week's column). It would have been a healthy and normal thing if advertisers had made this decision of their own volition. That they have made this overcompensatory move because they fear accusations of racism or 'perceived discrimination' is, conversely, thoroughly depressing.
Racism has become such an obsession these days – and 'perceived racism' a nebulous, unverifiable and irrefutable one at that – that it has almost seeped into the collective unconscious. Racism for white people has become the secular equivalent of Original Sin: it is now taken that we are all born into it, we all carry it around within, and we all must atone for it – even if we haven't done anything racist or said anything racist. Much as Roman Catholics are told to go to confession even if they haven't consciously sinned, we must conduct ourselves as if we are guilty.
Not since Robertson's jam removed the golliwog from its labels in 2002 has there been anything with remotely, tangibly racist connotations on foodstuffs or commodities. No one has been complaining about racism in adverts. These 500 companies have not responded to any campaign, pressure group or government legislation. Rather, they have taken the initiative because they are terrified of future accusations of potential, 'perceived' racism. At once they are rationally conscious that sooner or later the nebulous accusations will arrive – the insatiable dynamic of the offence-takers and racism-seekers dictates that it will do sooner or later. Yet at the same time, our racism-obsessed society has instilled in them an irrational, nagging feeling somewhere in the recesses of their minds that they must atone for having done something wrong. Even though they haven't.
---
Soundtracks: classical music for the masses
Elsewhere in The Times, on Tuesday, we read: 'The Oscar-winning score of Titanic has come top in a list of the best-selling "classical" albums of the past 25 years.'
Behold those snide inverted commas! Clearly the unnamed author of the report doesn't believe that this mere film soundtrack by James Horner is worthy of the label 'classical'. He or she presumably thinks it should be reserved for less vulgar, dead types, who wrote for themselves or more respectable patrons than Hollywood.
The truth is that popular 'classical music' lives on precisely with such film composers as James Horner, Ennio Morricone and John Williams. Stravinsky's Rite of Spring sounded classical music's death knell as a popular music genre a century ago. Sibelius, Vaughan Williams and Delius were the last composers to produce classical music for the mainstream; it hasn't been music for the masses since Verdi.
You won't hear postwar classical music on Classic FM or even BBC Radio 3 in the daytime for a good reason: most people don't like it. So spare us your contemptuous inverted commas. Film soundtracks represent living, organic popular classical music today.
---
Drinks with Sean O'Callaghan
From time to time I used to meet the late IRA killer turned informer Sean O'Callaghan in various pubs and the Academy Club in Soho, London. He was a hard-drinking, chain-smoking type – and with good reason. During that time, in the early 1990s and early 2000s, in the wake of his revelatory 1998 autobiography, the Provisional IRA were still trying to kill him. Despite those boozy encounters, he remained keenly aware of who was coming and going through the door.
Nonetheless, he was good company: witty and intelligent. I liked him, but in hindsight I think I thought it somewhat cool to hang around with such an infamous ex-IRA man. I'm quite ashamed of this, because instead I should have been proud to know a man who made a profoundly moral and mortally dangerous decision to mend his ways.
To enquire about republishing spiked's content, a right to reply or to request a correction, please contact the managing editor, Viv Regan.