A lesson for the left about censorship
The banning of a left-wing website in Germany reminds us that free speech is for all or none at all.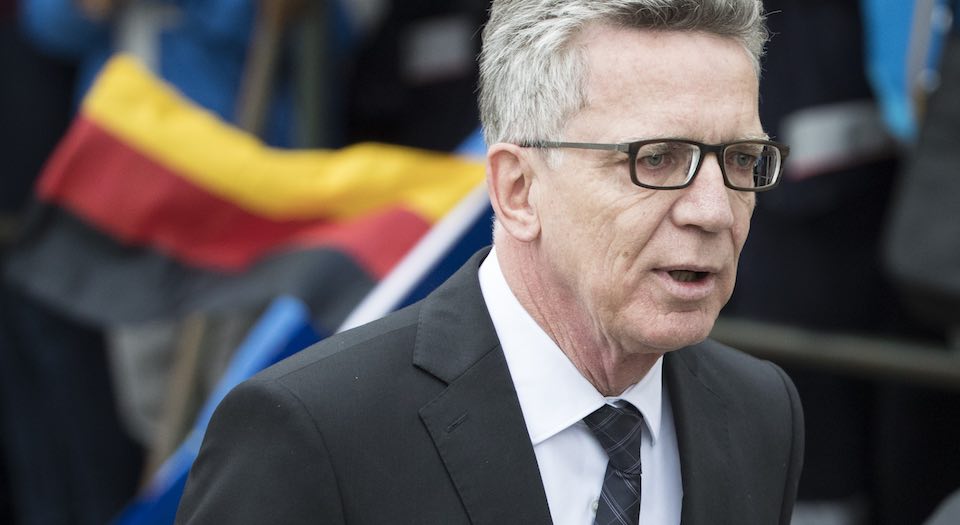 The German interior minister, Thomas de Maizière, has banned the website Linksunten.indymedia, following the violence at the G20 summit in Hamburg in July.
Linksunten.indymedia ('bottom-left independent media') was founded in 2009, and served as a platform for anti-globalisation campaigners, members of the anarchist black bloc, animal-rights activists and other fringe groups. Posts were often anonymous, and occasionally claimed responsibility for illegal actions. In one instance, 'comrades' were called upon to bring fireworks instead of bottles to the G20 demonstration: 'What is a scratched helmet compared to an acoustic trauma?'
Such posts had infuriated many commentators, who claim that the government has been too lenient on the radical left for too long. 'Four weeks before the General Election, the minister has given the left-wing scene a chin hook. This will please all those who have long felt that the government has only seen right-wing violence', one commentator said. According to the New York Times, this was the German government's first move against left-wing extremists.
It's true that right-wing organisations have been on the receiving end of government bans in recent years. Some commentators have pointed to the similarity between Linksunten and Altermedia, a website which also made illegal calls for action (against refugee centres). But unlike Linksunten, Altermedia's users came from a right-wing background, and the site was banned in January 2016.
But this focus on left and right misses the more important point – that a government will clamp down on anything it deems 'extremist' if it feels entitled to do so. 'For radical, violent extremists – whatever their orientation – there is no place in our society', Maizière said after last week's ban. This phrase has become eerily familiar. It was used in March, when the government banned the symbols of Kurdish political groups, including the YPG (which is engaged in the fight against ISIS in Syria), and a portrait of the communist Kurdish leader Abdullah Öcalan. Far from being unique, Linksunten is one of many political organisations which have attracted the government's wrath.
The idea that there should be no place for extremists is deeply entrenched in the German psyche. It's backed up by the notion of defensive democracy (wehrhafte Demokratie). In the words of the constitutional court, defensive democracy is a democracy which is determined to defend itself. The term dates back to the days after the war, and can be seen as a founding principle of the West German state. Never again should anti-democratic movements (like the Nazis) be allowed to become so powerful as to present a serious threat, or so the reasoning goes. Organisations which abuse democratic liberties by calling for an end to democracy, should therefore be banned.
Thus, wehrhafte Demokratie has paved the way for increased state censorship. And the category of who poses an existential threat to democracy has proven to be very elastic. In November 2016, an Islamist group, calling itself True Religion, was banned in the name of wehrhafte Demokratie. The organisation had been distributing free copies of the Koran in shopping centres and defended jihad. Though the group was unpleasant, the idea that it was about to take control of the state seemed far-fetched. In addition to Nazis, anarchists and Islamists, the government has even banned biker gangs (including Hells Angels and Bandidos), after members engaged in gang fighting and drug dealing. In January, parliament passed a law making it illegal for bikers to display their club's symbols, even if none of their members had engaged in any violence.
In the last week, supporters of Linksunten have protested against the ban. In Berlin and Freiburg (where the platform originated) demonstrations have attracted several hundred people, rightly pointing out that government bans will do nothing to stop real criminals. Soon the first court trials will begin against some of those who were caught burning cars or looting shops in Hamburg. The state has a duty to clamp down on such senseless, anti-social crimes – it might even have ordered Linksunten to delete all immediate calls to violence. But it shouldn't have the right to shut down an entire website, just because it doesn't like its content.
We should welcome these protests against censorship. But the fact that it took a left-wing site to be banned for some people to take notice shows that some on the left still haven't learned the most essential lesson about censorship: that if you stand by while your opponents are censored, it's only a matter of time before your side is censored, too. This is not an issue of left v right, but of censorship v freedom.
Sabine Beppler-Spahl is spiked's Germany correspondent. She is head of the board of the liberal think-tank Freiblickinstitut e.V., which has published the Freedom Manifesto. She is also the organiser of the Berlin Salon.
Picture by: Getty Images.
To enquire about republishing spiked's content, a right to reply or to request a correction, please contact the managing editor, Viv Regan.