Affirmative action: still the 'right thing'?
Positive discrimination is in fact borne of pessimism.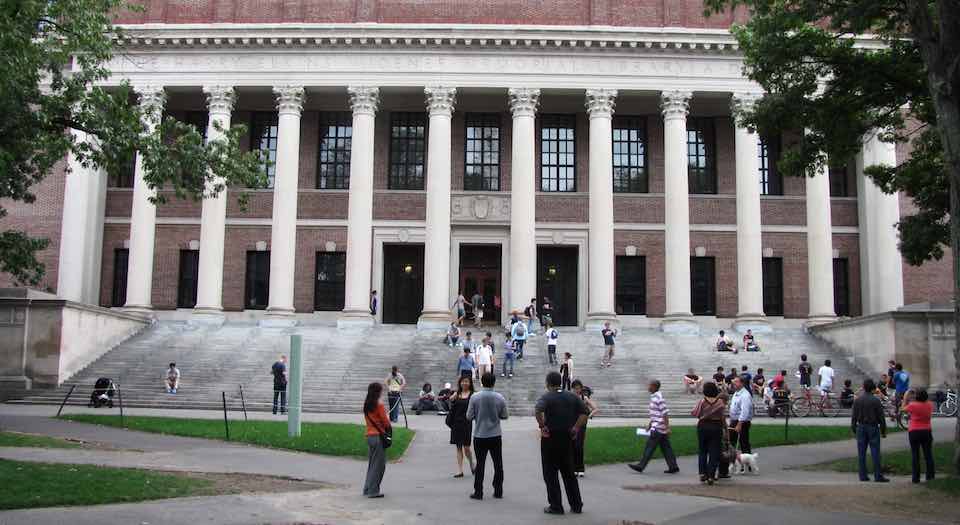 When the news broke that the Trump administration was seeking lawyers to investigate and litigate 'intentional race-based discrimination' in higher education, many assumed, not unreasonably, that the focus would be on whites who feel ignored or forgotten by America. But White House officials said their intent is to find lawyers in the Justice Department who could examine the complaint, made in 2015, by a coalition of 64 Asian-American associations that believe Harvard University has been discriminatory in its admission policies.
This latest chapter in the tangled history of affirmative action confirms that racial pessimism prevails even today. No longer, in this nation of individuals that knows no classes, does the hope that all men are born equal predominate. Instead, the view of race as a reality that must be dealt with in policy terms is widespread – and it is the force behind affirmative action.
Affirmative action, as part of a larger effort to achieve black equality, is a good idea. As Lyndon Johnson said in his famous Howard University speech in 1965: 'You do not take a person who, for years, has been hobbled by chains and liberate him, bring him up to the starting line of a race and then say, "You are free to compete with all the others", and still justly believe that you have been completely fair.'
It is simply wrong to argue that African-Americans, on the back of campaigning efforts in the 1960s, have already achieved equality, as claimed by some who oppose affirmative action. No doubt much has been achieved, but there is more to do. According to a National Urban League Report in 2015, the black equality index for economic achievement – which is what affirmative action was set out to address – is 56 per cent. That is, on average black family income is 56 per cent of white family income. In 1955 it was 58 per cent. In the past 30 years, schools have been steadily resegregating. Schools in black areas have weaker graduation rates and less qualified teachers. Equality has not been achieved.
The problem is with how and why affirmative-action policies came to be in the first place. The Nixon administration – not the Kennedy or Johnson administrations – initiated the first federal affirmative-action policies. Nixon did so not as a continuation of Johnson's brave attempts on civil rights, but for the opposite reason: because he did not believe that blacks were equal to whites.
Instead of redeeming the soul of America, Nixon used affirmative action to back away from the grand promises of Kennedy and Johnson. Affirmative action was based on Nixon's disbelief that blacks could ever be equal. According to his aide, John Ehrlichman, Nixon said 'he believed America's blacks could only marginally benefit from federal programmes because blacks were genetically inferior to whites…. Blacks could never achieve parity… but, he said, we should still do what we could for them, within reasonable limits, because it was the "right" thing to do.' (1)
During Nixon's tenure of office, affirmative action became a hugely important policy in areas of employment, federal contracts and college and university admissions. Though affirmative action had been an elite, even right-wing project in the 1960s (Conservative commentator William F Buckley wrote in 1969 that 'we must in fact encourage a pro-Negro discrimination'), what was left of the civil-rights movement embraced these measures in the absence of other, more fundamental attacks on inequality – as did most liberals and the left.
However, the limiting principle behind affirmative action has a longer history. In the 1920s, quotas based on racial origin were used to limit immigration and prevent Asians – who, it was said at the time, could 'underlive' and outcompete white Americans – from entering the country. In the 1930s, quotas were used in the New Deal's Civilian Conservation Corps to ensure that a high percentage of whites got jobs. At Harvard – the site of today's lawsuit – and other Ivy League colleges, admission policies prevented Jews from taking up too many places. A white, or perhaps more accurately, Anglo-Saxon, racial fear inspired such measures.
Today's tangled discussion on quotas reflects two separate issues, though both emanate from racialised anxieties. In an echo of the anti-Semitic measures of the 1930s, there is evidence that the number of Asians is being restricted at some universities. A 2009 Princeton Study showed that Asians had to score 140 points higher on the School Admissions Test (SAT) than whites did in order to have the same chance of admission to top universities. Racial anxiety about Asians outperforming whites no doubt influences these policies.
In relation to African-Americans, pessimism also inspires affirmative action today. America seems to have given up on blacks ever making it. The permanence of affirmative-action policies implies that the American Dream is no longer for everyone; certain racial categories will never be equal and must have assistance to achieve. Perhaps, as Andrew Hacker once pessimistically stated, Americans hope that blacks are equal but suspect they are not.
The 'diversity' smokescreen is simply another avoidance of the issue of persistent racial inequality. Diversity only arose when other justifications for affirmative action – such as the role-model theory and historic discrimination – were struck down by the Supreme Court and when the Reagan administration threatened to dismantle existing programmes. Harvard's response to the present lawsuit expresses the meaninglessness of this justification: 'To become leaders in our diverse society, students must have the ability to work with people from different backgrounds, life experiences and perspectives.' No study, of course, can prove this.
Affirmative action, in the circumstances in which it has become policy in the US, has surely been borne of pessimism. That it is being used to limit the most able on the basis of their racial origin indicates how far away Trump's America is from Lyndon Johnson's vision of a Great Society.
Kevin Yuill teaches American studies at the University of Sunderland. His book, Assisted Suicide: The Liberal, Humanist Case Against Legalisation, is published by Palgrave Macmillan. (Buy this book from Amazon (UK).)
(1) Yuill, Kevin, Richard Nixon and the Rise of Affirmative Action: Civil Rights in an Era of Limits. Lanham, MD: Rowman and Littlefield, (2005)
To enquire about republishing spiked's content, a right to reply or to request a correction, please contact the managing editor, Viv Regan.