The ACLU is retreating from the fight for freedom
Its undermining of free speech for the far right should worry us all.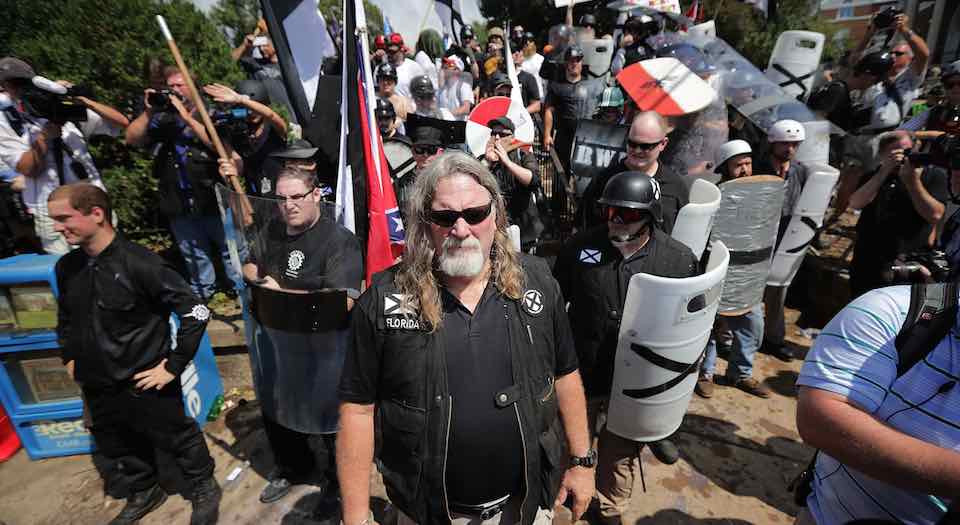 It's official. In the wake of a fatally violent rally by armed neo-Nazis in Charlottesville, Virginia, the American Civil Liberties Union (ACLU) will no longer defend the First Amendment rights of gun-toting protesters. '[W]e don't feel we have to represent any group – including white supremacists – seeking to demonstrate with firearms', a spokeswoman explained.
Second Amendment advocates have nothing to fear from this policy; the ACLU has never championed individual gun rights, which have flourished without its help. But First Amendment advocates – a diminishing minority on the left – should feel the chill. The ACLU is considering not just ignoring but actively opposing free speech for legally armed protesters. It is 'looking at the question of whether government can regulate the First Amendment rights of demonstrators who insist on being armed during public protests'.
You don't have to be sceptical of free speech to worry about the potential for violence when pistol-packing protesters march through your town (especially when the 'pistols' are semi-automatic weapons). But you might wonder why the ACLU has chosen to encourage denials of First Amendment rights, instead of considering reasonable time, place, and manner restrictions on rights guaranteed by the Second.
​Besides, the ACLU has not simply declined to represent armed protesters – it has retreated from defending or even recognising the speech rights of white supremacists generally, who are presumed to be intent on inciting violence. 'The First Amendment absolutely does not protect white supremacists seeking to incite or engage in violence', according to a statement issued by the ACLU national office.
This is a prescription for prior restraints on speech, perhaps the most dangerous form of censorship. Speakers are not supposed to be presumed guilty of inciting violence before they've even spoken. In America, determinations of incitement are supposed to be made after the fact, according to a strict standard rightly articulated by the Supreme Court in 1969: speech is guilty of incitement only if it is intended and likely to cause imminent lawless action. In other words, the relationship between the speech at issue and violent or lawless action must be direct, immediate, and intentional. How can that relationship be known or evaluated before it exists?
The new ACLU seems to assume, before the fact, that all neo-Nazi or white supremacist speakers 'seek to incite violence' and therefore have no First Amendment rights. In doing so, it effectively invites the government preemptively to deny any group the right to protest on the basis of speculation or biases about what it intends. You can easily imagine the Trump Justice Department declaring that the intentions of Black Lives Matter protesters cannot be trusted.
What accounts for the ACLU's latest and most definitive retreat from the defence of speech? The Virginia ACLU affiliate was instrumental in securing the rights of neo-Nazis to rally in Charlottesville and was harshly criticised (or scapegoated) by Virginia's Democratic governor, progressive allies, and some of its own members after the rally erupted in violence and a young counter-protester was killed.
The national ACLU endured similar criticisms, as well as funding losses, in the late 1970s when it defended the rights of neo-Nazis to march through a community of Holocaust survivors in Skokie, Illinois. But back then the organisation did not retreat. Back then, ACLU leaders persisted in defending First Amendment protections for speech that many members, donors and allies hated. Has the ACLU lost courage? Not exactly. It's lost conviction. Freedom of speech is no longer the first and foremost freedom at the ACLU. It competes with progressive notions of equality that view free speech not just as a promise but a threat. Eternal vigilance in defence of speech is no virtue at today's ACLU; equivocation is no vice.
Wendy Kaminer is a lawyer and writer, and a former national board member of the American Civil Liberties Union. She is the author of several books, including: I'm Dysfunctional, You're Dysfunctional (1992); and Worst Instincts: Cowardice, Conformity and the ACLU (2009).
Picture by: Getty Images.
To enquire about republishing spiked's content, a right to reply or to request a correction, please contact the managing editor, Viv Regan.