This is what 'American Nazism' looks like
…and it's no relation to the far-right ragbag in Charlottesville.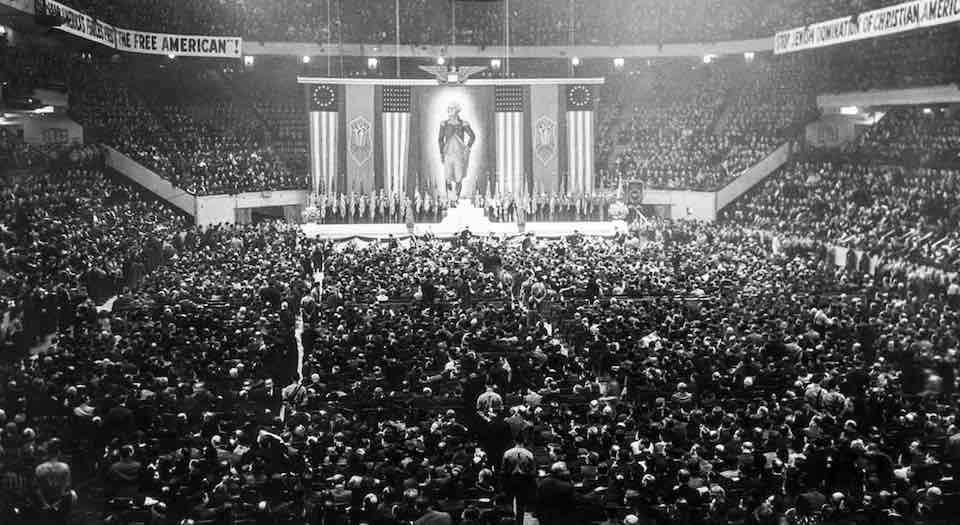 The ragbag gathering of far-rightists in Charlottesville, which ended with an anti-fascist protester being run down and killed, has sparked fevered talk of 'the rise of Nazism in America' led by 'Trump's fascist foot-soldiers'.
This is hysterical and ahistorical nonsense. If you want to see an image of 'American Nazism', don't look to the few hundred flag-and-torch-bearing neo-fascist losers posing for the media in a small Virginia town this month. Look instead at the rally that drew some 22,000 actual American Nazis to the famous Madison Square Garden, in the heart of New York City, in February 1939, just months before the start of the Second World War.
That 'Pro-America Rally' was staged by the German-American Bund (Amerika-Deutscher Volksbund), the largest Nazi group in late 1930s America. Led by Bundesleiter Fritz Kuhn, a German immigrant, the Bund modelled itself on Adolf Hitler's Nazi Party, of which Kuhn had been an early member.
The Bund's declared aim was 'to combat the Moscow-dominated madness of the Red world menace and its Jewish bacillus-carriers' and to 'save America for White Americans'. Bund members paraded in silver-grey shirts with swastika badges, and held training camps not just in Southern backwoods but in such heartlands of modern American liberalism as New York and California.
By 1939 Madison Square Garden was established as one of the leading sports and public venues in America and the world. Selling out 'The Garden' was generally seen as a sign that you had 'made it'. The German American Bund filled it with a huge crowd who were entertained by a drum and bugle corps and flag-carrying colour party, before Bundesleiter Kuhn addressed them flanked by 400 uniformed Order Division guards. When a Jewish protester who had infiltrated the rally tried to rush the stage in the middle of Kuhn's diatribe, he was beaten up by the OD men before being handed over to the New York Police Department, who reportedly beat him up again.
Inside, the Garden was bedecked with American flags, swastika-bearing Bund banners, and slogans such as 'Wake up America! Smash Jewish-Communism!' and 'One million Bund members by 1940'. Pride of place behind the stage went to a 33-feet high portrait of George Washington, the first US president, who the Bund considered to be the 'first fascist'. That was why their 'Pro-America Rally' was held on Washington's birthday.
Outside the Garden, another huge crowd was gathered for an anti-fascist protest called by the Trotskyite Socialist Workers Party (no relation to its UK namesake). One left-wing account suggests there were 'nearly 50,000 surrounding the Garden and another 50,000 onlookers on neighbouring blocks'. This was rather more than a meeting of the usual left-wing suspects, bringing together activists with working-class people from many New York communities, from Jewish-American veterans to German-Americans who wanted to show their hatred of Nazism.
The crowd might have been larger still but the pro-Stalin American Communist Party had refused to back the protest. Apart from wanting nothing to do with the followers of Leon Trotsky, Stalin's public enemy number one, the American CP was under orders from the Soviet Union to pursue a placatory 'popular front' against fascism with mainstream parties, and was keen to avoid confrontation. The Stalinist party's leadership made clear that backing the protest would inevitably bring 'a direct collision, not only with the Bund, but with the city administration and the police'. The Communists might have wanted to stop the Nazis, but were not willing to upset the City Hall or the cops.
The authorities had no such reluctance about 'a direct collision' with the Bund's opponents. As the New York Times reported, the NYPD had sent 1,700 officers to make Madison Square Garden 'a fortress impregnable to anti-fascists'. Every time the protesters tried to get near the Nazi rally they were forced back, clubbed by cops and trampled under the hooves of police horses.
That extraordinary evening when the Garden turned into an imitation Nuremberg Rally in New York has long been a forgotten incident in American history. Since Charlottesville, however, it has attracted more attention, with some keen to use it as a warning of what might happen again if American Nazism is not nipped in the bud this time by protests and bans. Even the best account of that 1939 rally published online recently draws parallels and concludes that 'the recent violence in Charlottesville is a reminder that hate and fear don't need many openings to cross from the shadows and into the mainstream. Once there, it is difficult to unroot.'
Far more striking, however, are the contrasts between then and now.
Take the big difference in the size of the crowds – perhaps 500 far rightists gathered from all over the US for their 'national' rally in suburban Charlottesville, compared to 22,000 Nazi sympathisers packing out New York City's premier stadium.
These numbers symbolise the different historical contexts in which the events took place. Today we might have relatively small numbers of individual fascists. In the 1930s they faced fascism as a mass movement, a force in Western society. Fierce and often violent struggles between the fascist right and the Communist-led left were not confined to the political fringes, but were centre stage in political life.
Fascist movements of the 1930s were nothing like the almost universally reviled little rump that the far right is today. They had support from influential and powerful sections of society. The German-American Bund was far from alone in its fear and hatred of 'the Moscow-dominated madness of the Red world menace'.
In Europe, old ruling classes unable to resolve the political and economic crisis and keep the masses under control turned to the fascists in a desperate bid to smash the communist and working-class movements. They allowed these movements to overthrow democracy and seize state power. Mussolini's National Fascist Party was in power in Italy (where the word 'fascism' originated) from 1922; Hitler's National Socialist German Workers Party ruled from 1933; Franco's Falange party took power at the end of the Spanish Civil War in 1939.
The political elites in the US and the UK did not need the fascists to keep control of their societies. Even there, however, fascist movements made headway in the Thirties and won powerful friends: the likes of movie mogul Walt Disney, a fierce anti-Communist and alleged anti-Semite, were spotted attending meetings of the Bund.
Moreover, fascist-style methods and ideas permeated mainstream American politics. Nazis had no monopoly on anti-Semitism; the great Democratic Party president Franklin D Roosevelt said that Germany's antipathy towards the Jews was 'understandable', since there were 'too many' of them in the professions. Father Coughlin, a Catholic priest and notorious anti-Semite, commanded huge American audiences for his radio broadcasts and magazine (called Social Justice, though today's radical Social Justice Warriors would want it banned).
In his 1938 discussions with American leftists, the exiled Russian revolutionary Leon Trotsky noted the dictatorial tactics of New Jersey mayor Frank Hague, which he described as 'a rehearsal of a fascist overthrow. He represents small bosses who became infuriated because the crisis deepened. He has his gang which is absolutely unconstitutional.' The neo-fascist Hague was not a member of some fringe far-right clique, but was one of the leading political bosses in the Democratic Party, instrumental in keeping President Roosevelt in power.
There are other striking contrasts between then and now. Take the attitudes to history. The Bund's hailing of Washington as America's 'first fascist' might even be echoed by some left protesters today. After all, as President Trump pointed out in a rare insightful remark, if you want to pull down statues of Robert E Lee, then why not uproot monuments to the slaveholder George Washington? In the Thirties, by contrast, many on the left were outraged by the Nazis' attempt to recruit the leaders of America's democratic revolution to their cause.
Or look at attitudes to free speech. Today's protesters carry banners demanding 'No Free Speech for Fascists!'. In 1939, too, the mayor of New York came under pressure to use his powers to prevent the pro-Nazi rally at the Garden. Mayor Fiorello LaGuardia, a Republican who backed President Roosevelt's New Deal, was a Zionist and a fierce opponent of Nazism. Yet he insisted that the Bund had the civil right to meet and express its repugnant views.
'Our government provides for free speech, and in this city that right will be respected', declared LaGuardia: 'It would be a strange kind of free speech that permits free speech for those we agree with.' Those words should be inscribed on the eyeballs of ban-happy lefties today who would treat freedom of speech as a selective privilege for 'those we agree with' rather than an indivisible liberty that must mean freedom for the thought that we hate.
There are related lessons to be learned, too, about attitudes to the state. Today, anti-fascist protesters often call on the authorities to crack down on the far right, while imagining this will have no consequences for their own political freedoms. Those with similar illusions in the state had a rude awakening outside Madison Square Garden in February 1939, when the police beat and trampled anti-Nazi protesters. Reporting on the violent assault by the NYPD on a contingent of American-Jewish army veterans, Felix Morrow of the paper Socialist Appeal caustically concluded that it had been 'a lesson in democracy'.
(By contrast Trotsky urged the US left to organise their own defence squads of trade unionists to combat the Silver Shirts – a tactic which had been adopted with some success in Minneapolis. One young activist in 1939 later recalled how Farrell Dobbs, legendary leader of the Minnesota Teamsters' Union, had come to New York 'to instruct us in the arts of street combat – wear a hat and a thick jacket, carry a rolled, heavy newspaper'.)
In the end, America's rulers had no need of the fascists to resolve the crisis of the 1930s. President Roosevelt remained in control, using authoritarian powers where necessary. Meanwhile, the authorities brought down the trouble-making German-American Bund in their own way, convicting Bundesleiter Kuhn of tax evasion and embezzlement. But sympathy for the Nazis and opposition to the war against Hitler remained a strong undercurrent in American society until Japan's attack on the US fleet at Pearl Harbour in December 1941 enabled Roosevelt to swing the country behind entering the war on the Allies' side.
For some time now it has been fashionable among Western 'progressives' to hurl the insult 'fascist!' around at any idea or individual not to their taste. The discovery of a few actual fascists and neo-Nazis at that Charlottesville 'Unite the Right' rally has sent these radicals into raptures, allowing them to indulge their horror-fantasies about the rise of 'American Nazism'.
But while it might be all right to identify a few individual fascists among the alt-right, a glance back at 1939 shows the nonsense of talk about fascism or Nazism as a social force today. Those real pro-Nazis were not marginal poseurs indulging in a right-wing version of victim-identity politics. They were racial supremacists fighting for power – and taking it in some of the leading European states. The SWP mobilised support for the 1939 anti-fascist protest outside Madison Square Garden with flyers declaring 'Don't wait for the concentration camps—Act now!'. This was not shrill 21st-century-style hyperbole, but a sober reminder that fascist concentration camps already existed in Germany and Italy.
Fascism and Nazism have never again been a political force in Western societies since the end of the Second World War. Nor is there any prospect today of history repeating itself through a fascist revival. Even in the political turmoil of the late 1930s, Leon Trotsky warned the American left that, in talking about the rise of US fascism, 'It would of course be impermissible to fall into hysteria'. How much more pertinent that warning seems today. Any attempt to connect Charlottesville with a return to the 1930s should surely remind us instead of Karl Marx's observation that, if history repeats itself, it is 'the first time as tragedy, the second time as farce'.
Mick Hume is spiked's editor-at-large. His new book, Revolting! How the Establishment is Undermining Democracy – and What They're Afraid of, is published by William Collins. Buy it here.
To enquire about republishing spiked's content, a right to reply or to request a correction, please contact the managing editor, Viv Regan.