Long live the King
Forty years after his death, Elvis lives on.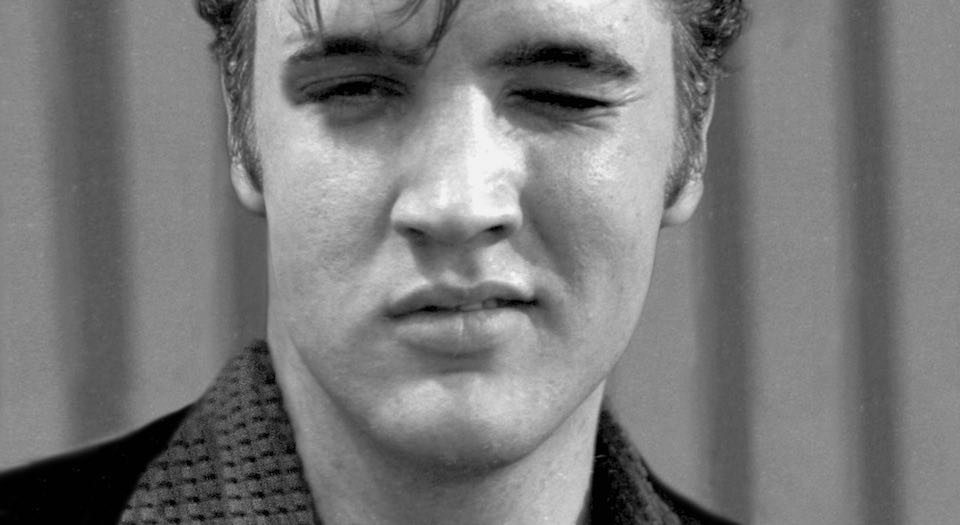 I realised how much I loved Elvis Presley the night he died 40 years ago. I was sitting on my (now) husband's knee in my mother's house in Sligo, watching black-and-white clips about Elvis' life on TV. We were both spellbound by how beautiful he was. He had the exotic dark looks of a prince escaped from the Arabian Nights, with those snakehips dancing up a storm and that velvety voice of liquid gold. Yet he was a poor boy from the wrong side of the tracks, who made it to become the king of rock'n'roll.
Those who rail against cultural appropriation as robbery must surely be stumped by the glorious rise to fame of Elvis. As kids, from the moment we heard the songs from The Sun Collection, we were imitating him – from the lip curl to the swagger, the erotic dance moves to the soaring passion of his incredible voice. Who cares if he got some of this from black musicians? He made it his own and lit a fuse that set hearts aflame all around the world, and continues to do so.
According to Rolling Stone, 'it was Elvis who made rock'n'roll the international language of pop', and it was partly because of this that great black American musicians like Big Joe Turner and Fats Domino were heard by a wider audience. Singers like Jerry Lee Lewis, Bo Diddley, Chuck Berry, Little Richard, Johnny Cash, Roy Orbison and many others travelled in Elvis' slipstream. John Lennon insisted that 'before Elvis, there was nothing'. When Madonna saw kd lang perform, she remarked: 'I've seen Elvis and she's beautiful.'
My brother's friend used to do a turn as Elvis in the north London pub scene, where Elvis nights were popular in the years after he died. Anyone could get up and give their Elvis an airing. Some went to greater pains than others to look and sound the part, and my brother's friend was pretty good. It was a sign of the great affection for Elvis that these nights of raucous drinking, laughter and sentimentality were always carried out with a wonderful mixture of surreal seriousness and enthusiastic abandon that only a great entertainer like Elvis could inspire.
When I finally made it to Graceland, I was saddened by his end. It wasn't a palace fit for The King after all, just a claustrophobic glitzy Seventies den with mirrored ceilings and cheetah-print carpet everywhere. Some fell out of love with Elvis after all those awful Colonel Parker movies – or when he got fat. But like the thousands of fans who today have joined the vigil at Graceland for the 40-year-anniversary, I still hold a candle for him. I was moved at his grave – it's Elvis lying there, after all. He lived the life he wanted and there's honour in that too.
Elvis had a youthful rebellious glamour that never died – like James Dean and Marlon Brando. And even if he didn't really belong to my generation, when it was my turn to blow the speakers at a party, I blew them with Elvis when everyone else was hassling me to play The Smiths. Stay true to what you love, dust off that box of CDs at the back of the cupboard, and revel in the raw talent that rocketed an average Joe from a Jack to a king. Elvis lives.
Bernie Whelan is a writer based in London.
To enquire about republishing spiked's content, a right to reply or to request a correction, please contact the managing editor, Viv Regan.