Indian independence: still a cause for celebration
Why are observers focusing on Partition rather than liberation?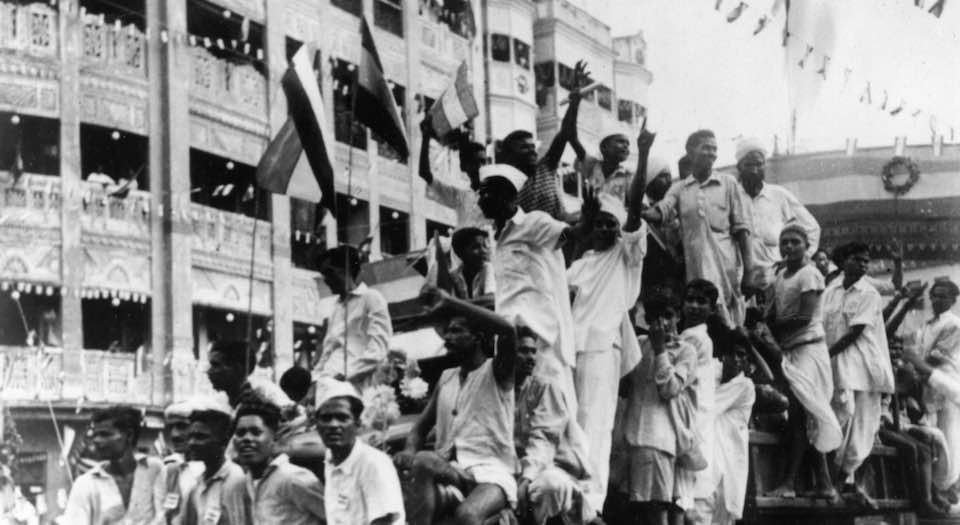 Today is India's Independence Day, the 70th anniversary of the country's liberation from the British Empire – as well as Pakistan's, but there it is celebrated a day earlier. Judging from the British media, however, you would think the really significant anniversary was that of Partition, the separation of the British Raj into two distinct nations, rather than their respective independence from the Empire.
Of course, Partition was a hugely significant event in its own right, leading to the biggest transfer of populations in history, as Muslims left India for Pakistan and Hindus and Sikhs went the other way. There was also a huge amount of violence, with hundreds of thousands killed. It was a tragic culmination of an independence movement that had united Indians of all religions, across a subcontinent of incredible diversity in terms of language, culture and history. Religion finally proved a stumbling block because Muslim leaders feared the unity of the movement would not carry into a nation in which they would be in the minority – hence, Pakistan.
Nevertheless, independence did see the birth of two free nations, and in the case of India, one based not on religion but on a shared identity that continued to include Muslims as well as Hindus, not to mention Christians, Sikhs, Parsis, Jains. And independent India has not only survived but in many ways flourished. In India itself, this week's issue of Open magazine is 'The Freedom Issue 2017'. Outlook's Independence Day special is about idealism. India Today leads with 'The vision thing: 70 years, 70 iconic institutions'. So why is the British media focused on Partition rather than independence itself, which was much more to the fore on the 60th anniversary 10 years ago?
One answer is that many British people of Indian and Pakistani descent have parents and grandparents who lived through the violence, and settled in Britain because they had been displaced. The Department for Communities and Local Government has organised a series of local events bringing together members of the various communities to remember their shared history. In BBC Radio 4's Partition Voices, Kavita Puri interviews many British survivors, and given that they will not be around forever, this is valuable oral history. Many of the TV and radio programmes and newspaper articles on Partition have been similarly informative and thought-provoking. It is particularly salutary to learn that many of those carrying out atrocities on both sides considered themselves to be the victims, striking back at an enemy capable of much worse.
Nevertheless, one of the other thoughts these programmes continue to provoke is why we prefer to talk about the tragedy of Partition than the positive story of independence. The Pakistani novelist Kamila Shamsie points out that this was always the preference of the British: 'To talk about the independence of Pakistan and India is to acknowledge the yoke of colonial rule. Far easier to talk about "partition", with its implication of everything falling apart as the British left, as though the falling apart wasn't the direct result of a policy of divide and rule.'
On the other hand, for those of a left-wing persuasion, British or Indian, it is tempting to see Partition violence as nothing other than a last, vicious consequence of imperialism. It was that, but not just that. Partition was never inevitable, and neither was it a British policy (divide and rule during the Raj was a different matter). Many patriotic Muslims and Hindus argued against it, but ultimately the leaders of the nationalist Congress failed to cohere a secular movement capable of building a united India. Arguably, the fickleness of individual politicians also played a part.
Partition thus has to be seen as a failure of the independence movement as much as a consequence of imperialism. It was tragic in the proper sense of the word: not a calamity out of nowhere, but something arising in part from the flaws of its heroes. For those who prefer to see history in black-and-white terms, it is an uncomfortable subject. But you really cannot understand Partition without looking at the merits and demerits of the independence movement itself.
And that perhaps brings us to another reason for today's focus on the former at the expense of the latter. Ten years ago, Congress was in power and presiding over a booming economy. The inheritors of the independence movement seemed to be a living vindication of their forebears' achievement, and the future looked bright. Today, Congress is in disarray, and India is ruled by the right-wing BJP under Narendra Modi. The economy is not growing as fast as it needs to, but that's been true for years and is largely why the BJP unseated Congress in 2014. More saliently, the BJP is a Hindu nationalist party, the political wing of a movement that considers Hinduism to be the soul of the nation and is often hostile to Muslims and other minorities.
Many speak darkly of India becoming a 'Hindu Pakistan', no longer able to claim the moral high ground of secularism. That is what makes the anniversary of Partition seem so relevant. According to the Indian writer Pankaj Mishra, 'In many ways, Narendra Modi and his mob are completing the unfinished business of Partition: the unification of a political community through identification and persecution of internal and external enemies'. This message clearly resonates with liberal observers in the UK, who have been told ever since Modi rose to prominence that he is some kind of fascist. But it is overblown. Today there are nearly as many Muslims in India as in Pakistan, and more than in the whole of the British Raj. They are an essential part of India, and no one except on the fringes of Indian politics denies it.
Undoubtedly there is anti-Muslim feeling on the Hindu far right, but this should not be confused with criticism of Congress-style 'appeasement' of Muslims. This refers to the corrupt political model entrenched by Congress in recent decades, whereby it appealed to 'vote banks' of Muslims and other minorities by posing as their champion in order to swing elections. In doing so, it was Congress that affirmed Muslims' outsider status, and in doing so under the banner of 'secularism' it also prostituted that ideal. Much of Modi's appeal has to do not with anti-Muslim bigotry, but his rejection of this old style of politics, and promise of greater economic development for all.
So while recent developments in Indian politics make pessimistic observers think of Partition, there is reason to reflect instead that in the seven decades since they won their independence, Indians have made great progress. There was nothing inevitable about that progress, just as there was nothing inevitable about Partition. But through the slow development of the early decades of independence, various wars, the Emergency in the 1970s, economic liberalisation in the 1990s and the subsequent burst of growth, Indians have repeatedly shown their commitment to their nation, reminding the world that while nationalism is ugly when it divides, it can also be an impressive force for unity. Nobody would deny modern India is flawed in many serious ways, but that it remains as intact as it was at independence, as well as democratic and secular in its own way, is cause for celebration.
Dolan Cummings is a writer based in London. That Existential Leap: A Crime Story is published by Zero Books. (Buy this book from Amazon(UK).)
Picture by: Getty Images.
To enquire about republishing spiked's content, a right to reply or to request a correction, please contact the managing editor, Viv Regan.