Whiteness: a nonsense category
'Whiteness' is as irrational an idea as white superiority itself.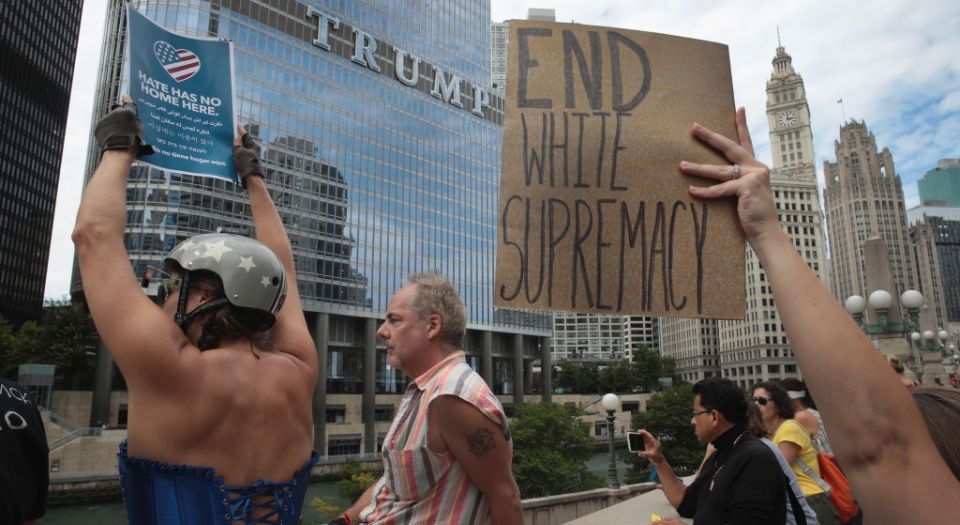 The troubling sight of neo-Nazis marching on the streets of Charlottesville, Virginia, shows that the legacy of the past continues to haunt our lives. But it often does so in unexpected and confusing ways.
Take the reappearance of white nationalists and white supremacists in the US. Unlike white supremacists in the past, their 21st-century progeny can barely spell the word 'supremacy', and certainly do not actually feel superior to others. In fact, they often play the victim card in the knowledge that they have become social, economic and, above all, cultural outcasts. Unable to fit into today's world, they desperately plunder the past for symbols and slogans to validate their existence. The resulting spectacle in Charlottesville, with white nationalists clutching Nazi and Confederate flags and chanting 'Hail Trump', reminds one of Marx's old dictum that history repeats itself, first time as tragedy and second time as farce.
White supremacy is certainly not what it was. This is hardly a surprise given that the idea of white superiority had fallen apart by the end of Second World War (1). Even those political leaders who still believed in the superiority of the West hesitantly embraced the rhetoric of racial equality. By the 1960s, it was widely accepted that overt racism was no longer acceptable in public. As Frantz Fanon, the radical Martinique-born philosopher, noted at the time: 'Racism no longer dares appear without disguise.' So, although racist sentiments persisted within some white communities, racial superiority had become discredited, ceasing to have any significant influence over public life.
Paradoxically, during the 1980s, which was precisely at the moment when white racial confidence evaporated, some of racism's opponents, especially so-called critical race theorists, declared that racism was more prevalent than ever before. Others suggested that all white people are at the very least unconsciously or unintentionally racist. It was at this point that academics began to use the term 'whiteness' to refer to the privilege supposedly enjoyed by white-skinned individuals.
The concept of whiteness makes racial thinking an unconscious act. This means that no light-skinned person can claim immunity from racism. Indeed, those who protest that they are not racist, or do not even perceive themselves as white, are denounced for failing to come to terms with their white privilege. Whiteness is the equivalent of original sin, and white racism inescapable.
Over the past couple of decades, the concept of whiteness has migrated from the academy into the mainstream media. The result is a new form of white identity, endowed with negative moral characteristics and a sense of cultural inferiority. Little wonder that in high and popular culture, the word 'white' is often accompanied by a sneer.
Despite listening to many lectures about my numerous racial privileges, I still don't feel particularly white. Even in 1971, during a year carrying out fieldwork in Kenya, I perceived myself as a researcher rather than as a white man. There have been times when I have felt a little bit Hungarian, sometimes a little bit Jewish, even a bit Canadian — where I moved as a child — but I have never felt white. Advocates of whiteness argue that this is because of my unconscious racist assumption that being white is the norm. The reality is a little different. I think of myself as a man rather than a white man because of my life experience. Those who want to endow me with an off-the-peg white identity know nothing of my life. They are indifferent to the fact that an externally imposed identity always violates an individual's personhood. In this sense, the imposition of white identity is morally equivalent to colonialists imposing a racially inferior status on the colonised.
There are three possible ways of reacting to this demonisation of whiteness. One is to play the role of a very 'aware' white person who fully understands his or her bias and privilege – the dominant approach promoted in American and, increasingly, European educational institutions. Another way is to react defensively to the cultural critique of the white man and adopt an exaggerated version of white identity, despite it developing precisely to devalue whiteness – the white nationalist approach.
But there is a third way, too, a way of responding to the myth of whiteness that is humanistic and enlightened. It requires a refusal to accept the relentless racialisation of human experience. After all, the idea of whiteness is as irrational as that of white nationalism. The two terms exist in a symbiotic relationship, and feed off the politicisation of racial identity. Of course, the white nationalists marching in Virginia are entirely responsible for the tragedy they inflicted on the people of Charlottesville. But lurking in the background is a potentially far more corrosive force: the racialisation of human identity.
Frank Furedi is a sociologist and commentator. His latest book, Populism And The Culture Wars In Europe: The Conflict Of Values Between Hungary and the EU, is published by Routledge on 15 August 2017. (Order this book from Amazon(UK).)
(1) For a discussion of the disintegration of white racial confidence see The Silent War: Imperialism and the Changing Perception of Race, by Frank Furedi, Pluto Press, 1998.
To enquire about republishing spiked's content, a right to reply or to request a correction, please contact the managing editor, Viv Regan.