Mrs Orwell: married to two men
The relationship between Eric Blair and George Orwell is the real heart of this play.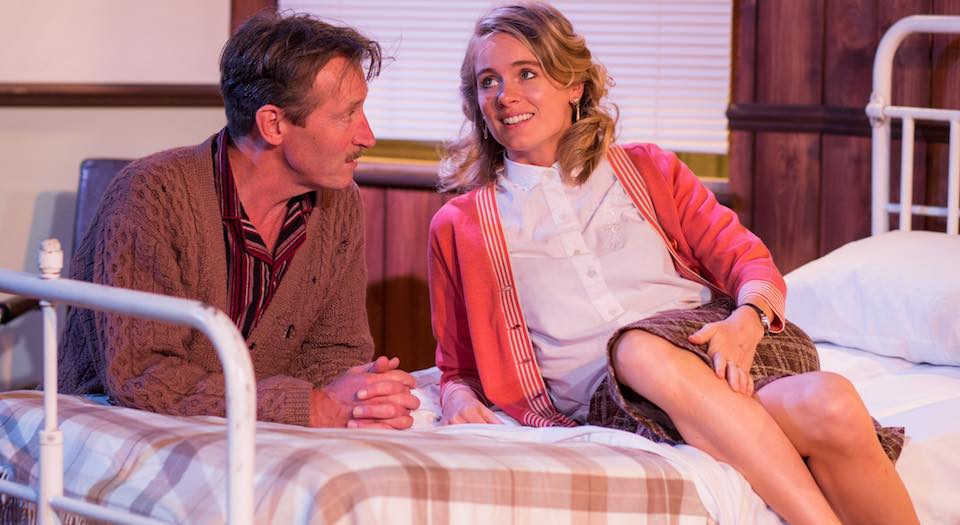 Tony Cox's new play, Mrs Orwell, centres on the marriage proposal of a hospital-bound, tuberculosis-ridden George Orwell to young, attractive socialite Sonia Brownell. He wants a mistress, housekeeper, nurse, literary executor and mother for his adopted son. And someone who – crucially – knows how to make good dumplings. In exchange, he offers her the chance to inherit a great deal of money and become the 'widow of a literary man'.
The play asks us to reflect on whether Brownell married the author George Orwell or the man Eric Blair (Orwell's real name). We're invited to speculate why she married a man on his deathbed, despite not returning his affections. Was it for money, status or because she believed she could save him from his illness and prolong his writing career? But the tension between 'Blair' and 'Orwell' within the man himself becomes a much more interesting question. Orwell is a 'mask' for Blair, alleges the painter Lucian Freud, who sketches him at his bedside.
We're introduced to an Orwell who has become cantankerous and reactionary in his ill-health – whose political ideals shine through in his writing and his reflections on the past, but are subverted in everyday life. Expertly played by Peter Hamilton Dyer, this schizophrenic Orwell is still a socialist, he says, but one who hates other socialists, ranting against the 'the soul-savers, the nosy parkers, the fruit-juice drinkers, the sandal-wearers, the pacifists, the feminists'. He condemns a request by his US publishers to make changes to Nineteen Eighty-Four as censorship, but himself takes extreme offence at two different adverts for underwear, calling for them to be banned and those responsible to be shot.
His internal conflict overshadows the marriage question, which is supposed to be at the heart of the play. This is in part due to Dyer's captivating performance as Orwell, in contrast with Cressida Bonas' Brownell. On the surface, Bonas, a former flame of Prince Harry and 'it girl', appears a perfect casting choice as Mrs Orwell the socialite – whose various lunches and cocktail parties at the Café Royal provided ample fodder for the Evening Standard in her day. But it is in this role in the first act where Bonas is least convincing, with many a good line falling flat. She performs far more adeptly towards the end of the play, when Brownell becomes a fearless defender of Orwell's literary estate after his passing.
In his will, Orwell insisted to Brownell that no biography be published in the event of his death. Considering Mrs Orwell's often unflattering portrayal of the great writer's final years, it's easy to see why. Although the play's exploration of Orwell's personal life makes for good entertainment, the Orwell worth remembering is best sought in his writing.
Fraser Myers is a producer at WORLDbytes.
Mrs Orwell is at the Old Red Lion Theatre until 26 August.
Picture by: Samuel Taylor
To enquire about republishing spiked's content, a right to reply or to request a correction, please contact the managing editor, Viv Regan.