Angelina Jolie: a saint no longer?
Her use and abuse of the developing world is nothing new.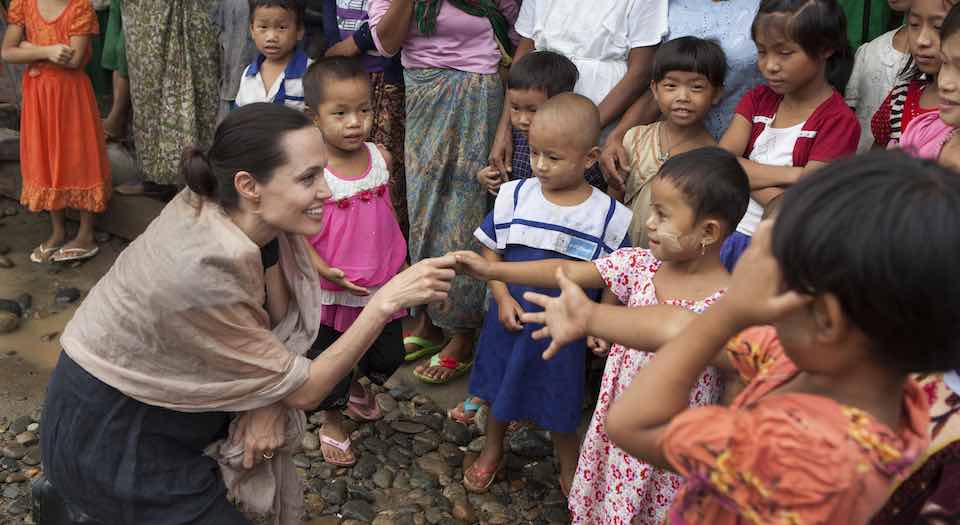 Humanitarian angel and part-time actress Angelina Jolie has been accused of 'exploitative' and 'cruel' behaviour in the casting for her new film, First They Killed My Father.
Vanity Fair describes how Jolie and the casting directors searched for the starring role in the slums and orphanages of Cambodia, 'specifically seeking children who had experienced hardship'. This involved a casting game in which children were asked to 'snatch' some money. When caught, they had to invent a convincing lie to explain themselves. Jolie told Vanity Fair that Srey Moch (who was later cast in the lead role) was 'overwhelmed with emotion' after being forced to give the money back. Apparently, Moch displayed an 'authentic connection to pain'. Following widespread condemnation, Jolie has since denied that any real money was involved in the casting game, and has claimed that she herself 'would be outraged if this had happened'.
But what is surprising here is not the outrage over Jolie's comments; it's the fact that her image as a secular saint has, for so long, remained intact. A YouGov survey named her the most admired woman of 2016 for the second year running – undeniably a result of her highly publicised humanitarian work, given that she has not starred in a decent film since Kung Fu Panda in 2008. In her role as UN special envoy, she has continually exploited the developing world to bolster her image. But Jolie has only ever generated vast amounts of acclaim for posing with the poor.
In the pursuit of her celebrity colonialism, the line between Jolie's charity work and cinematic output has blurred. Difret, an Ethopian-language drama for which she was an executive producer, told 'the untold story of Aberesh Bekele', an Ethiopian girl who was abducted and forced to marry at 14. More accurately, this was the unauthorised story of Bekele – it was made without her knowledge or consent. Jolie's directorial debut, In The Land of Blood and Honey, was inspired by her trips to Bosnia as a UN goodwill ambassador, and drew on her extensive high-level contacts in NATO and the US foreign office at the script-writing stage. It was hailed as 'remarkable and courageous' by some, and even celebrated as a ringing endorsement of Western military intervention by others. But its one-sided portrayal of the Serbs as evil, rapist maniacs caused the Serbian press to denounce the film as propaganda. The Serbian filmmaker Srdjan Dragojevic described it as having 'the historical authenticity of 'Allo 'Allo!'. All the while, it bolstered her standing among Westerners.
One of Jolie's biggest fans is former UK foreign secretary William Hague. Hague was inspired by In The Land of Blood and Honey to launch a global crusade against sexual violence in conflict zones – with the glamorous Jolie by his side, of course. 'Will.I.Ange' (as the press dubbed them) hosted a lavish, £5million summit in London in 2015, bringing together 1,700 delegates from 123 countries to draw attention to the systemic use of sexual violence in the wartorn Democratic Republic of Congo. Unsurprisingly, the impact of the event on the Congolese seemed less obvious. Marcy Hersh, from the Women's Refugee Commission, told the Daily Mail: 'For an initiative that used such lofty language, I struggle to see what [it] has tangibly created.' This was a humanitarian vanity project, inspired by a humanitarian vanity project.
Jolie's exploitation of the developing world even extends to her personal life. Back in 2006, she and her then husband Brad Pitt chose Namibia as the destination for the birth of their first child. To avoid being pestered by the paparazzi, the pair pressured the Namibian government to establish a no-fly zone, demanding that journalistic visas to the country be restricted to those they had pre-approved. Brangelina were able to use their celebrity, and the prospect of attracting tourism to the developing country, as leverage to ride roughshod over the workings of a sovereign state.
The casting controversy over Jolie's new film has certainly taken the shine off Mother Angelina's halo. But so long as A-lister advocacy garners uncritical acclaim – not just from gossip mags but secretaries of state – the developing world will continue to be exploited as a source of celebrity gloss and secular sainthood.
Fraser Myers is a producer at WORLDbytes.
Picture by: Getty Images
To enquire about republishing spiked's content, a right to reply or to request a correction, please contact the managing editor, Viv Regan.