How the German press became Merkel's mouthpiece
During the refugee crisis, the media threw their principles out the window.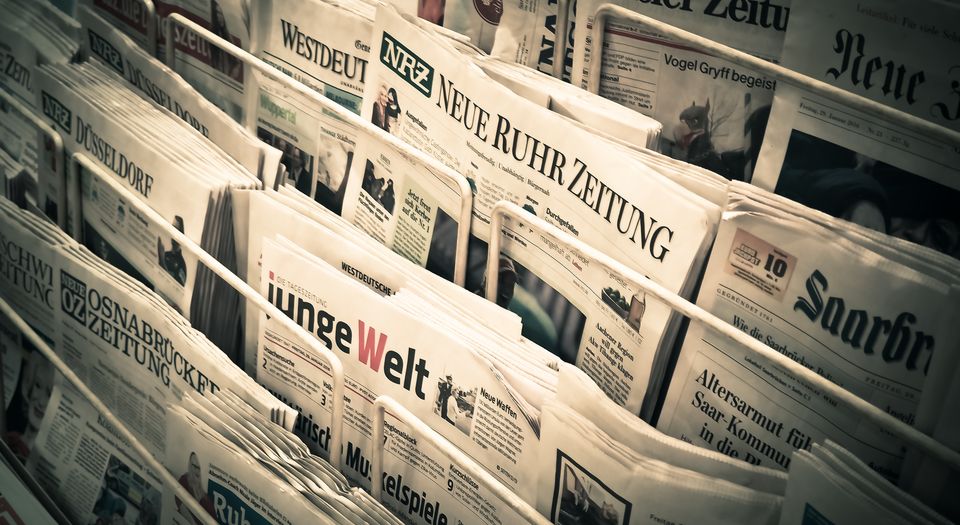 Germany's media failed to report objectively on the refugee crisis, and helped deepen the cleavages within society as a result. This is the scathing conclusion of a report published by a team of researchers last week. The team, led by Professor Michael Haller from the Hamburg Media School, analysed more than 35,000 articles published at the height of the refugee crisis in 2015 and early 2016 (a period of around 20 weeks). The study, commissioned by the engineering trade union IG Metall's Otto-Brenner Foundation, concentrated on major daily national newspapers and 80 regional papers. It also looked at mainstream online media services.
Journalists, the report says, uncritically took on the government's agenda, and almost exclusively presented 'elite opinions'. Two-thirds of interviews were with people linked to the government. Opposition politicians, on the other hand, particularly members of the left-wing Die Linke and the right-wing populist Alternative für Deutschland, were rarely quoted. There was much focus on the plight of refugees, with many articles written in an emotionally 'involved' style. We heard little about those volunteers and professionals who were left to deal with the immediate administrative problems posed by Germany opening its borders.
The report's most striking criticism relates to the slogan 'Willkommenskultur' (a positive attitude towards foreigners), which the study says became imbued with a quasi-religious significance. It came to be part of the narrative of how journalists wished Germans to be seen and to behave. Those who refused to join in the celebratory mood were often talked about with disdain, as exemplified by the use of the term 'dark Germany' to refer to the more sceptical east Germany. Until late autumn 2015, very few commentators picked up on the fears and worries of ordinary people, which in turn increased feelings of alienation and anger. According to the report, it was only after the events on New Year's Eve 2015 in Cologne that critical voices were given more space.
There were, of course, nuances, and not all papers were equally guilty. But by and large, the message is clear: newspapers failed in their most fundamental tasks of informing the public, probing the government, and facilitating a rational political debate on an important issue.
How could this have happened? The report speaks of a media echo chamber, or filter-bubble ('Filterblase'). And yet most journalists probably didn't even realise they were so closely toeing Angela Merkel's line. The more greenish left-wing papers, which are not traditionally favourable to Merkel's CDU, were presented as having been especially biased. At a time when newspapers are struggling with online competition, and are constantly being accused of lying by the right-wing Pegida movement, it's strange that editors and reporters weren't more careful.
The refugee question ceased to be treated as a political issue, requiring a rational debate and search for solutions. Instead, it became a question of good and bad. And the media had a big role to play in this. The bad reporting was about more than journalists living in an echo chamber. They knew very well that many people were unhappy with what was going on. The point is that they were engaged in a process of moral differentiation. They were self-consciously siding with the perceived good, and so saw no problem in refusing others a voice. That's a terrible strategy for anyone who cares about politics, refugees and journalistic standards. The scathing criticism within this report is well earned. I hope many Germans will read it.
Sabine Beppler-Spahl is spiked's Germany correspondent. She is head of the board of the liberal think-tank Freiblickinstitut e.V., which has published the Freedom Manifesto. She is also the organiser of the Berlin Salon.
To enquire about republishing spiked's content, a right to reply or to request a correction, please contact the managing editor, Viv Regan.