Why Trump staggers on
He's cheered for what he symbolises, not what he does.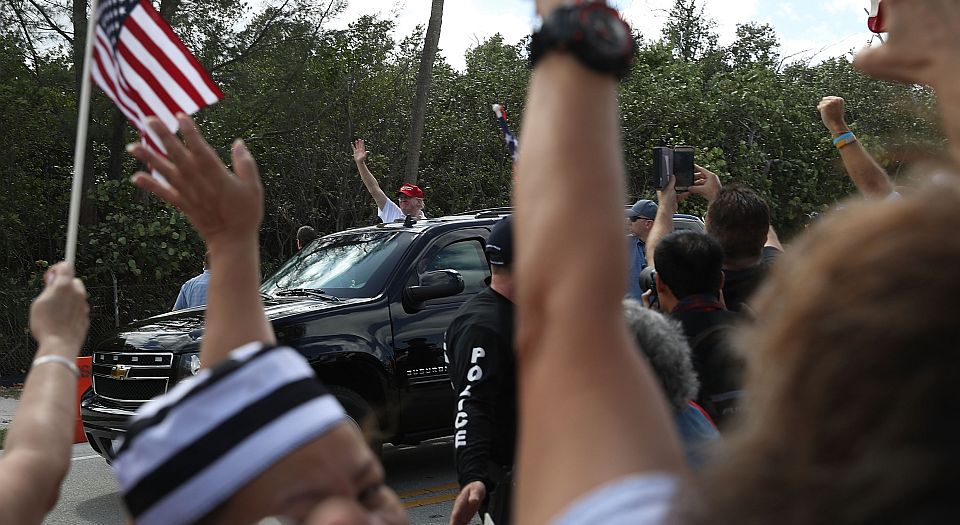 'I could stand in the middle of Fifth Avenue and shoot somebody and I wouldn't lose voters', said then GOP primary candidate Donald Trump in January 2016. Now, six months into a presidency defined by scandal, infighting, legislative gridlock, Russia-mania, Syrian airstrikes and the first deployment of the Mother of All Bombs, that typically Trumpian boast still rings true. At just 39 per cent, Trump has one of the worst approval ratings since approval ratings began. Only Gerald Ford was less liked at this point in his presidency, and he'd just pardoned Richard Nixon. But Trump's support among his base, his voters, remains remarkably high. A recent Economist-YouGov poll found that 88 per cent of people who voted for him in November approve of his performance to some degree. Among those who didn't vote for him, it is in the single digits.
US politics, we're so often told, is deeply polarised. Even in the pre-Trump era it had already become a caricature of itself. Gridlock in Washington and heated battles over gay marriage, gun rights and abortion in recent years have obscured how little difference there is between Republicans and Democrats on many substantive economic issues. But the polarisation we see today is different. It no longer splits along the lines of Red or Blue, or even what side of the Culture War you're on. The question today is not so much whether you love your guns and religion or background checks and trans toilets, but whether you're with Trump or against him – whether you think he's destroying the presidency, if not Western civilisation, or landing righteous blows against the DC set and the craven media. Establishment vs anti-establishment politics has become its own kind of culture war.
You see this in the disjoint between the popularity of Trump and the reality of his chaotic, ineffective presidency. Trumpcare has been a debacle. Last night, nine Republican Senators voted against majority leader Mitch McConnell's latest Frankenstein version of a replacement to Obamacare. And Trumpcare doesn't just lack support in Congress. The Congressional Budget Office has said that the plans would mean tens of millions of Americans losing coverage, and this has cut through. Last month, an NBC-Wall Street Journal poll found that only 16 per cent of respondents thought the Republican healthcare plans were a 'good idea', and only 34 per cent of Republicans approve. Meanwhile, 41 per cent want to keep Obamacare in place. The Republicans have managed to do what the Democrats never could: make Obamacare more popular.
By almost every conceivable measure, Trump has failed to do what he set out to do. And yet his failures and u-turns aren't denting his support among his base. He made infrastructure a core part of his pitch, appealing to Rust Belt voters and rankling many deficit-obsessed Republican Congressmen with a call for a trillion-dollar investment plan. But he's made almost zero headway. Then there's his pledge to 'drain the swamp'. After lambasting Hillary Clinton for her ties with Goldman Sachs, he filled his cabinet with Wall Street operators. The surprise appointment of Anthony Scaramucci, a flash, coiffed Long Island financier and long-time Trump suck-up, to the post of White House communications director has confirmed that, as a recent New York Times Magazine feature had it, the swamp has not so much been drained as 'remodeled into a gold-plated hot tub'.
None of this is to say that Trump voters have been duped by fake news or blinded by their adoration of Dear Leader. A poll in April found that 68 per cent of Trump voters in key swing states which turned Red in November admit that the president intentionally lies and exaggerates the truth. Report after report has shown that voters never thought Trump would really build the wall or ban all Muslims. It's the attitude, the pose, it's how he sends the establishment into apoplexy, that many admire. The liberal hysteria over the Russia allegations and the meltdown that greets every exclamation-marked tweet only reaffirms this. The people branded deplorable by the Democrats and much of the media voted Trump to lob a grenade at an establishment that despises them. And they're clearly still enjoying the carnage.
Considering the way the people in flyover country have been either ignored or despised by successive governments, all of this is eminently understandable. But the reduction of anti-establishment politics to a kind of cultural warfare is bad for both sides. Trump supporters have been forced to outsource their rebellion to a tangerine charlatan; they appreciate what he represents rather than what he says, thinks and does. That's why they can simultaneously approve of Trump and disapprove of what his administration is doing. Meanwhile, Trump's critics have doubled down, traded criticism for hysteria, exaggerated his malfeasance, and alienated Trump voters further in the process. Just like the old culture war before it, this has inflamed political debate in the worst kind of way, polarising politics not on the basis of principles and policies but on a breed identity. That's what needs to be shot down.
Tom Slater is deputy editor at spiked. Follow him on Twitter: @Tom_Slater_
To enquire about republishing spiked's content, a right to reply or to request a correction, please contact the managing editor, Viv Regan.