Grenfell: don't let the state off the hook
It was the aloof state, not neoliberalism, that dehumanised tenants.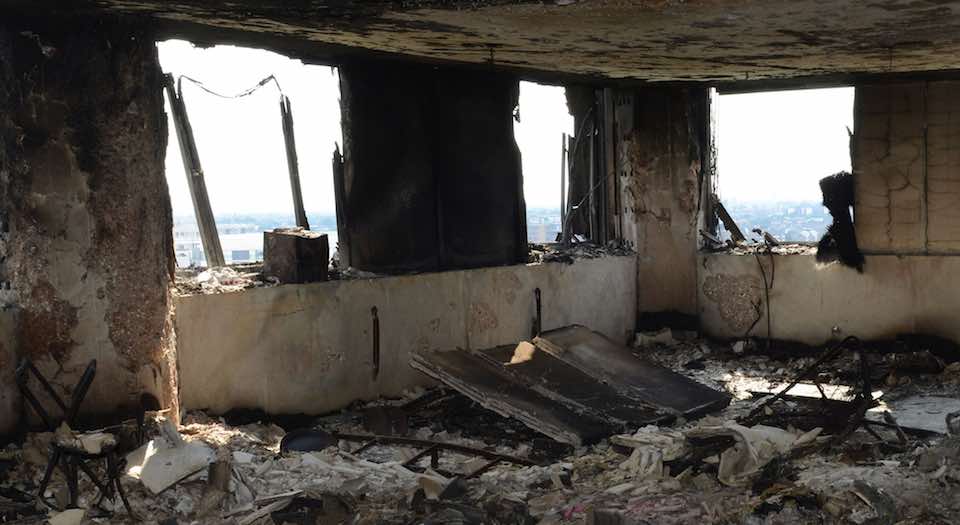 In response to the fire at Grenfell Tower, the Labour Party's shadow minister for fire services, Chris Williamson, said: 'Neoliberalism is at fault here, absolutely.' He was backing up Labour MP Clive Lewis, who had controversially tweeted: 'Burn neoliberalism, not people.' This view that neoliberalism is at the root of the Grenfell horror is shared by media commentators, too. It was 'a shrinking state and untrammelled free markets' that caused this tragedy, says a writer for the New Statesman.
This might sound very radical, but it is both wrong and a distraction from the source of many of the problems facing poor people today. It wasn't neoliberalism that screwed over social-housing tenants in recent decades. It wasn't the free market that dictated that councils become more unaccountable and aloof from residents. Yes, the privatisation and disorganisation of the refurbishment at Grenfell meant corners were cut, and any private company found to be at fault should be punished. But it was the state, not neoliberalism, that created the conditions for Grenfell. With its increasingly dehumanising attitude towards working-class people, the state helped to nurture this calamity.
The refurbishment of Grenfell, including the addition of unsafe cladding, was commissioned by Kensington and Chelsea Tenant Management Organisation (KCTMO). KCTMO was set up in 1996 following the government's introduction of Right-to-Manage Regulations in 1994. It is the largest tenant management organisation in the UK. But it is also an Arms-Length Management Organisation – that is, it is a non-profit company hired to manage property on behalf of a local authority.
What this means is that KCTMO acts as a layer of bureaucracy between the council's social-housing tenants and the council itself. This makes it more difficult for tenants to address the local state bodies that should be fundamentally responsible for the provision and upkeep of state housing. Grenfell tenants had complained about the difficulty they had in expressing their concerns, especially about the 2016 refurbishment, to the relevant bodies. Last November, the tenant-run Grenfell Action Group tried to elicit a response from the council on what it called 'dangerous living conditions'. It said: 'It is a truly terrifying thought but the Grenfell Action Group firmly believe that only a catastrophic event will expose the ineptitude and incompetence of our landlord, the KCTMO.' It fell on deaf ears, because the local authority had buffered itself from engagement of this kind through creating a bureaucratic TMO.
KCTMO allowed nine different companies to carry out the refurbishment work, five of which it seemed to have no direct relationship with. Without an accountable organising body for the work, and with residents unable to voice their concerns, corner-cutting actions went unchecked.
Social housing has little to do with the free market – it is a state-provided service. The actions of KCTMO were not solely fuelled by greed or some neoliberal ideology – they were enabled by the local authority's aversion to taking responsibility. By setting up the TMO, and passing accountability down the line, councillors and politicians showed how uninterested they were in dealing with tenants. It is no surprise that the local council was so startled when it was criticised and protested against by surviving residents – for years it had sought to distance itself from precisely such interaction with 'those people'. And with their pesky complaints about safety.
Such belittlement and mistreatment of social-housing tenants has been widespread in recent years. Tenants are increasingly treated like children rather than adults with tenancy rights. Recent government legislation shows how devalued such tenants have become. There are campaigns to stop tenants from being housed if they choose to smoke – even outside. Anti-Social Behaviour Orders, introduced by Labour in 1998, mean social-housing estates are often run like open-air prisons: there are patrols to stop ball games and tenants are fined for putting the bins out on the wrong day. CCTV cameras abound; politicians start moral panics about 'nasty neighbours'.
And this infantilisation of social-housing tenants contributes directly to the idea that they should not be taken seriously. The anti-working-class prejudices that underline much government policy on social housing created the climate in which KCTMO felt comfortable with ignoring the pleas of Grenfell tenants and effectively risking their lives. After all, aren't social-housing tenants a problem to be managed? Aren't they just bad parents, unhealthy, anti-social? So let's ignore them.
The most poignant example of how little regard is given to social-housing tenants can be seen in the reason why cladding was installed in the first place. KCTMO said the refurbishment at Grenfell was an attempt to 'enhance energy efficiency and help reduce residents' living costs'. As James Heartfield has pointed out previously on spiked, KCTMO was in fact following the orders of the government's committee on climate change – the refurbishment was not requested by residents. Many blocks in the area were fitted with insulating cladding, new boilers and double-glazed windows, and tenants often complained about overheating. Day-to-day life for people was made more uncomfortable in the name of achieving government-set energy targets. Tenants were effectively used as fodder in the pursuit of environmentalist goals, ordered from on-high by the state.
Working-class people are increasingly viewed by the political class as too stupid to manage their own lives. That's why politicians argue for meddling, nudging policies. It is also why TMOs like the one in Kensington and Chelsea don't feel the need to listen to their tenants. It wasn't the left's hate figure of neoliberalism that reduced social-housing tenants to people whose lives don't really matter – it was the left's beloved state.
Ella Whelan is assistant editor at spiked. Follow her on Twitter: @Ella_M_Whelan
To enquire about republishing spiked's content, a right to reply or to request a correction, please contact the managing editor, Viv Regan.